Vietnam locality awards people 437 USD for reporting illegal immigrants
Authorities in Van Yen District in northern Yen Bai Province will award 10 million VND (437 U.S. dollars) to people who report the entrance of illegal immigrants locally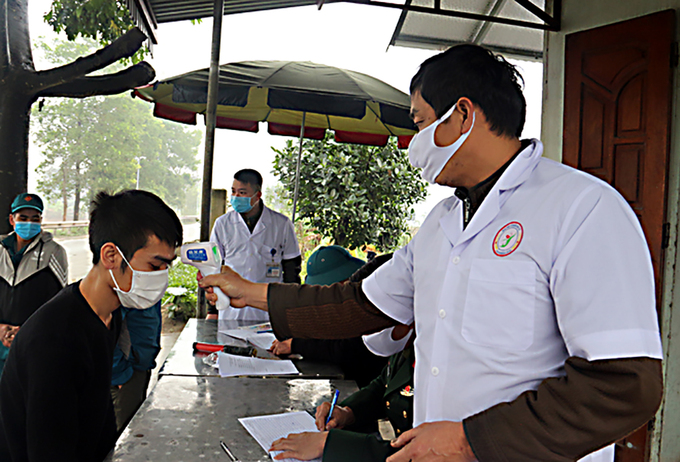 A Covid-19 checkpoint in Yen Bai Province. Photo: YBGOV
A district in northern Vietnam is offering 10 million VND rewards to individuals who report illegal immigrants in the locality.
The chairman of Van Yen District People's Committee said the money was expected to encourage residents' spirit in preventing and controlling Covid-19.
Many provinces and cities across Vietnam have detected illegal entrants who may trigger Covid-19 outbreaks in the community, Vnexpress reported.
As a neighboring province of Lao Cai, which shares a border with China, Yen Bai is a district where illegal entrants have been known to hide.
To date, Yen Bai has confirmed five Covid-19 cases. As many as 774 people who had close contact with Covid-19 patients have been put under centralized quarantine. A total of 2,315 people have been quarantined at their place of residence.
The province has also conducted zoning, contact tracing and quarantine of people returning from pandemic-hit regions.
Several areas in the province have been placed under lockdown to stem the spread of the novel coronavirus.
Vietnam is experiencing its fourth Covid-19 wave, with big outbreaks simultaneously emerging in the North and quickly spreading to 19 provinces and cities.
The tally of Covid-19 infections in Vietnam now amounts to 3,230, including 1,811 community transmissions. A total of 241 cases have been discovered since the latest outbreak hit the country on April 27.
A total of 2,602 patients have been given the all-clear from the coronavirus SARS-CoV-2, while the death toll remains at 35.
Among active patients undergoing treatment, 25 have tested negative to the virus once, 22 twice and 17 three times.
As many as 42,293 people who have had close contact with Covid-19 patients or entered Vietnam from pandemic-hit regions have been quarantined across the country, including 685 in hospitals, 22,810 in quarantine establishments and 18,998 at their place of residence.
Citizens are advised to strictly adhere to the health ministry's 5K message -- khau trang (face masks), khu khuan (disinfection), khoang cach (distancing), khong tu tap (no gatherings), and khai bao y te (health declarations) -- as well as to take personal protective measures, and avoid coming to high-risk areas such as entertainment venues, cinemas, bars and karaoke parlors.