Vietnam Maintains Diplomatic Aspirations in Middle East
Despite COVID-19 outbreaks in Egypt and the Middle East in 2021, the Vietnamese Embassy in Egypt has proactively and flexibly implemented a range of activities relating to economic and cultural diplomacy and citizen protection
The results of these efforts have made a practical contribution to promoting the relationship between Vietnam and Egypt in particular, as well as between Vietnam and other countries throughout the Middle East.
On New Year's Day, Cairo-based VOV correspondents interviewed Tran Thanh Cong, Vietnamese Ambassador to Egypt and also concurrently to Sudan, Tunisia, Libya, Palestine, Djibouti, and Eritrea, shedding light on the effectiveness of these activities.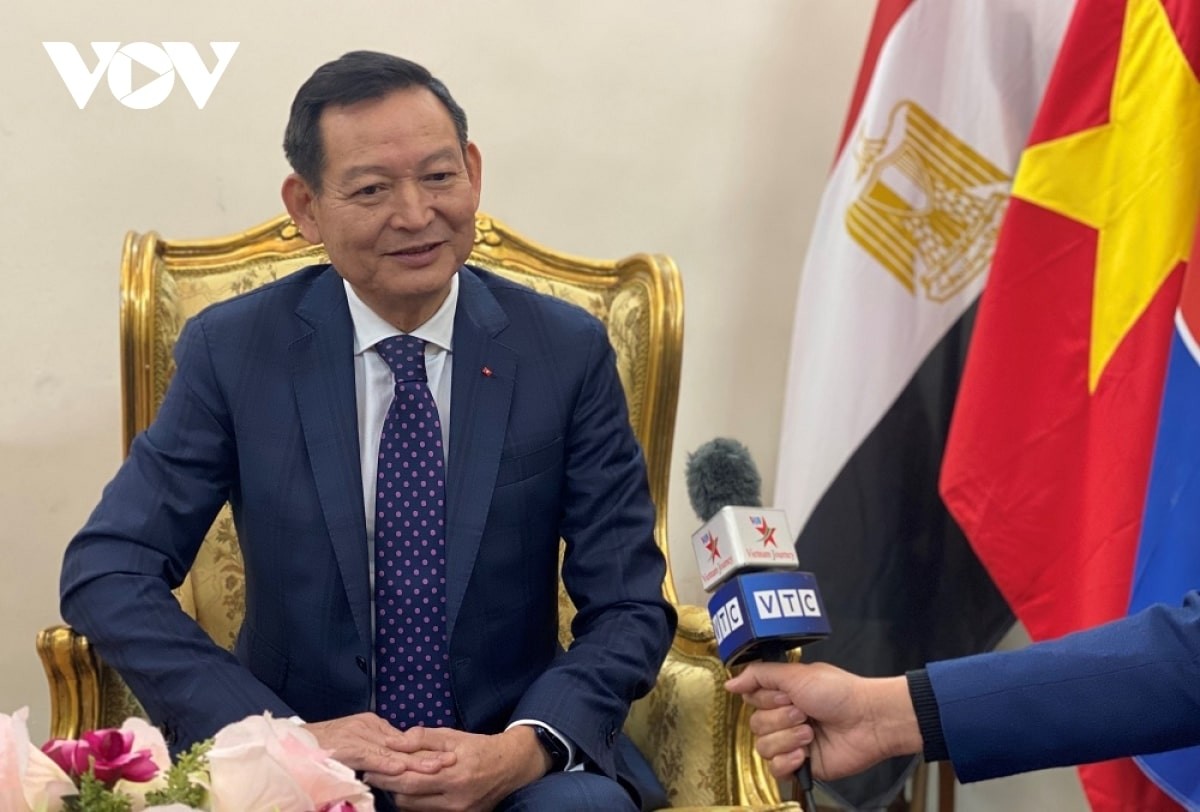 Vietnamese Ambassador to Egypt and other countries in the Middle East Tran Thanh Cong reviews major events of the Embassy in 2021 in an exclusive interview granted to Cairo-based VOV correspondents. Photo: VOV
VOV: The COVID-19 outbreak remains complicated in Egypt and other countries in the region. What has the Embassy done to implement economic and cultural diplomacy tasks effectively?
Amb. Cong: It's true that the COVID-19 outbreak evolved in a complicated manner in the region in 2021, affecting the realisation of our representative mission's goals. However, the Embassy has made every effort in order to complete economic and cultural diplomacy tasks assigned by the State.
Specifically, the Ambassador gave interviews to reputable local media outlets such as Egyptian National Radio, Nile TV, and other foreign magazines introducing Vietnamese economic development achievements and its efforts to contain the pandemic. In addition, the Embassy organised a series of seminars on trade and cultural promotion in a number of localities such as Port Said, Alexandria, Sharm el-Sheikh, and Hughada.
During a business trip to Lebanon, the Embassy held a seminar which attracted hundreds of leading Lebanese enterprises keen to learn about ongoing Vietnamese development and new policies adopted at the 13th National Party Congress. The Embassy also held the first Vietnamese martial arts tournament in Lebanon as a way of helping international and regional friends gain a better understanding of the country's culture.
The Embassy also closely co-ordinated with various ministries, agencies, and sectors in both Vietnam and Egypt to successfully organise online gatherings, such as the second meeting of the Sub-Committee on trade and industry cooperation between the two sides in order to further connect the business communities of both countries.
VOV: Given the context of the pandemic, how was the protection of our citizens in Egypt and other regional countries implemented by the Embassy to ensure the people can feel secure to live and work, as well as to return safely to their homeland?
Amb. Cong: Vietnamese communities residing in Egypt and the wider region are not large and they are typically scattered, making it difficult for the representative agency to protect citizens. To realise the Party and the State's policies on work related to overseas Vietnamese, the Embassy has opened an active hotline which is in operation 24/7 so that people can contact us directly if they have any problems.
It has also provided timely information to help people learn information about repatriation flights and domestic regulations on medical isolation to prevent COVID-19. Through Vietnamese associations in Egypt, the Embassy has grasped the specific situation relating to stranded Vietnamese travelers, students, or sailors and then arranged repatriation flights for them.
In 2021, the Embassy also launched a number of humanitarian campaigns to help and support needy people to overcome difficulties caused by the pandemic.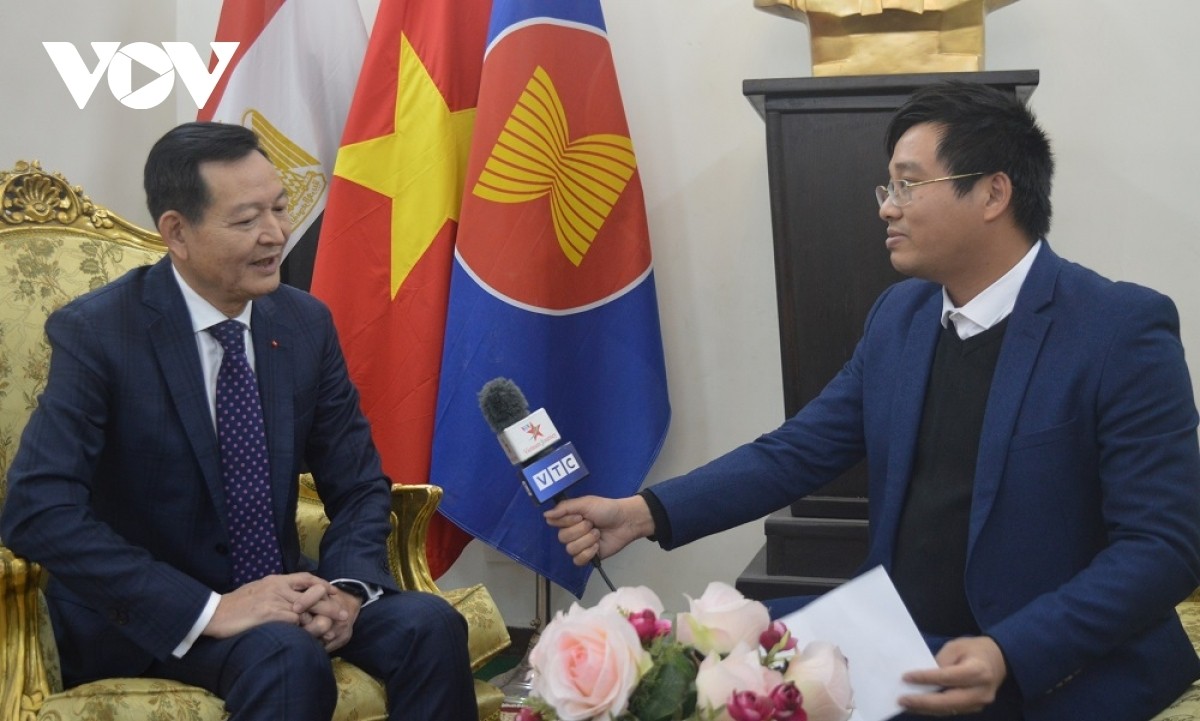 Ambassador Cong says his Embassy will work harder in 2022 to connect the business communities and realise cooperation agreements between the two countries. Photo: VOV
VOV: With the COVID-19 outbreak anticipated to gradually be brought under control globally in 2022, what areas will be the Embassy's major focus to promote relations between Vietnam and regional countries?
Amb. Cong: The Vietnamese Embassy in Egypt has identified a number of key tasks that must be performed in 2022 in order to fully utilize cooperation potential and effectively strengthen bilateral relations.
Firstly, we will make greater efforts to connect the ministries, branches, and localities of the two countries in substantive and effective implementing signed agreements.
Secondly, we will focus on promoting the meeting of the Vietnam – Egypt Intergovernmental Committee which will strive to hammer out effective co-operation measures in various fields.
Thirdly, on economic cooperation, the two sides will center on a number of fields of mutual strength, such as agriculture, aquaculture, as well as oil and gas exploitation.
Fourthly, we will try to promote cooperation agreements between localities of Vietnam and Egypt, including one between Ninh Binh and Luxor. At the same time, we will study and speed up the signing of a co-operation agreement between Hanoi and Cairo.
Egypt has been selected to host the 27th UN Conference on Climate Change (COP27) in 2022. This represents an opportunity for the two countries to consider co-operation in the fields of Industry 4.0 and green technology, which Egypt is currently very interested in developing in the region.
Vietnam seeks to boost cooperation with the Middle East – Africa region
Vietnam's Foreign Ministry in December chaired a mid-term review conference in both online and offline formats on Dec. 20 on the implementation of a project on developing ties between Vietnam and the Middle East – Africa countries for the 2016-2025 period.
According to VNA, the event drew 200 delegates from 20 ministries, agencies, and nearly 50 cities and provinces nationwide.
The Middle East consists of 17 countries with a total population of about 400 million. Vietnam and Middle Eastern countries boast long-standing diplomatic ties, cooperation, and friendship.
They also have complementary export structures in which what the Middle East needs are those of Vietnam's strength like aquatic products, cashew nuts, peppercorn, coffee, textile-garment, and building materials, while this region's exports are also in demand in Vietnam, including oil and gas products, chemicals and plastics.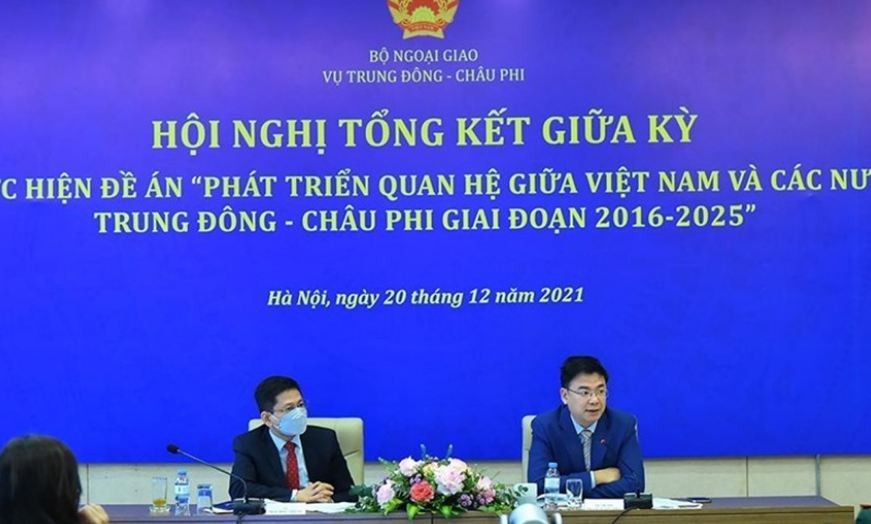 Deputy Minister of Foreign Affairs Pham Quang Hieu speaks at the event. Photo: Foreign Ministry.
Deputy Minister of Foreign Affairs Pham Quang Hieu affirmed that Vietnam always treasures strengthening friendship and cooperation with the Middle East – Africa. Over the past five years, bilateral political ties have laid a solid foundation for promoting all-around collaboration in the fields of economy, investment, trade, and science.
Delegates stressed that the potential of cooperation between Vietnam and the region remains huge given the region's great potential in economy, finance, and trade. Many countries in the region are promoting a Look East policy and attach importance to ties with Vietnam.
Economic and investment ties between Vietnam and the region have seen big progress, with two-way trade between both sides surging nearly 1.4-fold over the past five years. A number of regional development funds have provided official development assistance for infrastructure and poverty reduction projects in Vietnam's remote and mountainous areas.
The cultural and people-to-people exchange has been expanded via the organization of Vietnam Culture Days and photo and book exhibitions popularising Vietnam and its culture in countries in the region. Vietnam's peacekeeping activities in the United Nations missions have been highly valued by the international community.
Amid the Covid-19 pandemic, the Vietnamese Government and firms have provided traditional friends in the region with medical masks and supplies. Many Middle East nations also provided vaccines and medical supplies for Vietnam.