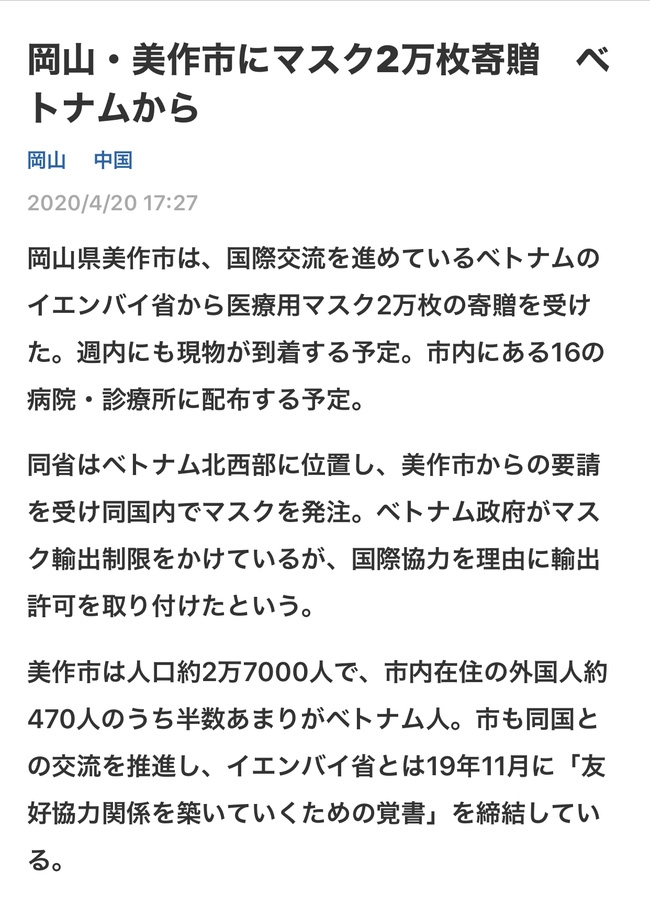 Nikkei reported on Yen Bai province donating masks to Mimasaka city
On April 20, Japanese famous financial and economic newspaper Nikkei published information about Vietnam gifting 20,000 medical masks to Mimasaka city, Okayama province.
The article said that Vietnam's northwest province of Yen Bai has donated medical masks to city of Mimasaka. This action demonstrates international cooperation between the two countries.
These masks are expected to be provided to 16 medical facilities in the city of Mimasaka.
In November 2019, the two Vietnam's and Japan's localities signed a 'memorandum of friendship assistance promotion' to build a long-term relationship.
Not only Japan, in recent years, Vietnam has donated many masks and medical supplies to a number of European and American countries, which are heavily affected by the Covid-19 epidemic. Vietnam has been highly appreciated by many countries for the spirit of solidarity. Although it is also affected by Covid-19, Vietnam is still willing to share resources, provide medical assistance and create favorable conditions for citizens of countries to stay here.
Jennifer Tran