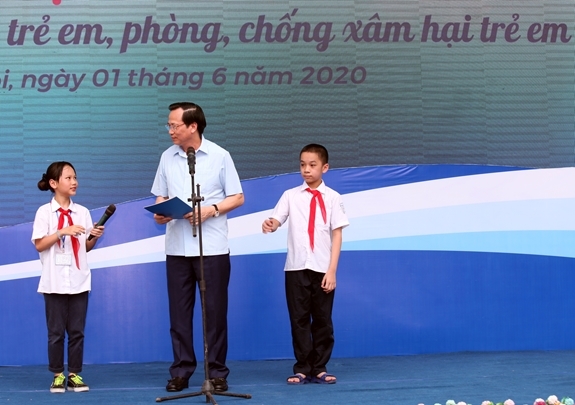 Minister of Labor, Invalids and Social Affairs Dao Ngoc Dung speaks at the ceremony. (Photo: QDND)
According to VNS, addressing the launching ceremony at Ha Noi's Dich Vong Secondary School, Labour Minister Dao Ngoc Dung said that the national action month for children this year was taken place in a special context.
Minister Dao Ngoc Dung shared, the national action month for children took place when the National Assembly recently held a high-level monitoring of laws on child abuse prevention and control.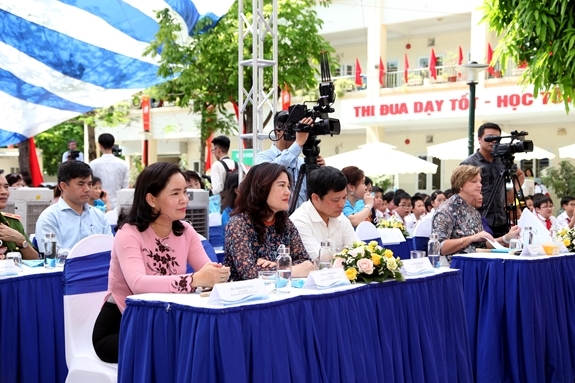 Delegates attending the ceremony. (Photo: QDND)
Also, the Prime Minister has just issued Directive No. 23/CT-TTg on strengthening measures to ensure the implementation of children's rights and child protection. The directive clearly states the responsibilities of each teacher, parent and even the children themselves.
These affirms that the Party, State, People, parents and teachers always give children the best concern.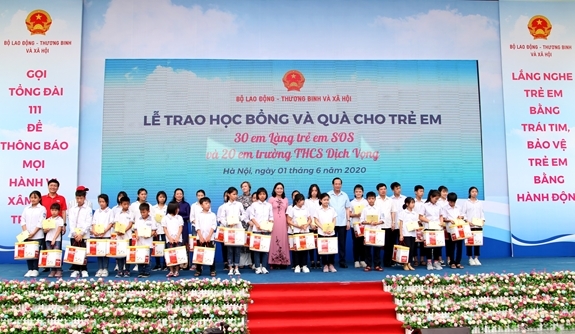 Scholarships and gifts are given to children from SOS Village and Dich Vong Secondary School. (Photo: QDND)
Ms. Rana Flowers, Representative of the United Nations Children's Fund (UNICEF) in Viet Nam, said: "In this month of action for children this year, let's rethink our country and the world after the Covid-19 pandemic, where children feel safe and develop to the fullest, free from abuse, violence and exploitation."
The month of action for children is also an opportunity for local authorities, families and communities to manage and supervise children about summer activities in the locality; organize a safe summer for children, minimize incidents of violence, and exploitation of children.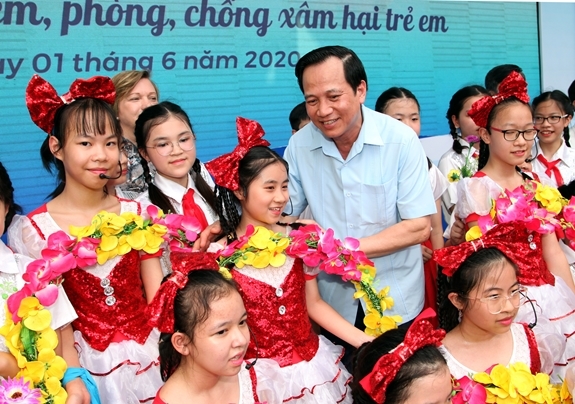 Minister of Labor, Invalids and Social Affairs Dao Ngoc Dung and the children at the launching ceremony. (Photo: QDND)
Communication messages in the National Action Month for Children in 2020 include: Joining hands to protect children, preventing and combating child abuse; social distance, family connection opportunities; happy family, preventing Covid-19; love is stronger than the scold...
At the launching ceremony, leaders of ministries and branches presented scholarships and gifts to SOS Village's children and students of Dich Vong Secondary School, Hanoi. Students attending the ceremony also received a meaningful gift on the occasion of International Children's Day 1-6, reported by People's Army Newspaper.
According to the National Assembly's supreme supervision programme on child abuse, between January 1, 2015 and June, 30, 2019, as many as 8,442 child abuse cases were detected nationwide, involving 8,709 child victims.
Of the victims, 6,432 children were sexually abused, 857 were assaulted, 106 children were trafficked and 1,314 children were victims of other forms of violence.
The National Assembly's supervision team warned that child abuse continued to rise in Viet Nam in the last few years.
Candy Lee