Vietnam News Today (Feb 17): Vietnamese Ambassador assumes office as ASEAN Deputy Secretary-General
Vietnam News Today (Feb 17) features headlines including Vietnamese Ambassador assumes office as ASEAN Deputy Secretary-General, Vietnam shares development experience via digital technology at UN session, consumer prices in HCMC and COVID-19 updates.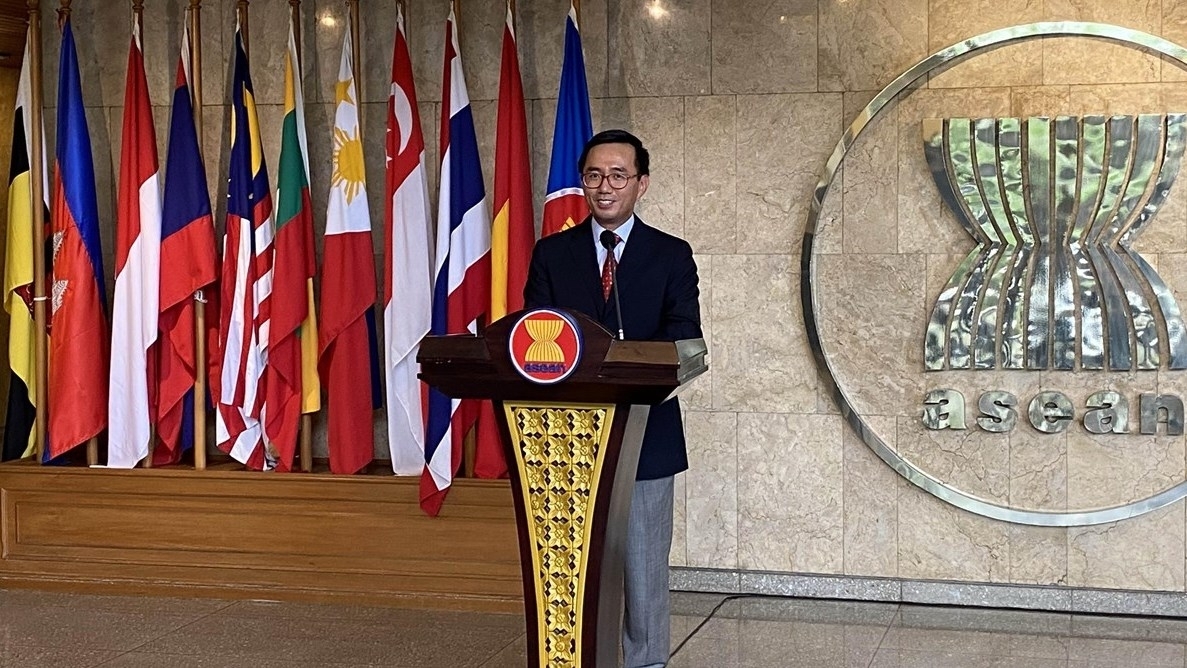 New Deputy Secretary-General of ASEAN Tran Duc Binh
Vietnamese Ambassador assumes office as ASEAN Deputy Secretary-General
Vietnamese Ambassador Tran Duc Binh took office as Deputy Secretary-General for Community and Corporate Affairs at a ceremony in Jakarta, Indonesia on February 15, VGP reported.
Binh, who was former Ambassador and Permanent Representative of the Socialist Republic of Viet Nam to ASEAN, will served a three-year term from 2021 to 2024.
He will support the ASEAN Secretary-General in providing strategic direction and guidance on research, corporate and public affairs as well as outreach activities.
Binh will oversee the implementation of administration and general affairs, finance and budget, human resources, information technology, information resource management, community outreach, stakeholder engagements, protocol, conference and formalities, legal affairs, program cooperation and project management, and others.
Deputy Secretary-General Binh obtained MA in International Affairs from Carleton University in Ottawa, Canada and a BA in English Linguistics from Ha Noi University of Foreign Studies in Viet Nam./.
Binh is the third Vietnamese diplomat to join ASEAN Secretariat leadership. Earlier Le Luong Minh and Hoang Anh Tuan served as Secretary-General from January 2013-January 2018 and Deputy Secretary-General from February 2018-February 2021.
Vietnam shares development experience via digital technology at UN session
Tapping into the achievements of digital technology and mitigating their negative impacts will serve to accelerate the implementation of the 2030 Agenda on Sustainable Development.
This comes after Ambassador Dang Dinh Quy, head of the Vietnamese delegation to the UN, made the remarks when detailing the country's development experience via promoting digital technology during the 59th session of the UN Commission for Social Development, an event running virtually from February 8 to February 17.
The session is running with the theme of "Socially just transition towards sustainable development: the role of digital technologies on social development and well-being of all".
The Vietnamese diplomat outlined the necessity of paying close attention to education and training in science and technology, whilst also investing in digital technology infrastructure and providing services at affordable prices, especially in remote and mountainous areas.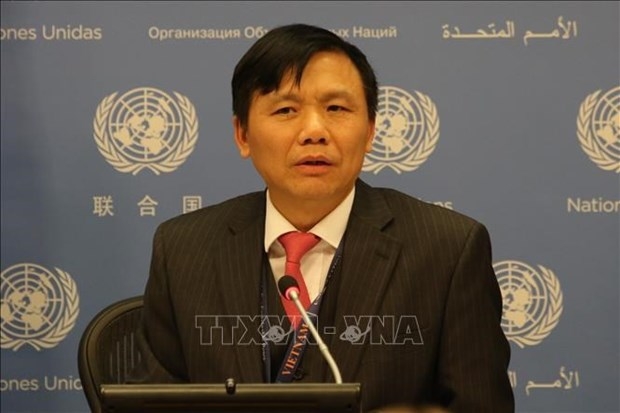 (Photo: VNA)
The Ambassador believes that development policies should take into account short and long-term goals in a bid to ensure that balance exists between economic recovery and sustainable development.
During the course of the session, Munir Akram, president of the UN Economic and Social Council, said in order to ramp up the use of digital technology and narrow the digital gap, US$428 billion is needed to invest in global bandwidth. Therefore, now is the time for innovation, creativity, and solidarity, he said.
Participants at the event also shared their experiences and initiatives regarding social policies, all of which serve to create the conditions for the public to access digital technologies and adopt them in both production and the distribution of goods and services, VOV reported.
Permanent Deputy PM pays Tet visit to Long An International Port
Permanent Deputy Prime Minister Truong Hoa Binh paid a Tet visit to workers at the Long An International Port in Can Giuoc district, Long An province on February 15 (the fourth day of the Lunar New Year).
The government official was informed of the port's positive results over the past year and in early 2021 despite the COVID-19 pandemic.
The port handled over 100,000 tonnes of cargo in the first month of 2021. During the Tet holiday, workers at the port have ensured smooth operation, meeting the demands of customers.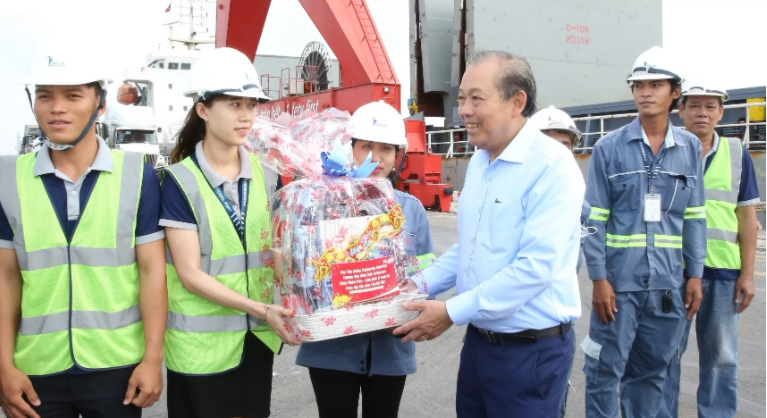 Deputy PM Truong Hoa Binh presents Tet gifts to workers at Long An International Port. (Photo: VGP)
Long An International Port signed a strategic cooperation agreement with ports in the Mekong Delta region in 2020 to help export businesses reduce their costs and improve the competitiveness of their products.
The port also signed strategic cooperation agreements with investors to implement wind power projects in Vietnam, opening up long-term development for the port and promoting industrialisation in the Mekong Delta region, as reported by NDO.
Viet Nam confirms 40 new local COVID-19 cases
Viet Nam confirmed 40 new community infection cases of COVID-19 on Tuesday afternoon, bringing the national patient tally to 2,311.
The latest cases comprise 38 in Hai Duong, one in Ha Noi and one in Quang Ninh, according to the National Steering Committee for COVID-19 Prevention and Control led by Deputy Prime Minister Vu Duc Dam.
The 3rd wave of local transmissions began on January 27 with 679 cases having been confirmed in 13 cities and provinces.
As the pandemic remains complicated, the Government agreed to cancel Spring festivals and religious activities in an attempt to contain local COVID-19 transmissions.
The Ministry of Health called on citizens to seriously implement its the 5K message: Khau trang (facemask) – Khu khuan (disinfection) – Khoang cach (distance) – Khong tu tap (no gathering) – Khai bao y te (health declaration).
Leaders of Hai Duong, the current biggest COVID-19 hotspot, decided to impose social distancing in the locality from Tuesday.
Meanwhile, Ha Noi authorities asked those with travel records to Hai Duong to conduct health declaration when they return to Ha Noi and they are encouraged to not to leave their houses if not really necessary, according to VGP.
HCM City: Consumer prices see slight rise after Tet holiday
Consumer prices in Ho Chi Minh City showed slight fluctuations on February 16, the last day of the Lunar New Year (Tet) holiday, with most traders in wet markets resuming business.
It is noteworthy that prices of fresh vegetables and fruit increased remarkably compared to before Tet, as consumers tend to buy more of those goods after feasting during the holiday.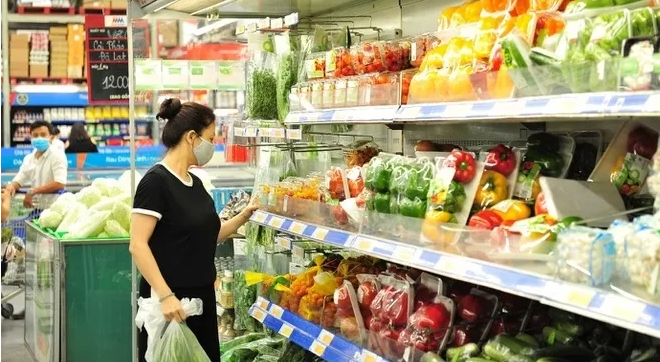 (Photo: NDO)
Reports of the Thu Duc wholesale market said supplies of vegetable, fruits and flower are abundant at stable prices.
Besides wet markets, most supermarkets, convenience stores and shopping centres in the city are scheduled to re-open on February 17, ensuring supplies of goods when residents return to the city after the holiday, NDO said.