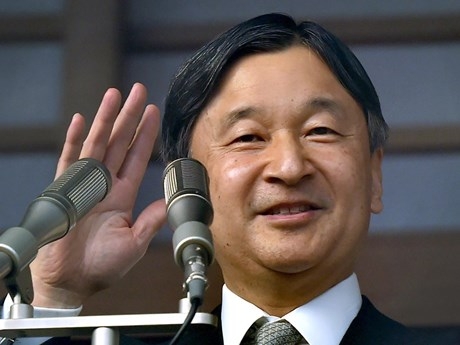 Japanese Emperor Naruhito (Photo: AFP/VNA)
Vietnamese leaders extend congratulations on Japanese Emperor's birthday
Party General Secretary and State President Nguyen Phu Trong has extended a message of congratulations to Japanese Emperor Naruhito on his 61st birthday on February 23.
Prime Minister Nguyen Xuan Phuc also sent a congratulatory message to his Japanese counterpart Suga Yoshihide.
On the occasion, Deputy Prime Minister and Minister of Foreign Affairs Pham Binh Minh congratulated Japanese Minister for Foreign Affairs Motegi Toshimitsu, as reported by NDO.
Vietnam sends congratulations to Estonia on Independence Day
Top leaders of Vietnam on February 24 extended congratulations to their Estonian counterparts on the European country's 103rd Independence Day (February 24).
Party General Secretary and State President Nguyen Phu Trong sent a message of congratulations to President of Estonia Kersti Kaljulaid.
Meanwhile, Prime Minister Nguyen Xuan Phuc extended congratulations to his Estonian counterpart Kaja Kallas.
The same day, Deputy PM and Minister of Foreign Affairs Pham Binh Minh congratulated Estonian Minister of Foreign Affairs Eva-Maria Liimets, according to NDO.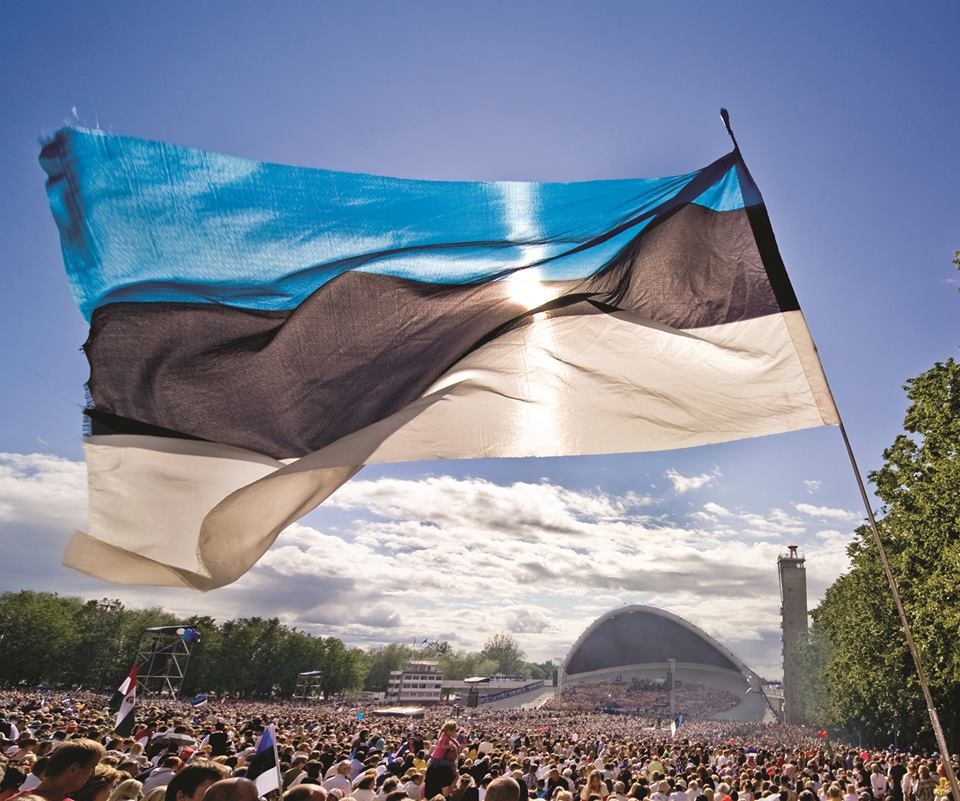 Estonia on Independence Day (Photo: Ebster)
Vietnam, Thailand agree to deepen enhanced strategic partnership
Vietnamese Deputy Minister of Foreign Affairs Nguyen Quoc Dung and Permanent Secretary for Foreign Affairs of Thailand Thani Thongphakdi exchanged views on cooperation between the two countries and ministries, along with regional and international issues of shared concern, during their online talks on February 24.
Dung thanked the Thai government for facilitating flights bringing Vietnamese citizens home, and supporting those who are studying and living in Thailand.
He suggested Thailand limit trade barriers, exchange information about export-import regulations and procedures, and further support and closely cooperate with Vietnam in regional and international organisations and forums.
Thani congratulated Vietnam on the successful organisation of the 13th National Congress of the Communist Party of Vietnam, and its outstanding performance of the ASEAN Chairmanship 2020.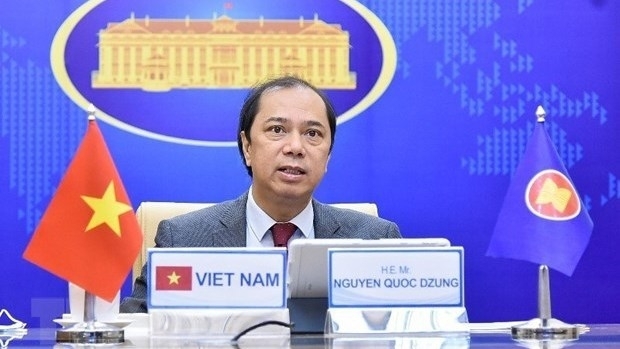 Deputy Minister of Foreign Affairs Nguyen Quoc Dung (Photo: VNA)
Thailand attaches importance to and has worked to continuously consolidate and strengthen the fine bilateral friendship, the official said.
Thailand also backs initiatives put forth by Vietnam in its capacity as a non-permanent member of the United Nations Security Council.
The two sides agreed to deepening the enhanced strategic partnership between Vietnam and Thailand in an effective manner, increase the exchange of all-level visits, and maintain bilateral cooperation mechanisms.
Vietnam and Thailand will work together to organise activities celebrating the 45th anniversary of diplomatic ties this year, sign an action programme implementing the enhanced strategic partnership, and a cooperation agreement between the two foreign ministries for 2021-2025.
They have also targeted a balanced trade and set a goal of US$20 billion in bilateral trade revenue a year in the coming time, NDO reported.
PM proposes measures to address climate change risks at UN debate
Prime Minister Nguyen Xuan Phuc attended and delivered remarks at an open debate of the UN Security Council (UNSC) on addressing climate-related risks to international peace and security, which was held in the form of video conferencing on February 23.
According to VOV, this is the first time the Vietnamese government leader has attended and spoke at an event in the framework of the UNSC, which demonstrates Vietnam's responsible role and contribution to the joint effort of the international community to respond to climate change, a leading global challenge at present.
In his remarks, PM Phuc underlined the grievous impacts of climate change on Earth – the shared home of human kind, which have placed great burdens on the political and socio-economic life of many countries. They have caused unemployment and poverty, affected the livelihood of hundreds of millions of people, and risked creating instabilities or exacerbating present conflicts in many countries and regions, thus threatening international peace and security.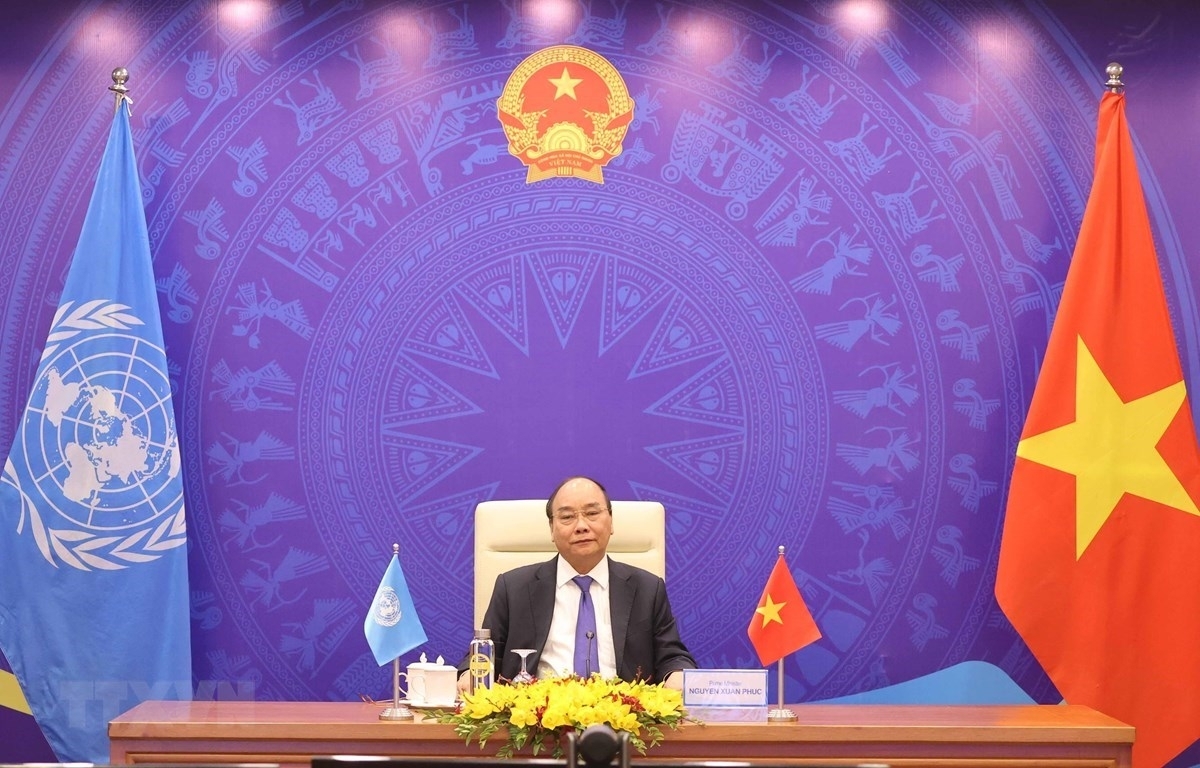 He proposed that the UNSC, with its foremost mission being the maintenance of international peace and security, needs to galvanize collective and persevering efforts of the international community via four groups of measures to address climate-related risks.
PM Phuc said a comprehensive and balanced approach is necessary in handling the connections between traditional and non-traditional security challenges, particularly in addressing the root causes of conflicts, such as poverty, inequality, power politics and unilateral interference and coercion. "Strict adherence to the UN Charter and international law must truly become a standard of behaviour for countries in international relations," he said.
The Vietnamese government leader asked the UNSC and the international community to allocate greater resources to support developing countries, least developed countries, small island developing states, and land-locked countries that are most detrimentally affected by climate change, and are also lacking expertise and resources, in order for the 2030 Agenda for Sustainable Development (SDG-2030), the UN Framework Convention on Climate Change (UNFCCC), and the Paris Agreement (COP-21) to be effectively implemented.
At the same time, PM Phuc stressed that in order to harmoniously manage the connection between climate change and security, it is necessary to continue upholding the principles of respect for the sovereignty, national ownership and principal responsibilities of states.
Viet Nam confirms eleven new COVID-19 cases
Eleven new community infection cases of COVID-19 were recorded in Hai Duong Province on Wednesday, raising the national patient tally to 2,412.
The latest cases include six in Kim Thanh District, two in Cam Giang District, two in Chi Linh City, and one in Thanh Ha District.
(Photo: VNE)
Of the country patient tally, 820 have been documented since January 27, 2021 in 13 cities and provinces, namely Hai Duong (627), Quang Ninh (61), Ho Chi Minh City (36), Ha Noi (35), Gia Lai (27), Binh Duong (six), Bac Ninh (five), Hai Phong (four), Dien Bien (three), Hoa Binh (two), Bac Giang (two), Hung Yen (two), Ha Giang (one)
The same day, 30 more patients were declared free of the virus, bringing the total recoveries to 1,790.
The nation is placing 88,583 people under medical surveillance and quarantine nationwide. Of these, 592 are being kept at hospitals, 12,112 at State-designated sites, and 75,879 at places of residence, VGP reported.
Jasmine Le