Vietnam News Today (January 8): Vietnam prioritizing enhanced cooperation between UN, regional organizations
Vietnam News Today (January 8) features headlines including Vietnam prioritizing enhanced cooperation between UN, regional organizations, get-together celebrates joint Vietnam-Cambodia victory, VN remains consistent with COVID-19 containment strategy, Cat Linh-Ha Dong railway project.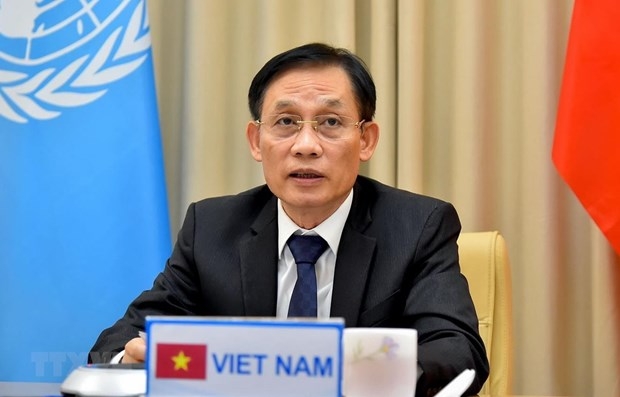 Deputy Foreign Minister Le Hoai Trung (Photo: VNA)
Vietnam prioritizing enhanced cooperation between UN, regional organizations
As an active member of ASEAN and the UN Security Council (UNSC), Vietnam will continue to give priority to strengthening cooperation between the UN and regional organisations, especially in preventing conflict, and is willing to coordinate with the international community for a better and more stable world, Deputy Foreign Minister Le Hoai Trung has said.
The Deputy FM made the statement at a high-level open debate of the UNSC held online on January 6, during which he stressed that Vietnam has a deep understanding of the dangers to peace in unstable contexts, as reported by Vietnam Plus.
The multilateral system, with the UN at its core, should be an important mechanism for coordinating efforts at the global level, Trung said, adding that countries need to strengthen their commitment to complying with the UN Charter and international law.
According to UN Secretary-General Antonio Guterres, conflicts are becoming more and more complicated across the world. He called on international and regional organisations to promote the implementation of peace-building policies to support countries in carrying out socio-economic development goals.
Meanwhile, Chairman of the African Union Commission Abdel Fattah el-Sisi urged countries to coordinate and enhance policies to ensure security, build post-conflict reconstruction strategies, and promote unity towards reconciliation and the settlement of conflicts.
Get-together celebrates joint Vietnam-Cambodia victory over Pol Pot
Ho Chi Minh City's Union of Friendship Organisations and the Cambodian Consulate General in the city held a get-together on January 7 to mark 42 years since the victory in the Southwestern border defence war and the joint victory on January 7, 1979 of Vietnam and Cambodia over the genocidal Pol Pot regime.
Cambodian Consul General Sok Dareth expressed his profound gratitude for the support from the Vietnamese Party and Government as well as Vietnamese voluntary experts and soldiers for helping Cambodia escape from the genocidal regime.
He quoted Cambodian Prime Minister Hun Sen as saying that thanks to Vietnam, Cambodia could build up its armed forces and liberate the people and the country has the best friend that is Vietnam.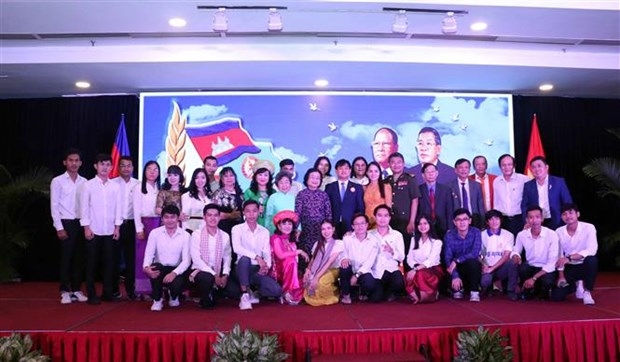 Participants pose for a group photo at the event (Photo: VNA)
Cambodia and Vietnam have stood shoulder-to-shoulder, supporting each other at regional and international forums and cooperating in developing their economies.
Truong Minh Nhut, President of the Vietnam-Cambodia Friendship Association of HCM City, said that January 7, 1979 was the manifestation of pure international solidarity and the special friendship between the Vietnamese and Cambodian peoples, as reported by Vietnam Plus.
VN remains consistent with COVID-19 containment strategy
Dr. Dang Quang Tan, Director General of the Preventive Medicine Department under the Ministry of Health said at least 38 countries have detected new COVID-19 variants as of January 5, in which 12 countries have reported community infections, prompting 70 countries to impose travel restrictions or close their borders to prevent new variants.
Dr. Tran Dac Phu, senior advisor to the Viet Nam Public Health Emergency Operations Center (PHEOC) said many countries have reported high infection rates because they have not strictly controlled and quarantined entrants.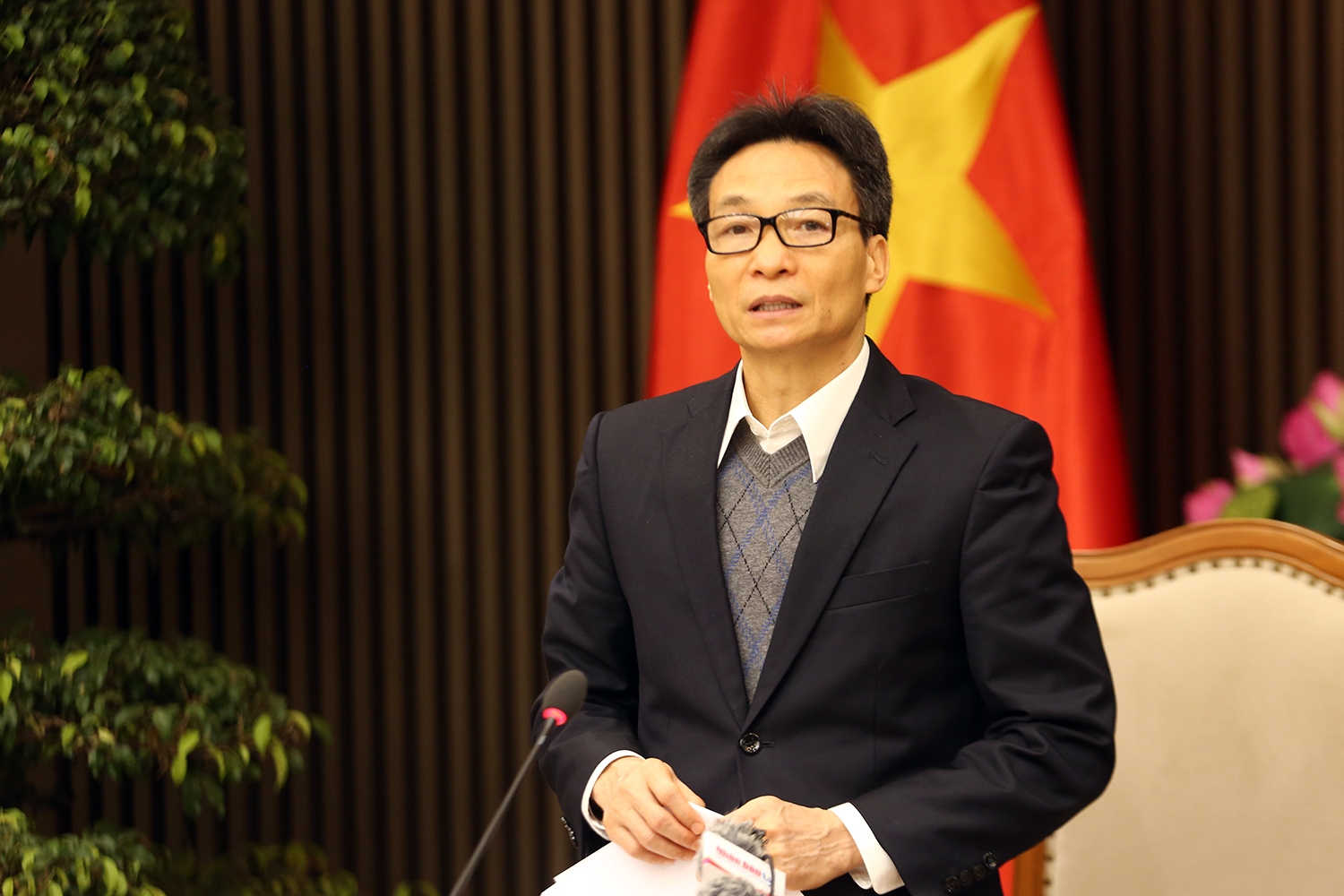 Deputy Prime Minister Vu Duc Dam presides over a meeting of the National Steering Committee on COVID-19 Prevention and Control, Ha Noi, January 7, 2021 (Photo: VGP)
Against the above backdrop, the National Committee, led by Deputy Prime Minister Vu Duc Dam, ordered every ministry, sector and locality to fully and seriously implement containment measures and regularly update information on the COVID-19 Safety Living Map System.
Subordinate levels must tighten border control to prevent illegal entrants while each family whose relatives are living abroad need to encourage their relatives not to illegally enter the country.
Cat Linh-Ha Dong railway project scheduled to complete in late March
At a meeting of the board in Hanoi on January 7, Nguyen Khanh Tung, Vice Director of the project's Management Board explained that the project has failed to be finished as earlier set schedule due to various difficulties, including impacts from COVID-19 pandemic, Vietnam Plus reported.
The trial run of the project completed in December 2020 with more than 70,000km of operations and thousands of train trips tested, enabling the system to operate commercially, said Minister of Transport Nguyen Van The at the meeting.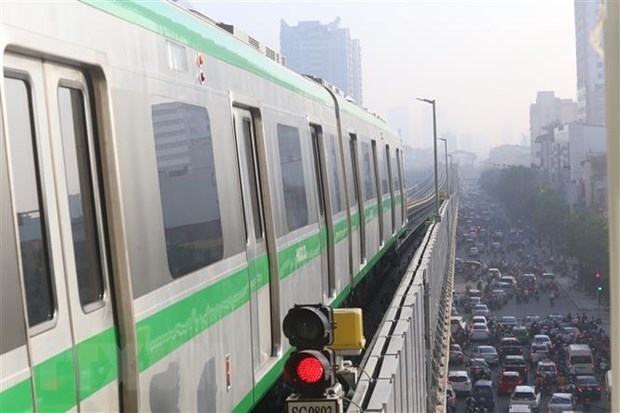 The trial run of the Cat Linh-Ha Dong urban railway project completed in December 2020 (Photo: VNA)
He added that Hanoi is ready to receive the project, asking the Management Board to give priority to completing it.
Running from Cat Linh in Ba Dinh district to Ha Dong district, the railway, funded with Chinese ODA, has a total investment capital of approximately 886 million USD after several adjustments.
The system is designed to have a main elevated line of more than 13km, 12 stations, and 13 trains. Each train, whose designed speed reaches 80 km per hour, has four carriages capable of carrying over 900 passengers.
Rice export turnover up 10 percent in 2020
Vietnam earned over 3 billion USD from exporting rice in 2020, according to the Vietnam Food Association (VFA), a year-on-year increase of more than 10 percent.
The rice sector is expected to again post high growth this year, when new-generation free trade agreements (FTAs) Vietnam has signed with foreign partners come into play.
Amid the difficulties posed by the ongoing COVID-19 pandemic, rice exporters quickly made appropriate adjustments and actively sought new markets while fully tapping into the advantages brought about by FTAs.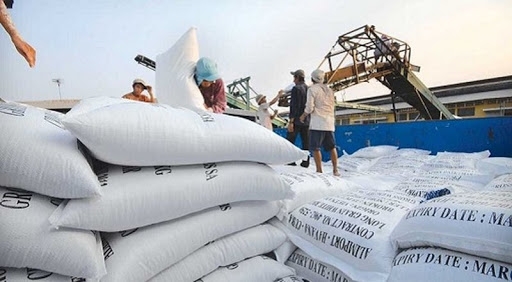 (Photo: Hanoi Times)
Experts said that if Vietnam wants to maintain rice export growth in 2021 it needs to focus on building a complete rice value chain and controlling quality in production, processing, and distribution.
The VFA predicted that rice exports will continue to grow this year because export markets, such as the Philippines and Africa, are continuing to sign contracts, VNA reported.
Overseas Vietnamese
Vice President Vo Thi Anh Xuan had meetings with several Thai leaders and high-ranking officials within the framework of her visit to Thailand to attend the Global Summit of Women (GSW) 2022.