Vietnam News Today (Jun 29): Noi Bai Airport Overwhelmed by Rising Passenger Numbers
Vietnam News Today (Jun 29): Covid-19: 769 cases added to national caseload on June 28; 19 foreign airlines to run routes to Da Nang over coming months; Vietnam eyes stronger development of Halal industry; Noi Bai Airport overwhelmed by rising passenger numbers.
Vietnam News Today (Jun 29) notable headlines
Covid-19: 769 cases added to national caseload on June 28
19 foreign airlines to run routes to Da Nang over coming months
Vietnam eyes stronger development of Halal industry
Noi Bai Airport overwhelmed by rising passenger numbers
Thua Thien-Hue: Ancient Cham tower announced as world record
Circular economy is key to sustainable development, says minister.
Friendship exchange marks 50 years of Vietnam-India diplomacy
Vietnamese hotels launch plastic upcycling programme
Hanoi set to host ASEAN+ Police Music Festival 2022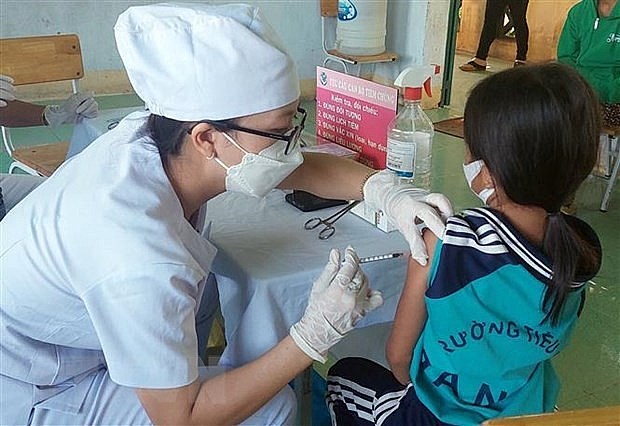 Ilustrative image. Photo: VNA
Covid-19: 769 cases added to national caseload on June 28
A total 769 new cases of Covid-19 were recorded in the past 24 hours from 4pm June 27 to 4pm June 28, according to the Ministry of Health.
Hanoi still reported the highest number of infections on the day with 158 cases, followed by Phu Tho with 62 and Nghe An with 54, cited VNA.
The national caseload reached 10,744,854.
A total 9,505 Covid-19 patients were given the all clear on June 28, bringing the number of recoveries so far to 9,665,972. There are 33 patients in serious conditions needing breathing support.
Three deaths from Covid-19 were recorded in the past 24 hours. The total fatalities rose to 43,087.
On June 27, 1,078,735 doses of vaccines were administered, raising the total number of doses of Covid-19 vaccines injected to 230,933,469.
19 foreign airlines to run routes to Da Nang over coming months
Up to 19 foreign airlines are set to operate international routes both to and from Da Nang City of Vietnam between July 1 and October 29, according to the city's authorities on June 28.
The total number of international flights throughout the four-month period will be 5,825, including 48 return flights per day and 342 return flights per week on average.
Meanwhile, airports in the Republic of Korea (RoK), Thailand, China, Japan, Malaysia, Cambodia, and Singapore will be frequent destinations for flights routes from Da Nang City.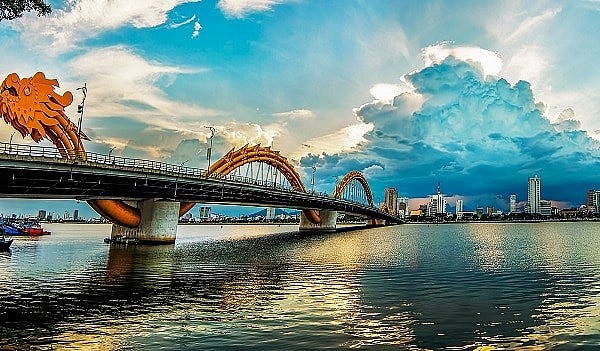 Photo: didulich
The Da Nang investment forum 2022 held on June 25 saw the new-age carrier Vietjet officially announce seven new routes connecting the central coastal city with Singapore, the RoK, and India.
New routes will operate from July, with four to seven return flights per week in operation to meet the increasing demand for tourism, trade, investment, and visits.
Da Nang City had resumed international air routes from March this year following the nation's long battle against the Covid-19 pandemic. By late June the central city had welcomed 286 international flights with 35,000 foreign arrivals.
Most notably, Da Nang received a total of 120 domestic and international flights on June 24, a record high figure over the past two years, according to VOV.
Tourism revenue during the first half of the year is estimated to have increased by 41% over the same period from last year, according to local authorities.
Ho Ky Minh, vice chairman of the Da Nang government, said this level of demand represents positive signs for the central city's tourism industry after two years of being negatively impacted by the Covid-19 pandemic.
Vietnam eyes stronger development of Halal industry
A conference on promoting international cooperation for developing Vietnam's Halal industry was held by the Ministry of Foreign Affairs in collaboration with the Ministry of Agriculture and Rural Development (MARD) on June 28 in Hanoi in both in-person and online forms.
The conference aimed to assess the current situation and prospect of the Halal industry in Vietnam, discuss ways to promote cooperation and take advantage of international resources to expand the presence of Vietnamese enterprises in production and supply chains of Halal products and services worldwide, and work out orientations for comprehensive and sustainable development of Vietnam's Halal industry until 2030.
In his speech at the event, Deputy Foreign Minister Pham Quang Hieu said Vietnam boasts great potential and advantages for developing the Hall industry, and affirmed that the Vietnamese government has paid special attention to supporting local businesses to join the global Halal market.
Deputy Minister of MARD Le Quoc Doanh said many Vietnamese agricultural products have met food hygiene and safety standards and Halal certification requirements, and are favored by Muslims, reported VNA.
According to representatives from some localities and businesses, Vietnamese businesses have met difficulties in producing and exporting Halal products due to a lack of information about the market and Halal standards, and high cost for production lines.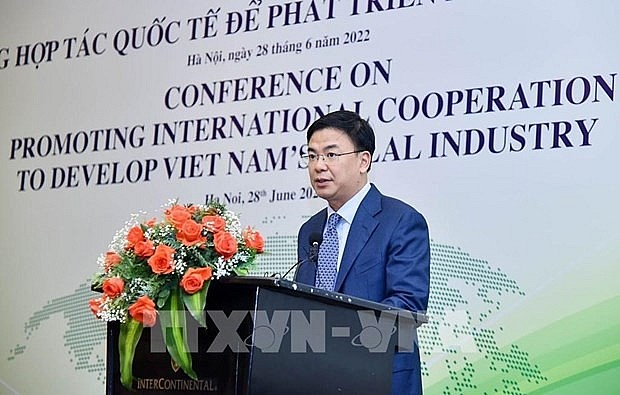 Deputy Foreign Minister Pham Quang Hieu speaks at the conference. Photo: VNA
Vietnam has yet to have its own trade promotion mechanism for Halal products, and it is also facing stiff competition from many countries with similar export structures, they stressed.
Internationals attendees and experts, and representatives from businesses pointed out problems that Vietnam is meeting in the process of developing the Halal market; and shared experience and strategies for developing the sector.
They recommended that Vietnam should make the most of international cooperation and resources, especially with Muslim and ASEAN countries, to support the development of Halal products and services, thus participating more deeply in the global Halal market.
Vietnam should have policies to attract foreign investment in building Halal production facilities meeting international standards; and help connect Vietnamese businesses with prestigious Halal certification organisations and partners around the world, they said.
Noi Bai Airport overwhelmed by rising passenger numbers
The number of passengers passing through Noi Bai International Airport in Hanoi has reached a record number, exceeding the airport's design capacity.
A representative of Noi Bai International Airport said that following the resurgence of the travel industry in the post-pandemic period, the number of passengers traveling on domestic air routes constantly hit new record high.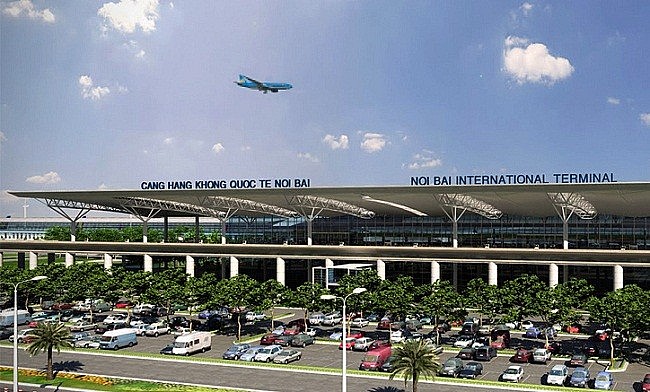 Noi Bai airport.
The airport welcomed 102,000 passengers, including 91,000 domestic travellers, on June 24, and the figure rose to 104,000, including 93,000 domestic tourists, the following day.
The number of travelers passing through the airport is projected to hit a record high of 110,000 by early July.
On average the domestic flight volume at Noi Bai Airport has recorded rapid growth, up more than 40% compared to the peak level seen in the 2019 summer, cited VOV.
To meet the demand of passengers and improve the service quality, the airport has deployed aviation security and police forces as it seeks to ensure smooth traffic, maximise the security screening system in place, and increase check-in kiosks.
It also recommended that passengers use online check-in services and arrive at the airport at least two hours prior to their departure time, as well as making use of public transport instead of private vehicles.
Thua Thien-Hue: Ancient Cham tower announced as world record
The History Museum of the central province of Thua Thien - Hue on June 27 held a ceremony to announce the national and world records for the local Phu Dien Cham Tower, as it has been recognised the first ancient Cham tower sinking deep under the coastal sand dunes to be excavated and preserved in Vietnam and the world.
In April 2001, the tower was discovered in the coastal sand dunes of Phu Dien commune, Phu Vang district. It is buried in the sand from 5-7m under the ground, cited NDO.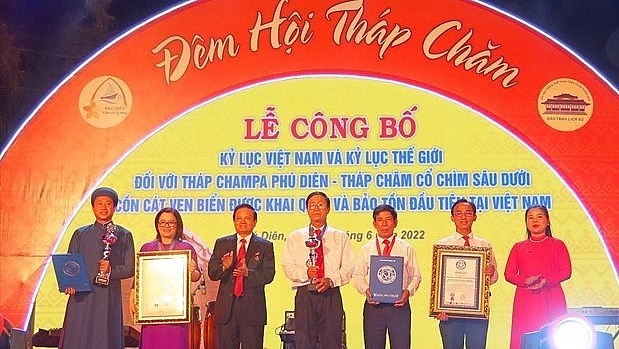 At the event. Photo: VNA
Director of the museum, the overall view of the building is a rectangular architectural block that gets smaller toward the top. It is one of the earliest remaining Cham brick structures in the central region, dating back to around the 8th century.
With such values, the tower, accredited as a national architectural and art relic since December 2001, earned its record recognition by both the Vietnam Records Organisation (Vietkings) and the World Records Union (WorldKings) this year.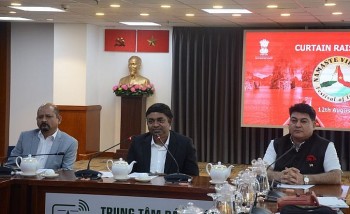 Handbook
The First Namaste Vietnam Fest will be held to mark 75 years of Indian Independence and the 50th anniversary of the establishment of Vietnam-India diplomatic ties (1972 – 2022).