Vietnam News Today (June 23) notable headlines
Vietnam a proactive, dynamic, and responsible member of ASEM
Hanoi Party chief urges safety for high school graduation exam
22,000 factory workers in HCMC, Binh Duong suspended from work amid Covid-19
Vietnamese fresh lychees auctioned at US$2,254 per kilo in Australia
Coffee chains still grow amid pandemic
Nearly 36% of public investment for agriculture disbursed in 6 months
WB highlights comprehensive Vietnamese policy framework in land management
President urges deepening Vietnam-UK strategic partnership
Vietnamese Film Exhibition features 120 pictures of famous filming locations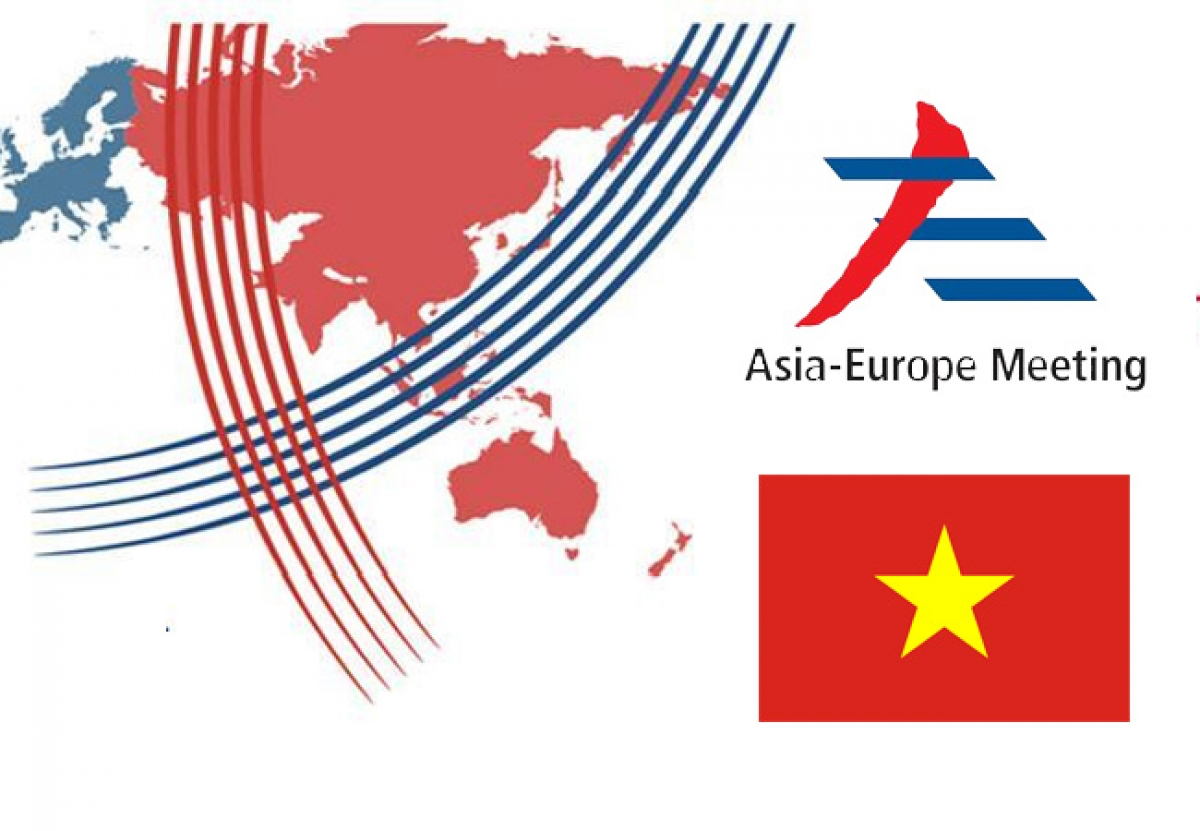 Over the last 25 years, Vietnam has always served as a proactive, dynamic, and responsible member of the Asia - Europe Meeting (ASEM) following its participation in the organization since 1996. Photo: VOV
Vietnam a proactive, dynamic, and responsible member of ASEM
Over the last 25 years, Vietnam has always served as a proactive, dynamic, and responsible member of the Asia - Europe Meeting (ASEM) following its participation in the organization since 1996.
The ASEM High-level Policy Dialogue in commemoration of ASEM's 25th founding anniversary was held on June 22 in Hanoi both in person and via a video call.
Running with the theme of "ASEM at 25: Strengthening Asia-Europe Partnership in a Transforming World", the dialogue is viewed as an occasion for members to discuss the orientations and vision for co-operation between Asia and Europe in the new period. It also seeks to help sustain and promote ASEM co-operation, especially amid the complicated nature of the novel coronavirus (Covid-19) pandemic that has caused a serious impact around the globe.
The event, held at the initiative of Vietnam, features the opening session with the participation of ministers and two panel discussions on "Asia and Europe in a resetting world" and "Shaping a vision for stronger Asia - Europe partnership," cited VOV.
After engaging in ASEAM for more than two decades, the country has helped to propose and promote expansion of ASEM membership twice, together with other members, whilst adopting many important documents and decisions orienting ASEM co-operation, such as the Hanoi Declaration on Closer ASEM Economic Partnership in 2004.
The nation also hosted the ASEM Summit in 2004 and the ASEM Foreign Ministers' Meeting in 2009. It has played an active role in five specialised co-operation groups that it is a member of, namely those on water management, natural disaster response, vocational training, education and human resources development, and technological connectivity.
Vietnam is also the country which is striving to initiate and maintain the first co-operation mechanism of ASEM, which is the sustainable development dialogue that focuses on the sustainable management of water resources and co-operation among countries traversed by the Mekong river. This therefore helped to elevate the Mekong sub-regional co-operation to the regional level in 2011.
Furthermore, the nation is also well regarded as one of the most active members in proposing and promoting new co-operation aspects, while implementing and co-sponsoring roughly 60 initiatives in different fields.
Hanoi Party chief urges safety for high school graduation exam
Secretary of the Hanoi Party Committee Dinh Tien Dung has asked all agencies of the capital city to consider Covid-19 prevention as their top priority, especially during the upcoming high school graduation examination.
The results of the exam will be used to determine admittance to colleges and universities.
This year the capital city will have more than 101,000 students taking this important exam so ensuring it is administered successfully is a task for all government levels.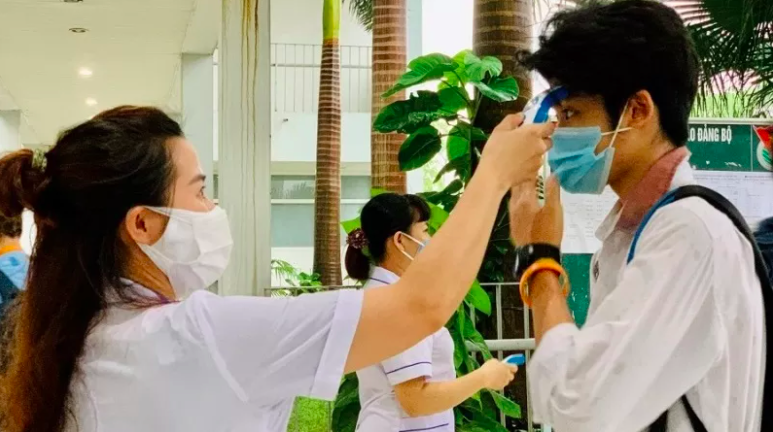 A student has his body temperature checked before entering the exam room. Photo: NDO
Dung asked the agencies concerned to build on their experience of administering the recent entrance exam for high schools to guarantee absolute safety for students and their parents, teachers and invigilators.
He noted that plans should be drawn up to deal with the emergency if students show any symptoms such as cough and fever, or where there are any suspected Covid-19 infections, reported NDO.
Exam rooms must be well ventilated, disinfected before and after the exam while rules on distance between students in each room must be adhered to.
For their part, students are required to strictly comply with Covid-19 prevention guidelines, especially the 5K rules, before, during and after doing their tests, and minimise contact with other people.
The first stage of the national high school graduation examination is scheduled to take place on July 7-8, while the second stage for students who are Covid-19 patients or who have been close contact with the aforementioned will be announced later.
22,000 factory workers in HCMC, Binh Duong suspended from work amid Covid-19
With Covid-19 attacking more than a few industrial zones, 22,700 workers in Ho Chi Minh city and its industrial neighbor Binh Duong have had to temporarily stop working.
In Ho Chi Minh city, the Labor Federation has recorded 369 infections among workers and as a result, 4,500 other workers who have had direct contact with them have to be quarantined at centralized facilities while more than 13,000 others must be isolated at their residences.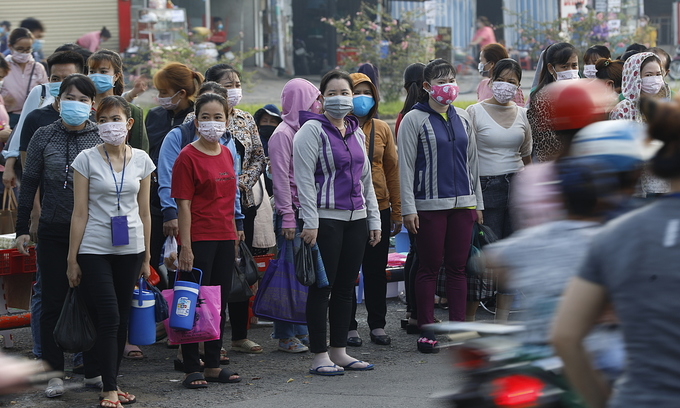 Employees at Pouyuen Vietnam factory in HCMC leave work on June 4, 2021. Photo: VnExpress
That means they could not work.
So far in the new wave that started in Vietnam since April 27, many factories with a large number of employees in HCMC have been hit by Covid, including Pouyen Vietnam, the biggest employer in HCMC with 56,000 laborers, and Vietnam Samho Co. Ltd with 10,000 workers, reported VnExpress.
HCMC is now the second most affected localities with 1,922 cases as of Tuesday evening. Tuesday also marks the sixth consecutive day the city's daily cases exceeded 100.
In Binh Duong Province, which has recorded 141 cases, 80 workers have been confirmed with Covid-19, affecting the operation of 171 companies.
Around 5,200 workers that been identified to have associated with the infected workers and thus have to temporarily stop working.
Binh Duong and HCMC are among localities with most industrial zones in Vietnam.
Binh Duong is currently home to 29 industrial parks and 17 industrial complexes with 1.2 million employees while HCMC has 1.6 million working in factories, including more than 320,000 in industrial parks and export processing zones.
Vietnamese fresh lychees auctioned at US$2,254 per kilo in Australia
One kilogramme of Vietnamese fresh lychees was sold for AUD3,000 (US$2,254) at a special auction in Pert city of West Australia recently, which opened the Vietnamese Lychee Week held by the Vietnamese Trade Office in Australia.
The auctioned lychees are chosen from the first batch of 17 tonnes of fresh lychees in the crop of 2021 that has just arrived in Australia.
The auction, took place in MCQ supermarket on June 16, drew a large number of visitors who lauded the outstanding quality of Vietnamese lychee this year.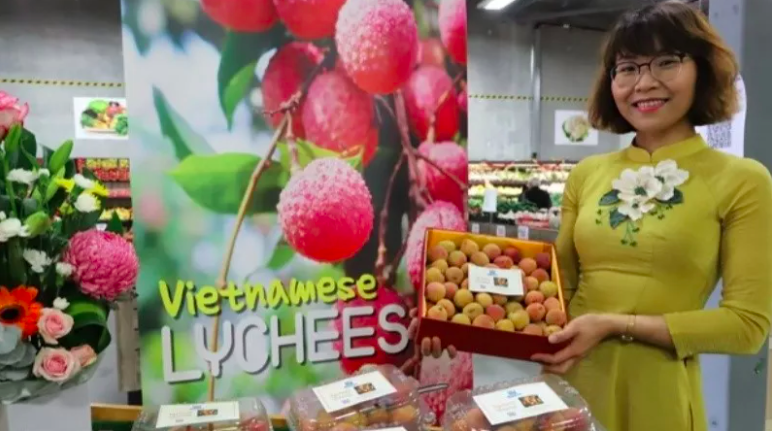 One kilogramme of Vietnamese fresh lychees was sold for AUD3,000 (US$2,254) at a special auction in Australia. Photo: VNA
Head of the Vietnamese Trade Office in Australia Nguyen Phu Hoa said that along with the high quality, this year, importers and distributors have paid great attention to packaging.
The auction aimed to affirm the value of Vietnamese lychee and support the promotion of the trademark, he said, adding that all the money from lychee selling at the event will be sent home to support children in the lychee-growing regions.
This year is expected to be a good year for Vietnamese lychee in Australia. The leading importer of Vietnamese farm produce in Australia, 4wayfresh, said that this week, an additional batch of lychees will arrive in West Australia as part of its plan to import 100 tonnes of lychees in this crop. In other states such as Victoria and South Australia, importers are importing fresh lychees from Vietnam to meet the market demand.
Vietnamese lychee has been favoured by Australian consumers since the product was first sold in the country in 2015. Last year, 80 tonnes of the product was sold in the market, cited NDO.
Ly Hoang Duy, Director of 4wayfresh, said that Vietnamese lychee has outstanding taste and quality thanks to improved storage and transport technology. The majority of consumers in Australia agree that this is the best of its kind in the market.
This year, Australian importers plan to import 300-500 tonnes of Vietnamese lychee.
Coffee chains still grow amid pandemic
Despite the impact of the Covid-19 pandemic, competition between coffee chains in Vietnam has become increasingly fierce with more giants trying to grab a slice of the lucrative market.
Masan, owned by billionaire Nguyen Dang Quang, Novaland of Bui Thanh Nhon and Tran Kim Thanh's Kido have all heated up the billion-dollar market by entering recently.
In May, The Sherpa, a company owned by Masan, purchased 20% of Phuc Long Joint Stock Company, which owns the Phuc Long brand, one of the country's most famous tea and coffee chains. As the firm spent US$15 million on the deal, the Phuc Long chain was valued at US$75 million, a number that surprised many people, according to some insiders.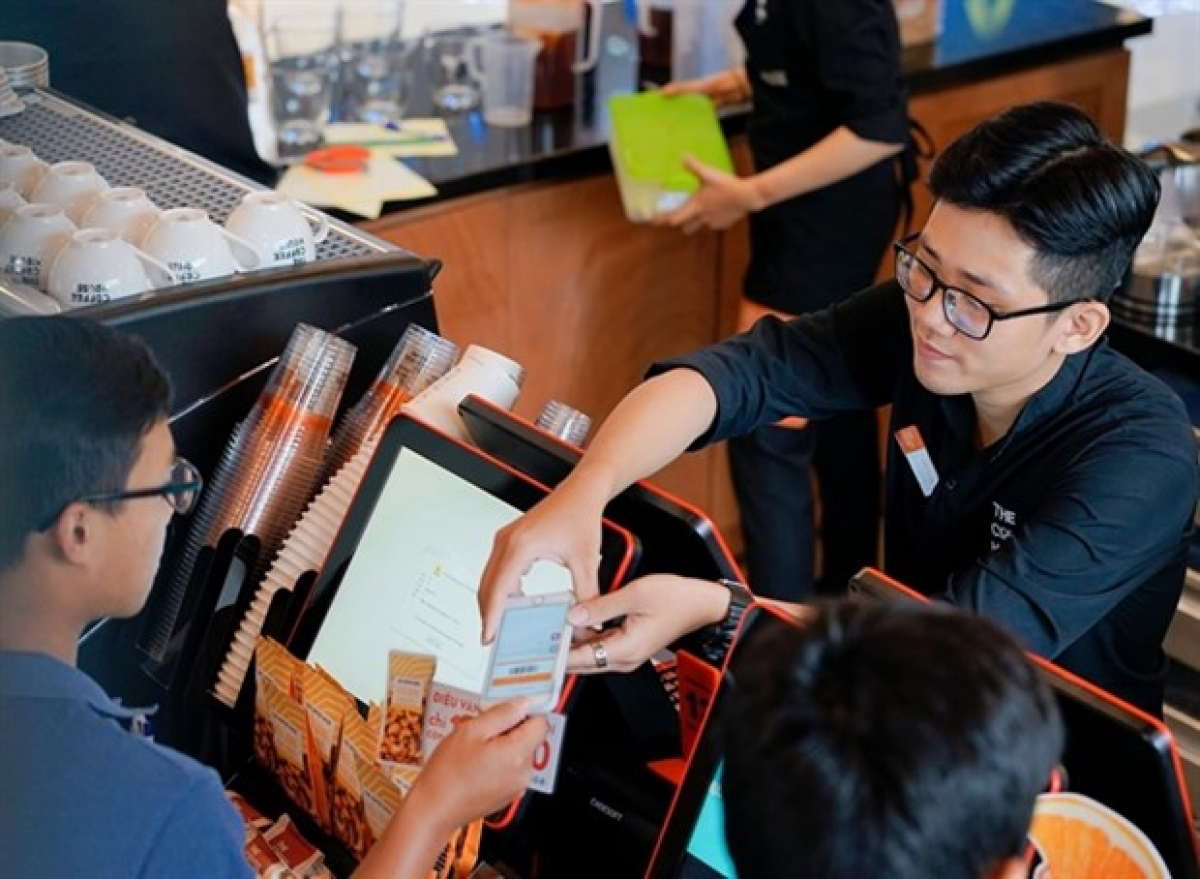 Photo: VOV
Set up in Bao Loc city, Lam Dong province in 1968, Phuc Long expanded into the retail beverage business in 2012 from its three traditional stores in Ho Chi Minh city in the 1980s. Currently, the firm has 60 stores in HCM city and seven in other localities, cited VOV.
Earlier, realty firm Novaland Group launched a new ecosystem of Nova Consumer to develop the food, beverage and nutrition segment with a closed food production chain from farm to fork. The group has invested more than US$200 million to bring together many famous consumer brands in its ecosystem, including PhinDeli coffee.
Last year, Vietnamese people spent about VND53 trillion (US$2.28 billion) on tea and coffee, a growth rate of about 10% annually, an extremely attractive number for chains.
Among the chains, Highlands Coffee led the market in term of sales with VND2 trillion in 2019, followed by The Coffee House with VND863 billion, then Starbucks with VND783 billion, Phuc Long with VND779 billion and Trung Nguyen with VND409 billion.
Due to the growing middle class in Vietnam, Euromonitor Worldwide valued the local coffee and tea retail market at more than US$1 billion. The Vietnam Coffee and Cocoa Association reported the rapid increase in the number of coffee chains has boosted their consumption to more than 10% of the country's coffee output.
As the per capita coffee consumption in Vietnam is only a third of the global average, the association sees the market as very attractive for both domestic and foreign businesses.
Rosie Nguyen