Vietnam News Today (March 10): Gov't chief greenlights pilot mobile money
Vietnam News Today (March 10) features headlines include Gov't chief greenlights pilot mobile money, announcement of 13th Party Central Committee's second plenum, Da Nang city plans to host annual Vietnam-ROK festival, COVID-19 updates.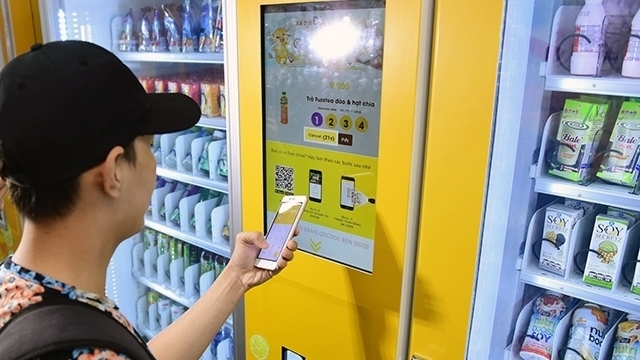 (Photo: VGP)
Gov't chief greenlights pilot mobile money
Prime Minister Nguyen Xuan Phuc has OK'd experiment of mobile money – a technology that allows people to spend money on small-value goods and services using a mobile phone.
The experiment will be effective for two years, starting from March 9, as reported by VGP.
Businesses licensed to provide intermediary payment services and to establish ground public telecommunication network using radio frequency bands shall be qualified to join the pilot scheme.
To use mobile money services, an individual must have ID or passport number linked to his registered mobile phone.
Mobile phone users must have their phones activated for at least three months before registering to use the novel services.
The maximum transaction limit shall be VND10 million per month per mobile money account for such operations like money withdrawal, transfer, and payment.
Businesses providing mobile money services shall be prohibited from providing credit or paying interest to mobile money users.
Mobile money service providers are also banned from using mobile money accounts to make transactions relating to money laundering, terrorist financing, fraud, and illegal acts specified by law.
The pilot scheme aims to accelerate non-cash payments and access to financial services across the country, especially in rural, mountainous and remote areas.
Announcement of 13th Party Central Committee's second plenum
The 13th Party Central Committee issued an announcement on March 9 after completing all the working programme of its second plenum.
The second plenary session of the 13th Party Central Committee took place on March 8 and 9 in Hanoi, during which the committee discussed and made decision on several items, including the working agenda for the entire term of the 13th Party Central Committee, the introduction of candidates for high-ranking positions in State agencies and other important issues.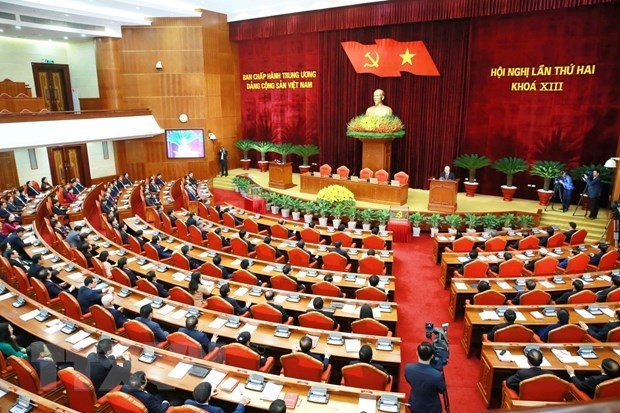 (Photo: Vietnam Plus)
Party General Secretary and State President Nguyen Phu Trong chaired the conference and delivered the opening and closing remarks.
Regarding the working agenda of the entire term of the 13th Party Central Committee, the Politburo has instructed the drafting of the working agenda based on the Resolution and documents of the 13th National Party Congress as well as proposals and recommendations of commissions, ministries, sectors, localities and Party Central Committee members.
The drafting and approval of the working agenda for the entire term of the 13th Party Central Committee have great importance as it outlines the orientations, content and steps for directing the implementation of the 13th Congress's Resolution.
Regarding the introduction of candidates for high-ranking positions in State agencies, the Party Central Committee engaged in democratic discussion and thorough consideration and reach high consensus on the nomination of candidates for the positions of State President, Prime Minister and Chair of the National Assembly, NDO reported.
Da Nang city plans to host annual Vietnam-ROK festival
The central city of Da Nang is planning to host an annual Vietnam-Republic of Korea (ROK) festival to boost cultural exchanges, investment promotions and development of tourism, trade, health care and education, Chairman of the municipal People's Committee Le Trung Chinh has said.
During a reception for Korean General Consul in Da Nang Ahn Min-sik on March 9, Chinh said that the two countries share various cultural similarities and Da Nang has emerged as a favourite destination for Korean tourists.
He expressed his gratitude for support from the Korean Consulate General, firms and citizens in Da Nang over the past time, especially during the fight against the COVID-19 pandemic.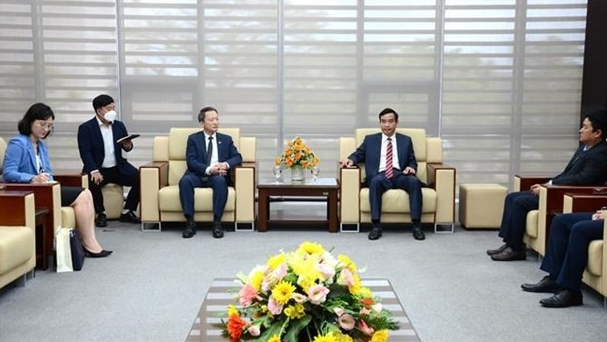 (Photo: NDO)
Chairman Chinh voiced his hope that the Korean side will further support the building of incubators, start-up and innovation centres, as well as foster cooperation in high tech agriculture and herbal cultivation; and human resource development and labour exports.
For his part, the Korean diplomat said over 90 percent out of about 8,000 Korean investors and firms in Vietnam are operating in the northern and southern regions. Therefore, the Korean government is eager to foster development and cooperation in Vietnam's central region and Da Nang city in particular, he said.
In the coming time, the Korean Consulate General will work with Da Nang city in the fields of investment promotion, IT training, smart city building and tourism in the post-pandemic period, he said.
The ROK is considering holding a ROK-Vietnam business conference in Da Nang this year, in the format of either in-person or online, Ahn said, expressing his hope that the central city will devise the content of the planned Vietnam-ROK festival to turn it into an annual cultural exchange event.
Two new COVID-19 cases take national tally to 2,536
Viet Nam confirmed two new COVID-19 cases on Tuesday, bringing the national caseload to 2,526.
Specifically, patient 2525 is a 34-year-old Vietnamese woman in Nghi Loc District, Nghe An Province.
She flew from Malaysia to Can Tho City on March 6 and sent to a quarantine site in Tien Giang Province.
The woman is being treated at Tien Giang's Long Dinh field hospital.
Patient 2526 is a resident of Cam Giang District, Hai Duong Province, contracting the virus from patient 2339.
The patient is being treated at the field hospital No. 3.
The same day, 84 patients were declared free of the virus, taking the total recoveries to 2,004.
Viet Nam began COVID-19 vaccinations on Monday after the country received first batch of 117,600 doses of AstraZeneca COVID-19 vaccine, according to VGP.
34 Chinese nationals arrested for illegally entering Vietnam
Police forces operating in An Giang province said on March 7 that they had arrested a total of 34 Chinese men who were in the process of attempting to enter the country illegally. This comes after police officers in Chau Doc city stopped a suspicious 16-seater vehicle on March 7 and discovered 13 Chinese men smuggled inside. When asked for identification by the police, the individuals were unable to present their documents.
On the same day, local authorities of Tan Chau town also detected two cars carrying a total of 14 Chinese nationals, all of whom were preparing to illegally exit Vietnam in order to enter Cambodia.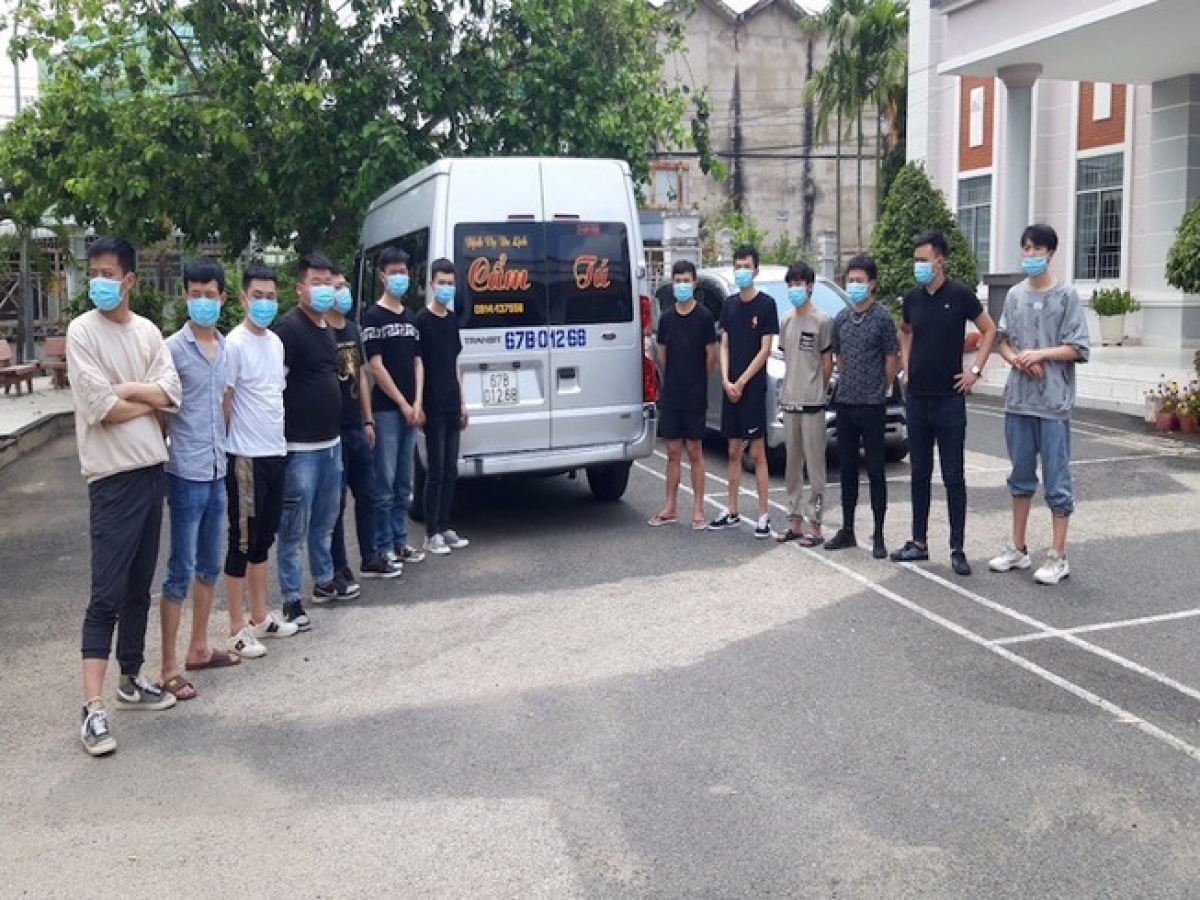 (Photo: VOV)
A similar case was detected at Con Tien area in Chau Phu A ward on March 4 with police forces in Chau Doc successfully capturing 7 Chinese citizens who were attempting to cross the border into Cambodia.
All of the arrested 34 Chinese people confessed to illegally entering the country to move to Cambodia for the purpose of employment.
Immediately after their discovery, each of the Chinese nationals was put into quarantine at health centres before they are handled in accordance with the law.
Moving forward, a further investigation into the cases is now underway, according to VOV.
Make in Vietnam
Vietnam introduced potential for trade and investment to Algeria's localities