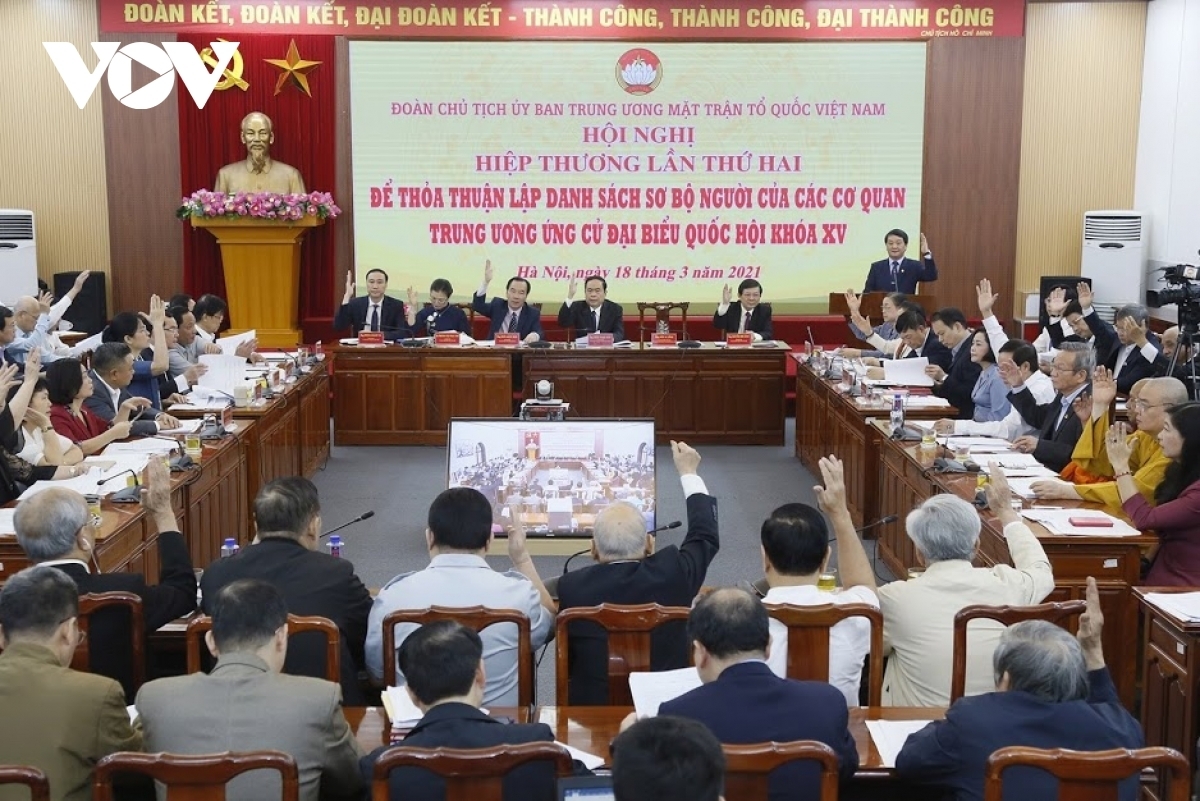 17 Politburo members to stand in upcoming National Assembly election
A total of 17 out of the 18 members of the Political Bureau, the highest policy-making body within the Communist Party of Vietnam, have been introduced as they prepare to run for various positions ahead of the upcoming National Assembly election.
This figure was announced by the Vietnam Fatherland Front Central Committee following its second consultative meeting held on March 18 in Hanoi.
Among the nominees, incumbent Prime Minister Nguyen Xuan Phuc will run for a post representing the Vietnamese State, while Pham Minh Chinh, head of the Party Central Committee's Organisation Committee, will stand for a key post within in the Government.
Vuong Dinh Hue, secretary of the Hanoi Party Committee, is also set to be in contention for a key position in the National Assembly.
The National Assembly is scheduled to convene its final session of its 14th tenure later this month, during which it will vote for a number of key posts in the State apparatus for the 2021 - 2026 tenure, including the positions of State President, Prime Minister, and chairperson of the legislative body.
Vietnamese people will also cast their ballots this May in order to elect 500 deputies to the 15th National Assembly for the 2021 - 2026 tenure, according to VOV.
PM hosts Vietnam-ASEAN economic cooperation development association delegation
Representatives from the Vietnam-ASEAN Economic Cooperation Development Association (VASEAN) have asked for stronger support from the Government and Prime Minister for the business community to overcome difficulties brought about by COVID-19 pandemic and recover and expand production, during a meeting with the PM in Hanoi on March 18.
Speaking at the meeting, PM Phuc said that Vietnam has managed to overcome difficulties in all fields, especially those brought by COVID-19 pandemic and natural disasters, thus successfully implementing the twin target, posting high growth and integrating deeply into the world.
He noted that Vietnam has signed the Regional Comprehensive Economic Partnership (RCEP), opening up a massive space for cooperation. Meanwhile, the country has ensured stable macroeconomic situation and the people's living conditions, he said, adding that the country's higher position, stable socio-economic situation and people's solidarity are good conditions for businesses.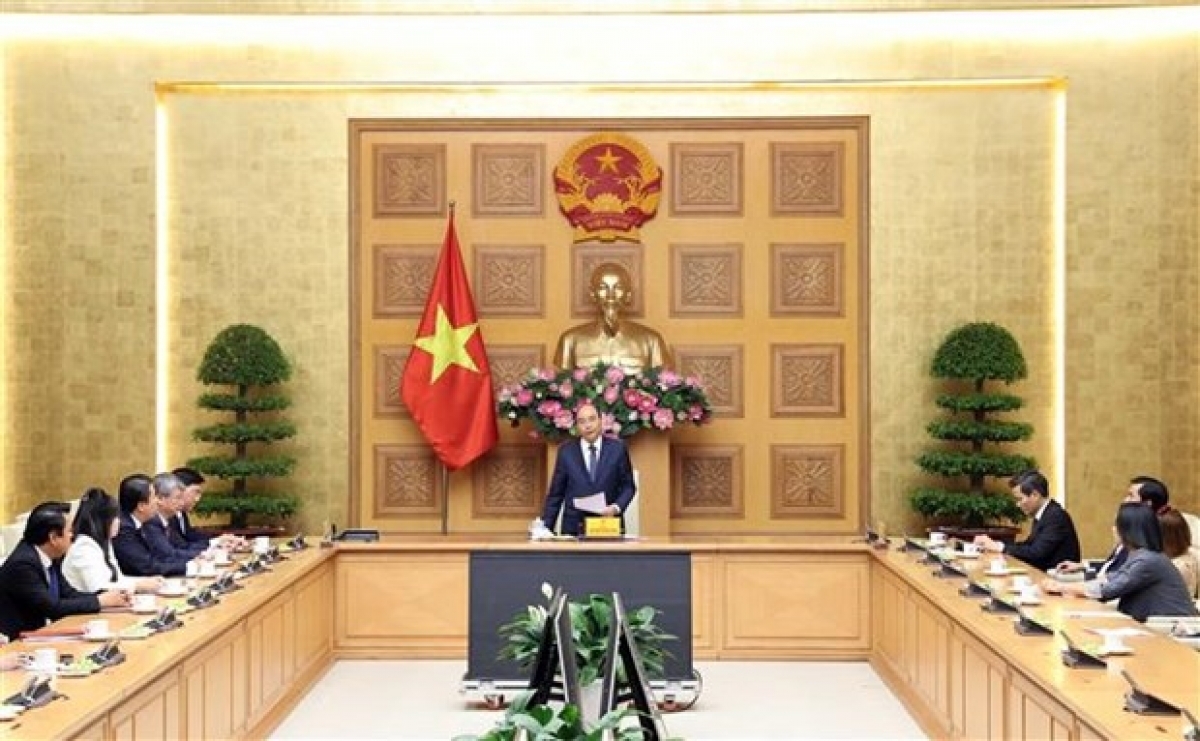 Lauding the achievements of the business community, he underscored that the Party and State have given optimal conditions for people and enterprises to develop, while protecting their legitimate rights.
The PM stressed the significance of promoting ties with ASEAN countries, especially in economy, asserting that this greatly depends on the dynamism of businesses. Last year, Vietnam successfully hosted the ASEAN Summit, he said, adding that cooperation chances with the association remain abundant.
He suggested that Vietnamese businesses carefully explore these markets to design sustainable business strategy.
He affirmed that the Government will work to further improve the investment environment, and asked the business community to contribute recommendations on relevant mechanism and policies.
The PM also showed his hope that VASEAN members will help connect Vietnam and partners in ASEAN region and the rest of the world, VOV reported.
Prime Minister hosts Secretary of the Security Council of Russian Federation
Prime Minister Nguyen Xuan Phuc received Secretary of the Security Council of Russian Federation Nikolai Patrushev in Hanoi on March 17, during which he expressed his pleasure with Russia's successful research and development of drugs against COVID-19 and belief Russia will soon overcome the pandemic.
The PM welcomed the outcomes of the working sessions between the Russian delegation and Vietnam's ministries of Public Security and National Defence, affirming cooperation in security and defence is a pillar in the two countries' comprehensive strategic partnership.
He noted that the 13th National Party Congress of the Communist Party of Vietnam continues the country's foreign policy of independence, self-reliance, diversification and multilateralisation of relations. Russia is Vietnam's traditional partner and comprehensive strategic partner, and always a high priority in Vietnam's foreign policy.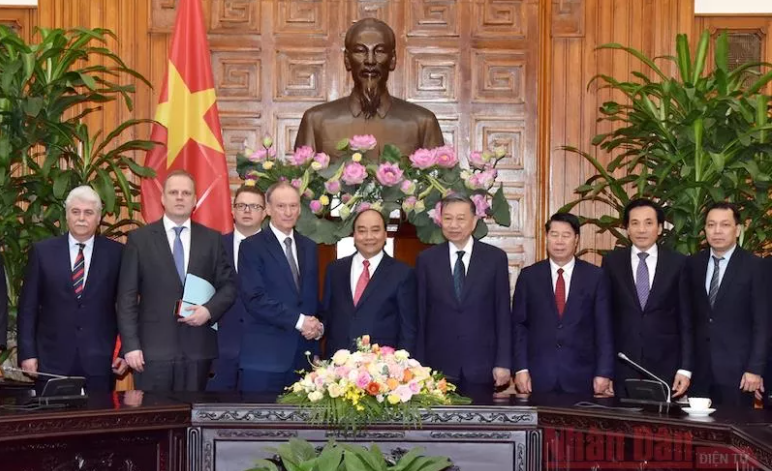 Prime Minister Nguyen Xuan Phuc receives Secretary of the Security Council of Russian Federation Nikolai Patrushev in Hanoi on March 17. (Photo: Tran Hai/NDO)
Patrushev said he believes resolutions adopted by the 13th National Party Congress will contribute to Vietnam' dynamic development, and promote Russia-Vietnam cooperation with the spirit of the comprehensive strategic partnership.
On pandemic prevention and control, he thanked Vietnam for presenting medical supplies, announcing the Russian President decided to present Vietnam a batch of Sputnik-V vaccine. Russia is willing to provide Vietnam with a sufficient volume of this vaccine, he added.
He underlined the importance of strengthening economic and trade amidst the pandemic, saying that thanks to the implementation of the Free Trade Agreement between Vietnam and the Eurasian Economic Union (EAEU), bilateral trade rose sharply, as reported by NDO.
Three new COVID-19 cases take national tally to 2,570
Viet Nam confirmed three new cases of COVID-19 on Thursday, raising the national patient tally to 2,570.
The latest patients comprise two local infections and one imported case.
Specifically, patient 2568 is an eight-year-old boy in Hai Tan Ward, Hai Duong City, Hai Duong Province.
He came in contact with patients 2528 and 2561 and has been quarantined since March 8.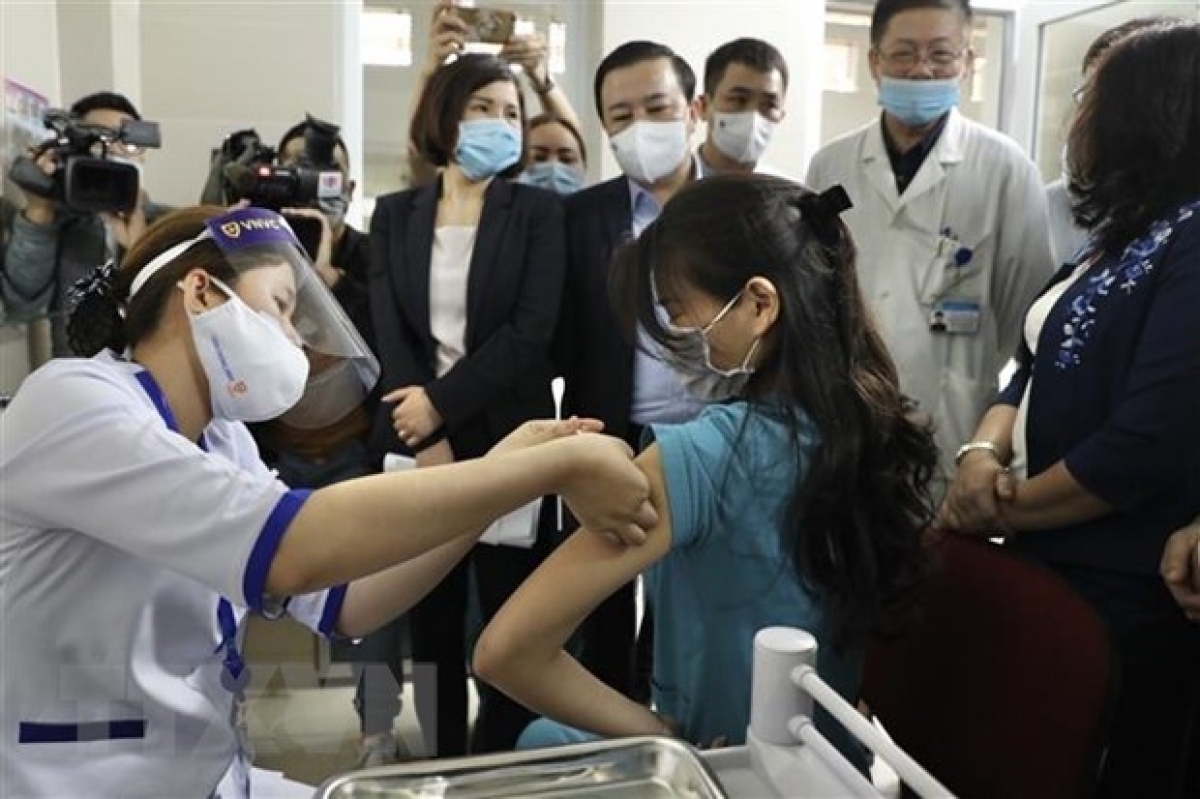 Patient 2569 is a 48-year-old man in Kim Dinh Commune, Kim Thanh District, Hai Duong Province.
He came in contact with patient 2484 and has been quarantined since March 2.
Patient 2570 is a Vietnamese national brought home from the Philippines on March 7.
Of the national caseload, 2,198 have recovered and exited hospitals while 35 others have been reported dead, according to VGP.
Vietnam improves ranking in ease of doing business index and GCI 4.0
The nation jumped 20th places to 70th among a total of 190 economies in the World Bank's Ease of Doing Business 2020 rankings, whilst its Global Competitiveness Index 4.0 (GCI 4.0) also moved up 10 places to be placed 77th out of 140 countries and territories globally.
These are some of the positive indicators which reflect the results of the Government's strong performance of institutions and policies to nurture economic development, said Minister and Chairman of the Government Office Mai Tien Dung. These comments were made on March 17 in Hanoi during a press conference which was held to announce an assessment report on administrative procedure compliance cost index (APCI).
(Photo: VOV)
In his address, Minister Dung pointed out four reform lessons taken from APCI 2020, stressing that the top priority of the Government, ministries, sectors, and localities is to promote the application of information technology and processing administrative procedures. Indeed, these changes should be done through electronic platforms as a means of saving costs for businesses.
These remarks were warmly welcomed by the business community as part of a growing trend to create optimal conditions for firms to participate in Industry 4.0 and the digital transformation process. These changes are being carried out whilst minimising negative, harassment, and risks of force majeure situations caused by natural disasters or epidemics that often arise in traditional methods, as reported by VOV.
Jasmine Le