Vietnam News Today (May 8): PM names four challenges facing Viet Nam
Vietnam News Today (May 8) features headlines include PM names four challenges facing Viet Nam, Early voting to be held inTruong Sa district, Vietnam attends virtual 34th ASEAN-US Dialogue, Covid-19 updates.
Vietnam News Today (May 8) notable headlines:
PM names four challenges facing Viet Nam
Early voting to be held in some polling stations of Truong Sa district
Vietnam attends virtual 34th ASEAN-US Dialogue
Vietnam affirms commitments to promoting multilateralism and international solidarity
German media reports on Vietnamese-French women's AO lawsuit
Ceremony held online to pay homage to Geetesh Sharma - Indian friend of Vietnam
Hanoi approves plan on free COVID-19 vaccination for local residents
Local firms have opportunity to promote products in Saudi Arabian market
Vietnam eyes US$600 billion in export turnover in 2021
Viet Nam confirms 65 local COVID-19 infection cases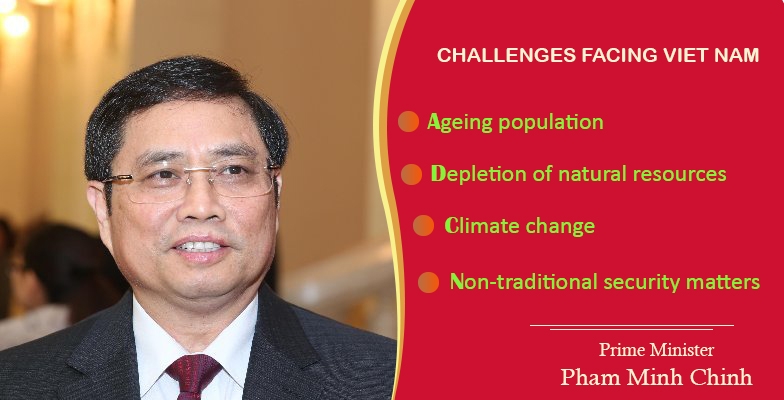 (Photo: VGP)
PM names four challenges facing Viet Nam
Prime Minister Pham Minh Chinh said Viet Nam is facing four challenges, namely ageing population, depletion of national resources, climate change, and traditional and non-traditional security matters.
PM Pham made the above statement at his meeting with voters in the Mekong delta Can Tho City on May 8.
As the Government chief, Pham said he will focus on surmounting challenges while calling for concerted efforts from people of all walks of life.
Regarding the COVID-19 pandemic, which is evolving complicatedly, the PM ordered subordinate levels to sustain vigilance and stay calm in designing appropriate response measures to achieve the dual goal of the pandemic containment and economic recovery.
He also called on all citizens, particularly residents in border localities to join hands in pushing back the pandemic and seriously implement preventive measures in order to protect the public's health.
Viet Nam confirmed 78 infection cases of COVID-19 on Saturday evening, raising the national caseload to 3,230, including 241 community infection cases since April 27, 2021 when the fourth wave of local transmissions began.
Mentioning the future development orientations for the Mekong Delta, PM Pham vowed to continue implementation of Resolution No. 120 on climate-resilient and sustainable development of the region, which was adopted in 2017.
He stressed the need to design better policies and mechanisms to help the region, which is the largest agricultural production center in Viet Nam as it contributes up to 50% of national rice production, 65% of national aquaculture production and 70% of fruits of the country; 95% of national export rice and 60% of national exported fish, to fully tap its potential, VGP said.
Removing institutional bottlenecks, improving infrastructure and developing high-quality workforce is key to the development of the Mekong Delta, said the PM.
Early voting to be held in some polling stations of Truong Sa district
The National Election Council (NEC) has allowed the holding of early voting in 20 electoral units in the Truong Sa island district on May 16.
The information was revealed during a working session between a delegation of the National Assembly (NA) Standing Committee and the NEC led by NA Vice Chairman Do Ba Ty with leaders and the election committee of the south central coastal province of Khanh Hoa on May 7.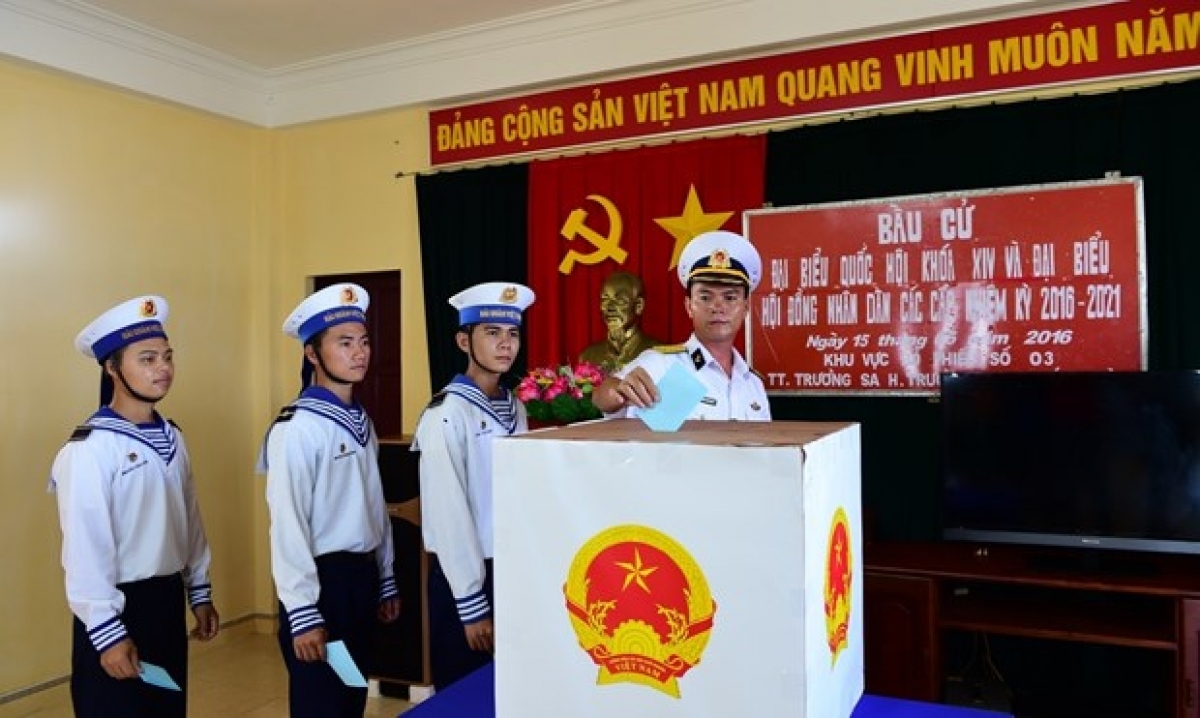 (Photo: VOV)
The electoral units where early voting will be held are on islands of Truong Sa township and the communes of Sinh Ton and Song Tu Tay. Meanwhile, voting in remaining electoral units of Truong Sa district will be held on the official date of May 23.
During the working session, Vice Secretary of the Khanh Hoa Party Committee and Chairman of the provincial People's Committee Nguyen Tan Tuan informed the delegation on the preparations for the elections of deputies to the 15th NA and all-level People's Councils for the 2021-2026 tenure.
Khanh Hoa province has 13 candidates for the upcoming NA election, including three nominated by central agencies, who will compete for seven seats in of the 15th NA. The province has more than 977,000 constituents, according to VOV.
Vietnam attends virtual 34th ASEAN-US Dialogue
Deputy Foreign Minister and head of Vietnam's ASEAN SOM Nguyen Quoc Dung attended the 34th ASEAN-US Dialogue held in the form of videoconference on May 6.
Speaking on behalf of ASEAN states, the Vietnamese official emphasised that amid increasing challenges brought by the COVID-19 pandemic, natural disasters, climate change, competition for natural resources and sovereignty claims, countries need to bolster cooperation and dialogue, build trust and the rule of law, as well as uphold the sense of responsibility, behave according to standards and respect each other to ensure an environment of peace and stability for development.
Highlighting efforts by ASEAN and the US in addressing challenges to regional stability and development, the Deputy Foreign Minister of Vietnam said ASEAN and the US should strengthen coordination to ensure peace, security and prosperous development in the region through ASEAN-led mechanisms, promote a rules-based regional order and adherence to international laws, and resolve disputes in a peaceful manner.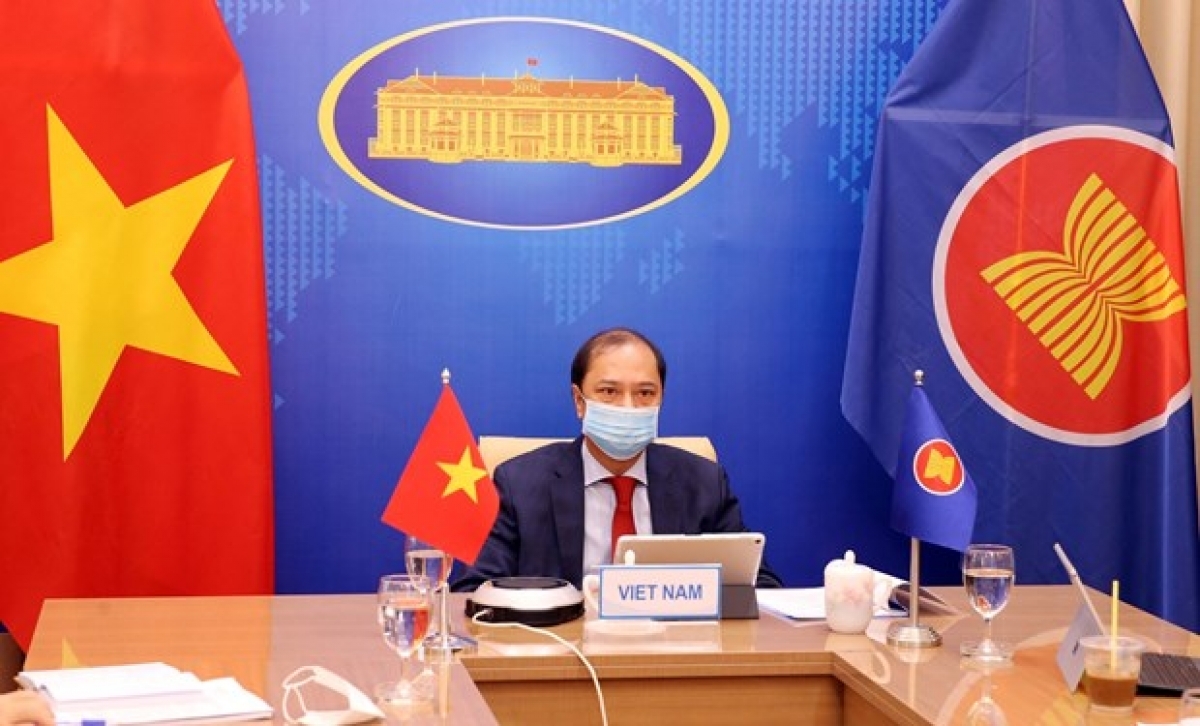 (Photo: VOV)
For his part, US Principal Deputy Assistant Secretary of State for the Bureau of East Asian and Pacific Affairs Atul Keshap affirmed that US President Joe Biden's administration attaches importance to the strategic partnership with ASEAN, supports ASEAN's central role and ASEAN Outlook on the Indo-Pacific (AOIP), and wants to enhance cooperation with the organisation in settling current challenges.
The two sides agreed to foster collaboration in trade-investment, human resources development, renewable energy, marine cooperation, response to natural disasters and climate change through the US's development cooperation programmes such as the Partnership for Regional Optimisation within the Political-Security and Socio-Cultural Communities (PROSPECT), the Inclusive Growth in ASEAN through Innovation, Trade and E-Commerce (IGNITE), and in development gap reduction via the Mekong-US Partnership, as reported by VOV.
Vietnam affirms commitments to promoting multilateralism and international solidarity
Minister of Foreign Affairs Bui Thanh Son has affirmed the nation's strong commitments to multilateralism, international solidarity, and joint efforts as part of promoting peace and development globally.
Upon addressing a ministerial-level online open discussion of the UN Security Council (UNSC) on May 7, Minister Son said that multilateral co-operation has a crucial role amid current global challenges, including arms races, acts of terrorism, trans-national crime, climate change, and the novel coronavirus (COVID-19) pandemic.
He recalled the UNSC's commitments in terms of promoting multilateralism, abiding by the UN Charter, whilst developing an international order based on the rule of law as set out in the UNSC President's Statement in January, 2020, during which time the country held the rotating Presidency.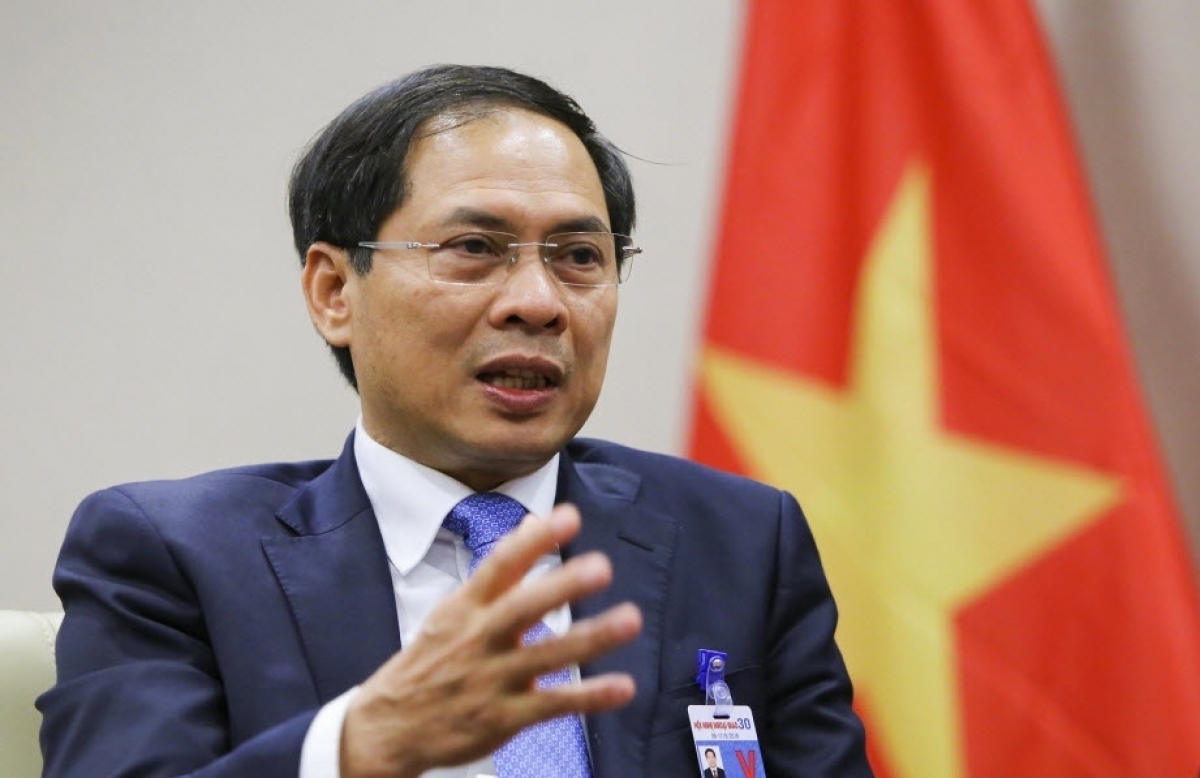 Minister Son called on the wider international community to promote the culture of complying with the UN Charter and international law, whilst opposing power politics and the use of force in international relations.
He therefore underscored the need to continue strengthening collaboration efforts between the UN and regional organisations, while also highlighting the central role and efforts of the Association of Southeast Asian Nations (ASEAN) in terms of dealing with regional and international issues.
The Minister also encouraged multilateral institutions, including the UNSC, to work harder in order to make reforms towards increasing transparency, democracy, efficiency, and the representation of member countries, VOV said.
Viet Nam confirms 65 local COVID-19 infection cases
The Ministry of Health confirmed 78 new COVID-19 cases, including 65 local infections on Saturday evening, raising the national patient tally to 3,230.
The latest community infection cases were recorded in Quang Ninh (one), Bac Giang (one), Hung Yen (three), Ha Noi (22), Hai Duong (one), Bac Ninh (17), Thai Binh (one), Vinh Phuc (seven), Hai Phong (one), Thua Thien-Hue (one), Da Nang (eight), Nam Dinh (one), and Quang Nam (one).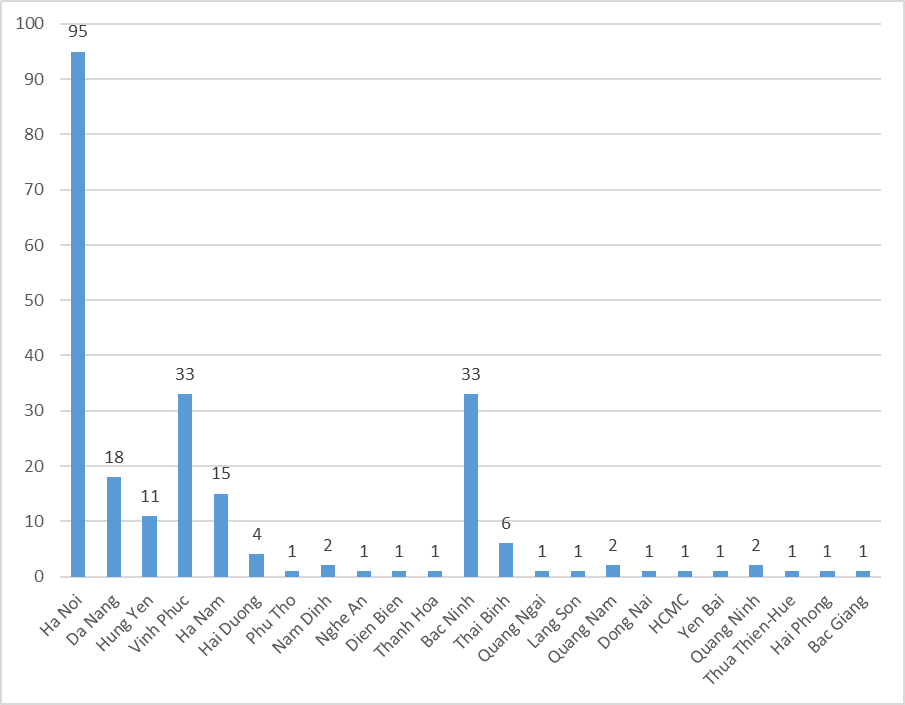 Number of community infection cases of COVID-19 recorded in 23 cities and provinces since April 27, 2021 (Chart: VGP)
Meanwhile, the imported cases include nine Vietnamese repatriated from Japan (two), Canada (four), and the Philippines (three); two illegal entrants, and two entering Viet Nam via the Cau Treo border gate in Ha Tinh Province and Long Binh bordergate in An Giang Province.
The same day, 42 patients were declared free of the virus, taking the total recoveries to 2,602, VGP said.