Vietnam News Today: Vietnam's highest sinkhole mysteries uncovered
The latest top stories in Vietnam on May 27: Vietnam's highest sinkhole mysteries uncovered; six COVID-19 patients released from hospital; eleven officials suspended for alleged bribery at Tenma Vietnam.
Kong Collapse: Vietnam's highest sinkhole mysteries uncovered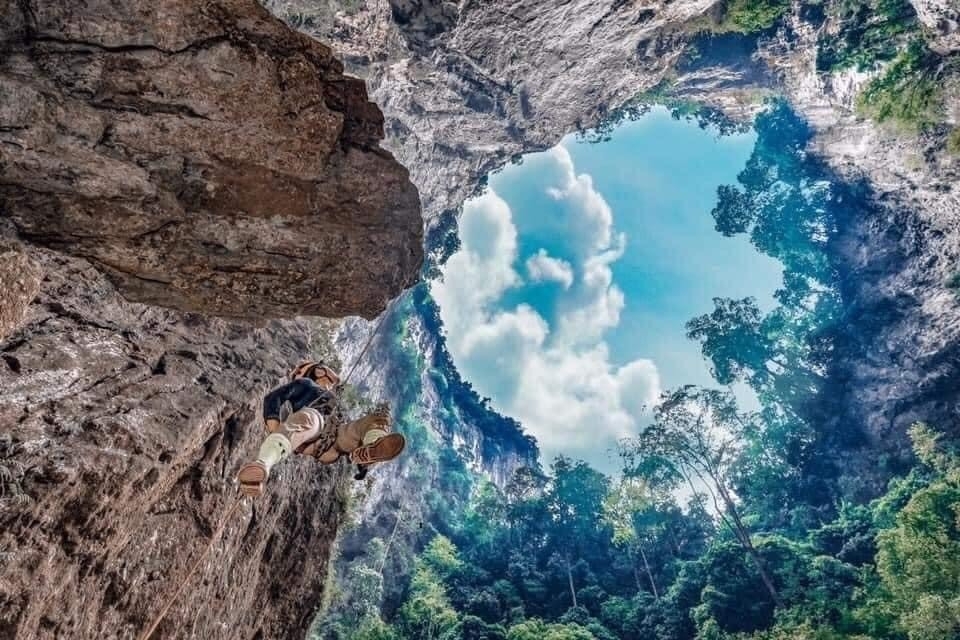 Kong Collapse is 1,476 feet high (Photo: Jungle Boss)
The Vietnamese tour agency Jungle Boss has recently discovered a new route inside the mysterious Kong Collapse, the highest sinkhole in Vietnam which lies inside the Phong Nha-Ke Bang National Park, opening a potential trekking route in Quang Binh province for adventure lovers.
The Jungle Boss's exploration team has recently returned Kong Collapse to further explore the mysterious cave and discovered the entire entrance, exit route as well as the interconnection of Tiger cave, Over cave, and Pygmy cave. Thus, one can now enter Kong Collapse by swimming through Dai A cave or swinging down the cave from above.
The new discovery is believed to open a new stunning trekking route, which starts off from Tiger cave, passing Over cave and terminates at Pygmy cave. The newly-discovered trekking route will, according to Travel Mag, challenge the braveness of every trekker.
The sinking hole was re-named Kong Collapse because when looked from above, it shapes like the head of King Kong, the famous character in the namesake blockbuster. The pit is not only attractive by the special shape, surrounded by rocky mountains, but it also boats a primitive forest and a green underground river located right at the foot of the mountain, creating an ideal campsite for tourists who want to explore understand nature, according to Xa Luan.
Kong Collapse slum contains strange and unexpected things, contributing to enrich the list of tourism products in Quang Binh. Therefore, Quang Binh has become a major tourist center of the country, always a leading attractive destination, an indispensable address in travel notebooks on every journey of national and international visitors.
Six COVID-19 patients released from hospital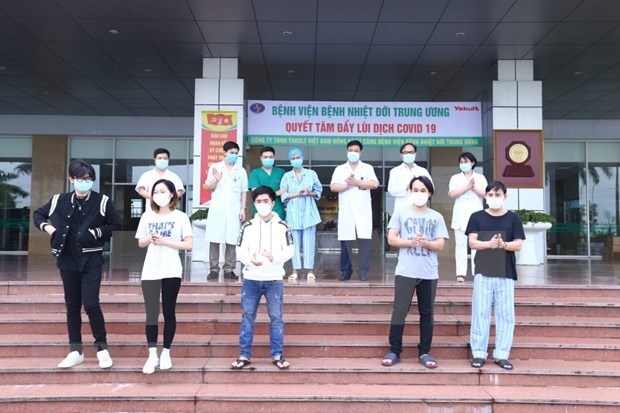 Six people infected with the novel coronavirus were given the all-clear on May 27. Photo: VNA
Six COVID-19 patients have been given the all-clear, including Patient 19 who was among the most critical patients in Vietnam, according to the National Steering Committee for COVID-19 Prevention and Control.
The patients, all Vietnamese nationals, were discharged from the National Hospital for Tropical Diseases on May 27, bringing the country's total recoveries to 278. They are all in a stable condition, with no fever, no cough and no shortness of breath, VNA reported.
The six patients will continue to be under quarantine for the next 14 days.
Vietnam reported no new COVID-19 cases on May 27 morning, entering the 41st consecutive day with no community infections.
Of the country's total 327 infections, 187 imported cases were quarantined upon their arrival, posing no risk of community transmission.
Meanwhile, British COVID-19 patient, the most critically ill patient in Vietnam is now able to make basic communication with doctors after his dosage of sedatives was reduced on May 27 evening.
Doctor Tran Thanh Linh, deputy head of Ho Chi Minh City-based Cho Ray Hospital's intensive care unit, said after reducing doses of muscle relaxants and reducing sedatives, Cameron is now capable of performing simple gestures, while still on life support.
His coughing has improved and he can move his fingers and toes, although breathing and limb weakness remain issues. However, he is no longer on kidney dialysis.
His lung functions have improved quite a bit compared to the worst moments during his treatment for the virus at the HCM City Hospital for Tropical Diseases.
According Linh, in two days, the hospital will hold consultations with the treatment sub-committee of the National Steering Committee for COVID-19 Control and Prevention to determine if it is okay to wean him off of extracorporeal membrane oxygenation (ECMO) or stop the treatment altogether.
Officials suspended for suspended for alleged bribery at Tenma Vietnam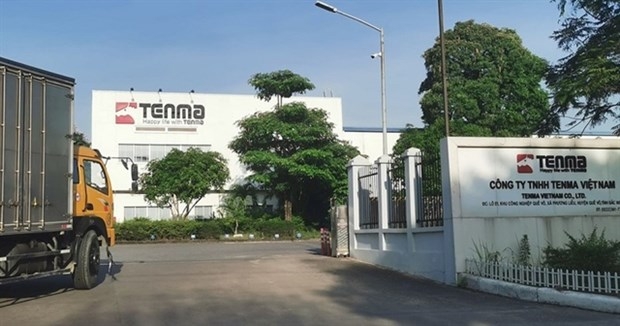 Tenma Vietnam, located in Bac Ninh province, is a subsidiary of Japan's plastic product maker Tenma Corporation. Photo: dantri.com.vn
Eleven officials have been suspended from work for being implicated in alleged bribery at Tenma Vietnam - a subsidiary of Japan's plastic product maker Tenma Corporation.
According to VNA, they have been all suspended from work for 15 days starting from May 27, following the order of Minister of Finance Dinh Tien Dung.
Six other post-customs clearance officials of Bac Ninh province's Customs Department were also suspended from work for 15 days starting from May 27.
The case came into the spotlight when Japanese media including Asahi Shimbun newspaper, Kyodo news agency and Nikkei, reported that Tenma Vietnam gave a bribe of 25 million JPY (232,000 USD) to Vietnamese customs officials.
According to Asahi Shimbun, the Tokyo-based Tenma Corporation confessed to the Tokyo District Prosecutor.
Tenma Corporation reportedly took the initiative to set up a third-party committee to investigate the violation.
The Vietnamese finance minister requested the Vietnamese general departments of taxation and customs to report to the Ministry of Finance on recent allegations in Japanese media about the bribes paid by Tenma Vietnam to avoid paying corporate and value-added tax.
He also assigned the ministry's inspection agency to immediately set up an inspection team to examine the Tax Department and the Customs Department in Bac Ninh province, where Tenma Vietnam is located.
Re-open international air routes in the pipeline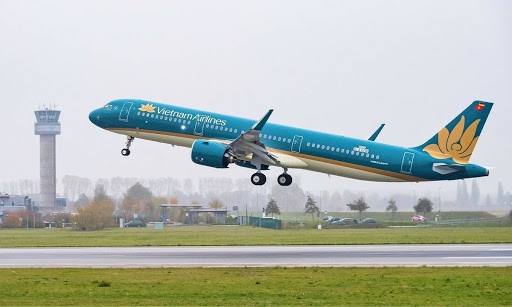 The COVID-19 pandemic has effectively decimated the revenue of local airlines due to the huge loss of income from international markets between February and May.
The Ministry of Transport has assigned the Civil Aviation Authority of Vietnam (CAAV) to devise ways in which to reopen a number of international routes, with plans set to be submitted to the Prime Minister for approval ahead of June 10, VOV reported.
In order to facilitate the proposal, the Ministry of Transport has recently requested that the CAAV swiftly compile a report regarding the resumption of a number of international routes to restore investment, trade, and tourism activities.
Vietnam has temporarily suspended international flights since March 25 to combat the novel coronavirus epidemic.
At present, Vietnam is maintaining its closure of international air routes and only granting permission for the operation of flights which carry Vietnamese citizens stranded abroad back home.
Experts have recommended the reopening of international flights with countries that have successfully contained the pandemic, mostly notably Australia, New Zealand, and Thailand.
Meanwhile, economists say the resumption of commercial flights is widely seen as the optimal solution in a bid to stimulate tourism demand amid the current context./.
WWO launches 12th Toy Library in Vietnam

A Toy Library, packed full of colourful toys that teach children about color and spatial perception, opened recently at the Kaly kindergarten - a kindergarten ...