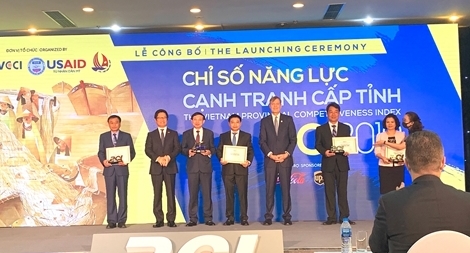 (Photo: VGP)
The report was based on a survey of more than 12,500 enterprises, including nearly 11,000 domestic private firms from the 63 provinces and cities and nearly 1,500 foreign-invested enterprises in 21 provinces.Quang Ninh gained 73.40 points on a 100-point scale, an increase of 3.04 points compared with 2018. It is followed by Dong Thap with 72.10 points, Vinh Long with 71.30 points and Bac Ninh with 70.79 points. Other cities and provinces in the top 10 also include Da Nang, Quang Nam, Ben Tre, Long An, Hanoi and Hai Phong. Lai Chau, Dak Nong, Binh Phuoc, Ha Giang and Bac Kan are at the bottom of the list.
Quang Ninh has topped the list for 3 years in a row and had 7 consecutive years in the top 5. This result will encourage the Provincial authorities to further develop local socio-economy. It also reflects the province's determination to improve the local business environment and raise its competitiveness to satisfy needs of the business community and investors in Quang Ninh.
Speaking at the event, Chairman of the Quang Ninh Provincial People's Committee Nguyen Van Thang said the province has made great effort to support enterprises while restlessly reforming administrative procedures and creating open and friendly business environment.
Thang added that the province's efforts for renovation have contributed significantly to promoting the socio-economic development of Quang Ninh. According to official statistics, it always leads provinces and cities of Vietnam in terms of GRDP growth rate. In 2019, Quang Ninh's GRDP reached 12.01% and its double digits growth rates has been maintained for four consecutive years.
The province's total budget revenue reached some 46,641 billion VND, including 34,625 billion VND of local revenue. The GDP per capita reached 6,135 USD per year last year. Local people's lives have been improved while poverty rate is only 0.52%.
VNT
CAND