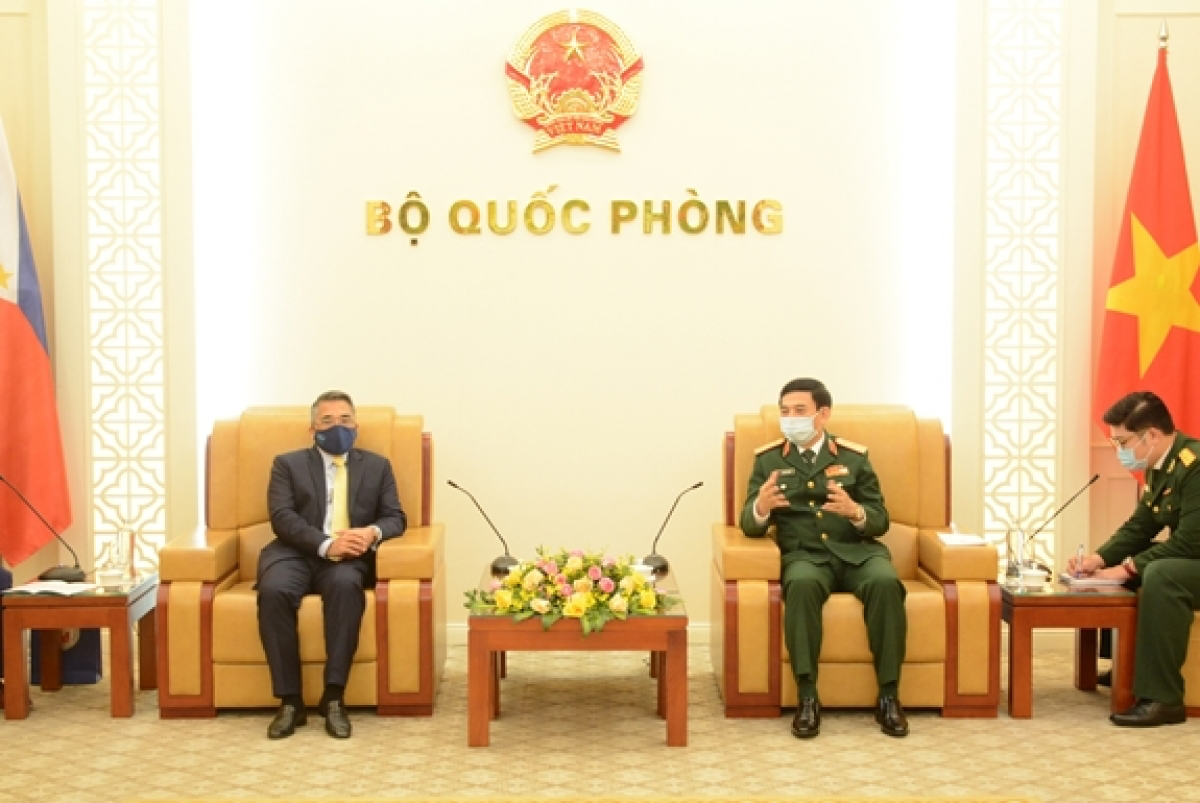 Vice Secretary of the Central Military Commission and Defence Minister Sen. Lieut. Gen Phan Van Giang (R) receives Ambassador of the Philippines to Vietnam Meynardo Los Banos Montealegre. Photo: qdnd.vn
Gen. Giang congratulated the pair on their recent appointment to the post of Ambassador, thanking both the Philippines and Singapore for their support for the country in its role as ASEAN Chair 2020.
He therefore expressed his belief that through their respective positions, the two diplomats will be successful in fulfilling their assigned tasks as a way of contributing to further promoting the strategic partnership between the country and the two Southeast Asian nations, cited VOV.
Minister Giang and Philippine Ambassador Montealegres highly valued the implementation of the defence cooperation agreement between their defence ministries, saying that the bilateral defence relations have been deepened with practical results in many fields such as delegation exchange, dialogue, consultation, training and cooperation within the multilateral framework.
Amid complicated developments of the Covid-19 pandemic, the two sides agreed to organise suitable activities in the virtual form, especially the Defence Policy Dialogue, the joint working group on defence cooperation, bilateral navy and air defence consultations, cooperation in Covid-19 prevention, and support and settlement of issues related to fishermen in a humanitarian spirit, Vietnamplus reported.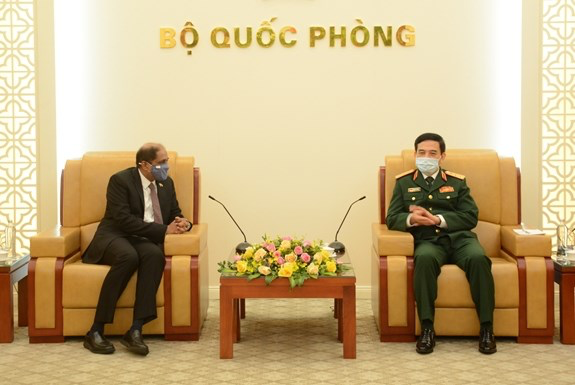 Vice Secretary of the Central Military Commission and Defence Minister Sen. Lieut. Gen Phan Van Giang (R) hosts Ambassador of Singapore Jaya Ratnam. Photo: qdnd.vn
During the reception for the Singaporean Ambassador, both sides affirmed the results of the implementation of the Agreement on Bilateral Defence Cooperation, including delegation exchanges at all levels, the exchange of young officers, and naval and military medicine co-operation. Therefore, both sides consented to accelerate the organisation of a number of appropriate activities through an online format, such as defence policy dialogues at a deputy ministerial level and meetings of the Joint Working Group on bilateral defense co-operation. This is alongside the Navy Joint Working Group and Channel 1.5 Security Dialogue and co-operation in Covid-19 prevention and control.
Both sides also agreed to continue finalising procedures and to sign a bilateral defence co-operation agreement between both governments this year which will replace the Agreement on Bilateral Defence Cooperation, first signed in 2009, according to VOV.
This will serve to contribute to strengthening intra-regional solidarity and elevating ASEAN's position among the region and the wider world.
Rosie Nguyen