Khanh Hoa organizes activities welcoming Tet holiday for international students
Due to the complicated development of the Covid-19 pandemic, many international students in Vietnam cannot return to their countries for New Year. Nevertheless, it is an opportunity for them to experience the atmosphere of the Vietnamese traditional Lunar New Year (or Tet) with many interesting activities.
According to Khanh Hoa newspaper, in order for international students in Vietnam to welcome a warm, safe, and healthy Vietnamese Lunar New Year, universities have plan to organize many activities before, during and after Tet.
Specialist of the Department of External Cooperation of Nha Trang University Le Mai Anh Han said that there are 33 international students staying at the school for Tet holiday including 30 Lao students, 2 Vanuatu students and 1 Haitian. In previous years, Nha Trang University held a year-end meeting for foreign students and lecturers. However, this year, the school will hold a meeting between foreign students and Vietnamese boarding students who cannot return to their hometowns for Tet. The meeting is expected to take place on December 24 of the Lunar Calendar with many activities such as cultural exchange or Tet gift giving.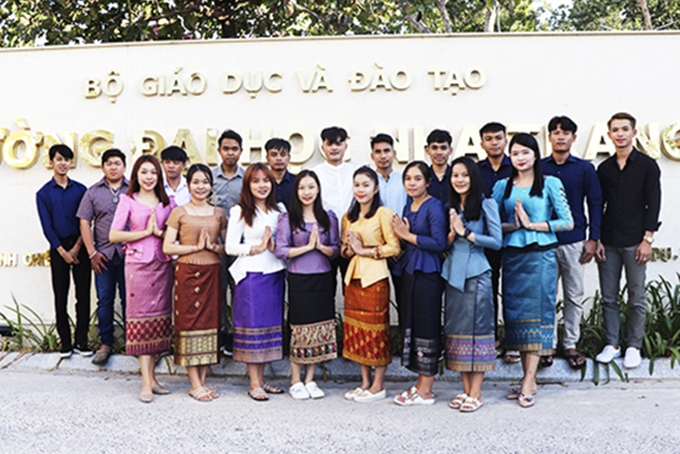 Lao students at Nha Trang University. Photo: Khanh Hoa newspaper
The Air Force Officer Training School has 41 first-year and third-year foreign students (12 Lao students and 29 Cambodian students) staying in Vietnam for Tet, the Signal Officer Training School has 19 Lao students and 46 Cambodian students; Naval Academy has nearly 80 Cambodian naval trainees.
Lieutenant Colonel Do Trong Sang from the Air Force Officer Training School said that this was the first year that foreign students have stayed at the school to celebrate the Vietnamese traditional New Year; therefore, the unit has planned to organize Tet activities for them.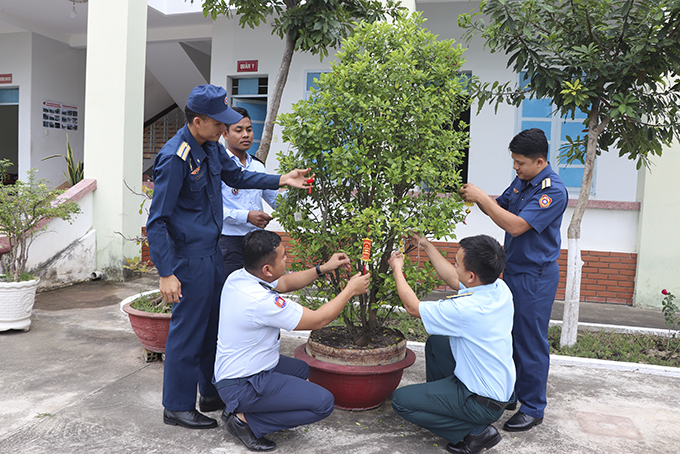 Trainees and leaders at the Air Force Officer Training School decorate the unit for Tet.
Photo: Khanh Hoa Newspaper
Before Tet, the Air Force Officer Training School will organize sports exchanges with the Signal Officer Training School and the Naval Academy; On New Year's Eve, the activities including learning about customs and habits of Vietnamese people during the Tet holiday as well as cultural exchanges and art performances will be held. On Tet days, depending on actual conditions, students will have the chance to visit the flying regiments at the school as well as famous tourist sites in Nha Trang.
Souk Amphai Phongsavat, a third-year student at the Faculty of Tourism Administration of the Nha Trang University said "This New Year, instead of coming back to Laos, I will celebrate New Year with my friend's family in Dak Lak province. I have prepared red lucky envelopes to give to children. I am really looking forward to Vietnamese traditional Lunar New Year".
Souk Amphai Phongsavat prepares red lucky envelopes. Photo: Khanh Hoa Newspaper
Although this is the first time that Souk Amphai Phongsavat has welcomed New Year in Vietnam, she has an understanding of the customs of Vietnamese people during Tet.
Mony Ponreay, a third-year trainee at the Air Force Officer Training School shared that initially, he felt sad as he could not return to his country for New Year. However, after hearing interesting Tet activities at the unit, he felt more excited.
The Khanh Hoa Union of Friendship Organizations will also coordinate with the Nha Trang City Women's Union to organize the activity of making "Bánh Chưng" and "Bánh Tét" and cultural exchange programs for foreign female students and members of the Union on December 25th of Lunar Calendar.