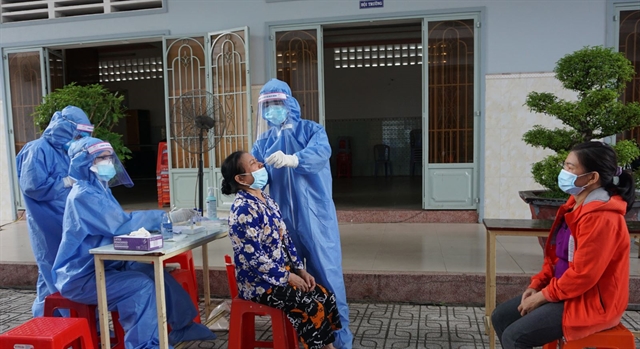 The Ministry of Health reported 3,718 new cases of COVID-19 on Saturday, bringing the country's total to 45,884 domestic and 2,020 imported cases.
Of those recorded today, 3,705 were domestic cases and 13 were imported. Almost 3,000 infections were detected in quarantine zones.
Saturday marked the third consecutive day Vietnam's daily infection tally has crossed 3,000.
Other cities and provinces also reported new cases, including Đồng Tháp (180), Long An (134), Bình Dương (124), Đồng Nai (107), Khánh Hoà (100), Vĩnh Long (42), Bến Tre (34), Đà Nẵng (33), Phú Yên (31), Bà Rịa-Vũng Tàu (23), Trà Vinh (15), Hưng Yên (13), Bình Phước (10), An Giang (8), Sóc Trăng (6), Cần Thơ (6), Gia Lai (6), Đắk Nông (5), Bình Thuận (5), Hà Nam (5), Bắc Ninh (4), Hải Phòng (3), Quảng Ngãi (3), Bình Định (2), Lâm Đồng (1), Bắc Giang (1), Lạng Sơn (1), Ninh Thuận (1) and Vĩnh Phúc (1).
Among the night's tally, Ho Chi Minh City, the epicenter of the ongoing fourth coronavirus wave, recorded 1,017 new cases, raising its tally of the day to 2,786, the highest number in a day since the disease broke out.
Hà Nội also recorded 13 new cases. Of which, 10 cases were direct contacts of COVID-19 patients and have been quarantined. Three cases are under epidemiological investigation. Their test results showed positive for SARS-CoV-2 on Friday.
Among other southern localities, Dong Thap Province recorded 139 new cases in locked down areas.
Long An Province recorded 134 cases, with 44 of them having close contact with previously confirmed patients, 19 returning from HCMC and 71 still being contact traced.
Of 64 cases in industrial hub Dong Nai, 39 had close contact with other patients, two had returned from HCMC and the remaining 23 are being contact traced.
Of 23 new cases in Ba Ria-Vung Tau Province, 16 had been isolated after having close contact with confirmed patients, five are linked to the cluster at Bau Lam Market and the remaining two are being contact traced.
Of 15 new cases in Tra Vinh Province, 13 had close contact with other patients and the remaining two returned from HCMC and Ben Tre.
An Giang Province recorded five new cases, with two already quaratined, one linked to the cluster at HCMC's Binh Dien wholesale market and one returning from Binh Duong.
Of Binh Phuoc's three cases, two had been already quaratined and one is still being contact traced.
The two new cases in Can Tho City are being contact traced.
In central Vietnam, Khanh Hoa Province recorded 78 new cases, 27 of whom were detected in quaratine and isolation areas while the remaining 51 are being contact traced.
Da Nang recorded 33 new cases, including 31 in quaratine facilities and isolation areas while the remaining two are being contact traced.
30 new cases in Phu Yen, and five each in Gia Lai and Binh Thuan were detected in quaratine facilities.
Dak Nong Province reported four new cases, three of whom are close contact cases and one is being contact traced.
The three new cases in Quang Ngai Province and one in Ninh Thuan have been isolated prior to test results.
In northern Vietnam, all 13 new cases in Hung Yen Province had been already quaratined following contact tracing.
Five new patients in Ha Nam had been quaratined after returning from HCMC while the three new cases in Hai Phong had traveled to many localities before returning to the locality.
The two new cases in Bac Ninh Province and one each in Bac Giang, Lang Son, and Vinh Phuc had been already isolated.
Since the start of the fourth outbreak on April 27, the country has recorded 44,314 infections. Of those 7,538 have recovered.
Twelve provinces have not reported new infections for the last 14 days, including Yên Bái, Quảng Trị, Tuyên Quang, Sơn La, Ninh Bình, Thái Nguyên, Điện Biên, Hải Dương, Phú Thọ, Quảng Ninh, Hòa Bình and Bắc Kạn.
All 19 southern localities including the entire Mekong Delta will undergo social distancing from next week amid rising numbers of coronavirus infections. Of these, HCMC, Dong Nai and Binh Duong are already under social distancing while 16 others were added to the list Saturday.
Việt Nam has vaccinated more than 4.2 million people. Of those, 298,177 have received two shots of the COVID-19 vaccine. Since the new wave of Covid-19 emerged in Vietnam on in late April, 44,263 local infections have been recorded in 58 of its 63 cities and provinces.
Vietnamnews/VnExpress