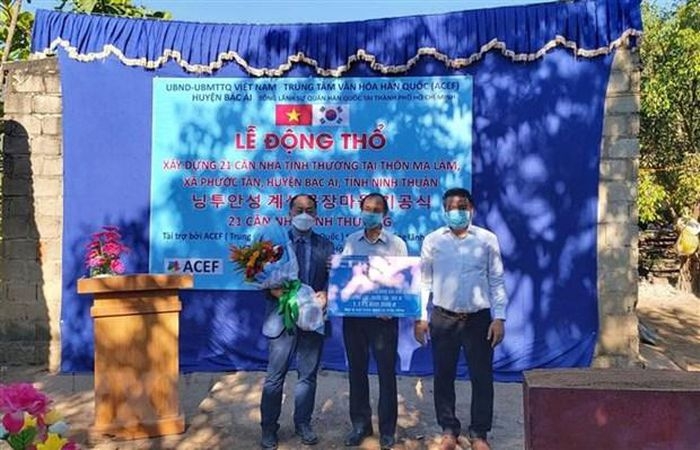 Ko Jae Seung, the director of the Vietnam – Republic of Korea Friendship Village project (right), hands over the non-refundable aid provided by the RoK to local leaders for the implementation of the project. Photo: VNA
Located in Ma Lam village, Phuoc Tan commune, the project, with a total investment of 1.3 billion VND (56,407 USD), will comprise 21 houses, 36 sqm each, with a porch and an indoor toilet.
Speaking at the ground-breaking ceremony, Ko Jae Seung, the project's director, said the friendship village is funded by the RoK's non-refundable aid. Each house will cost about 63 million VND, of which 53 million VND will come from the aid while the remainder will be sourced from soft loans provided the Vietnam Bank for Social Policies and financial assistance from local authorities.
The project is the first funded by the Korean Cultural Centre in Bac Ai and Ninh Thuan.
Once completed, the project will not only accommodate poor people in the area but also promote Vietnamese and Korean cultures in the province.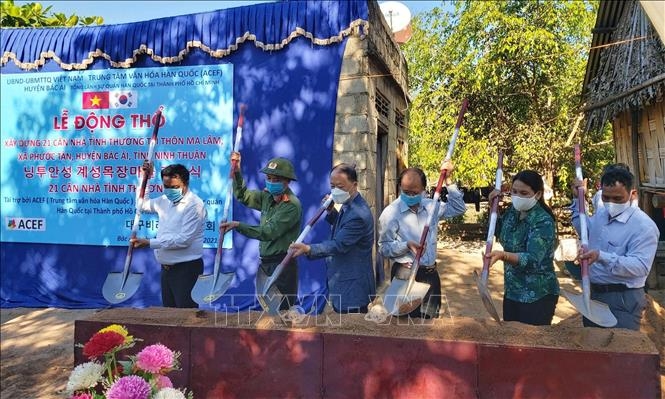 Work started on the Vietnam – Republic of Korea Friendship Village in the mountainous district of Bac Ai, the south-central province of Ninh Thuan on February 23. Photo: VNA
Vietnam and the RoK officially established diplomatic ties on December 22, 1992. Since then, bilateral relations have been growing fruitfully in various areas.
The two countries elevated their ties to a strategic cooperative partnership in October 2009.
The RoK remains the largest among the 136 countries and territories investing in Vietnam, with nearly 9,000 valid projects worth 70.2 billion USD.
It currently ranks second in ODA provision for, trade with, and reception of workers from Vietnam. It is also one of the key sources of foreign tourists to the Southeast Asian country.
In recent years, Korean Cultural Days have been held in the central city of Da Nang, Hoi An town in the central province of Quang Nam, coastal Nha Trang city in Khanh Hoa province, and Da Lat city in the Central Highlands province of Lam Dong./.
Hannah Nguyen