Vietnam sets series of records in organ transplanting
Despite lots of unprecedented challenges caused by the Covid-19 pandemic, Vietnam has made breakthroughs in the medical field with many breakthroughs in organ transplanting.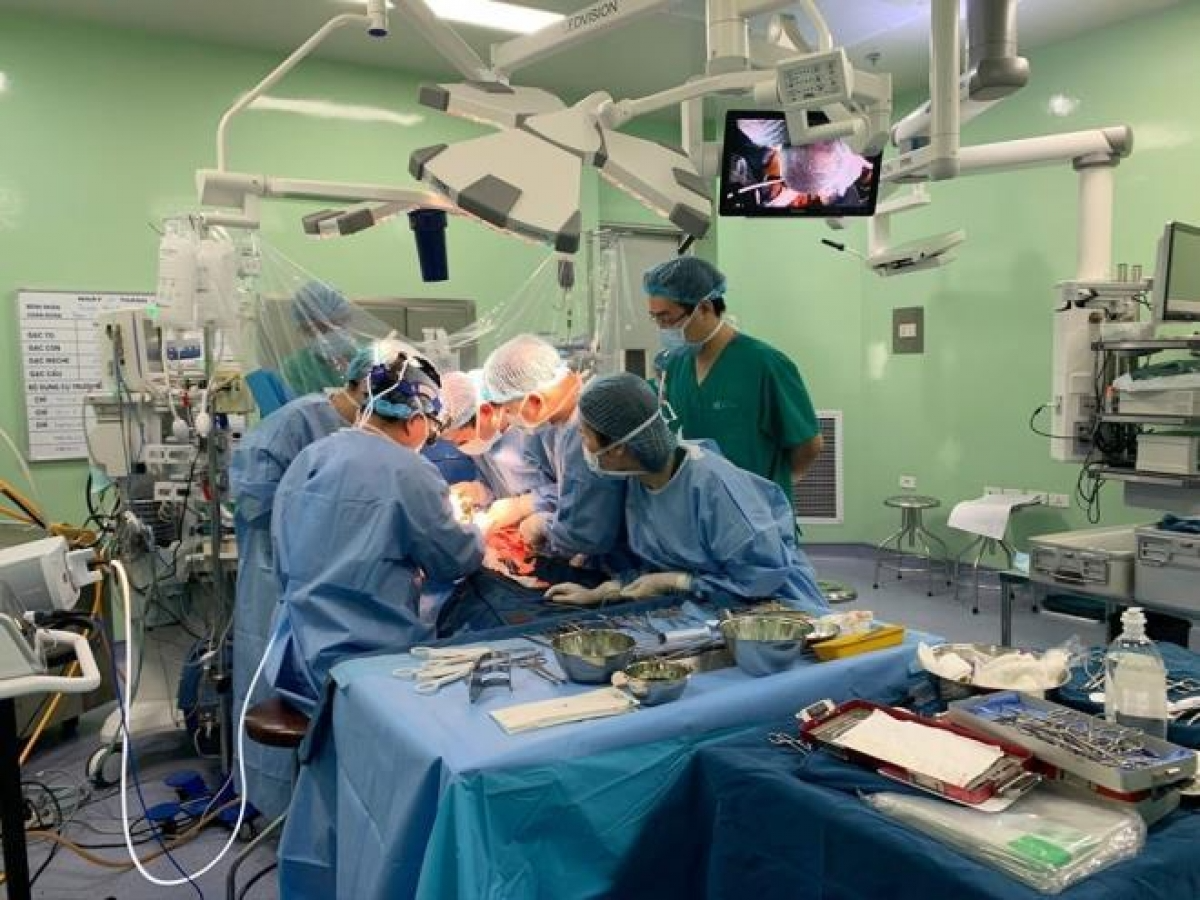 Vietnam's National Children Hospital conducted two liver transplants in two youngest junior patients.
In 2020, due to the impact of the Covid-19 epidemic, Vietnam's health sector coped with unprecedented difficulties and challenges, according to VTC.
However, this is also a remarkable year in the field of organ transplantation with series of notable records such as the liver transplantation for the youngest child, 23 organs transplanted successfully in 13 days, intestine transplants from live donors for the first time…
Liver transplant on the youngest persons
In February, doctors at Vietnam's National Children Hospital conducted two liver transplants in two youngest junior patients, 20 months from Phu Tho and 9 months old from Quang Ngai, who suffered from the complication of the end-stage liver leading to failure from congenital atrophy and high risk of death.
According to Prof. Le Thanh Hai - Director of the National Children Hospital, liver transplantation is a difficult surgery due to complex anatomical structure, severe background condition, high proficiency in surgery, anesthesia, and pre-operative and post-operative care.
Both cases received livers from biological parents. The first surgery took place over 9 hours and that of the second was 10 hours. Postoperative condition is stable, patients are actively cared for after surgery.
23 organs successfully transplanted in 13 days
On the morning of September 16, Viet Duc (Vietnam-Germany) Friendship Hospital announced for the first time in 13 days (from August 30 to September 12), it successfully conducted the transplant surgeries of 23 organs including 3 hearts, 4 livers, 16 kidneys (of which 8 kidneys from living donors, 15 organs from brain donors). After the transplantation, all patients and organs were in good health conditions.
In addition to the above record, in just 10 days (from August 28 to September 8), the consulting and coordinating unit of the Organ Transplant Center of the hospital also successfully mobilized four families to donate their organs with records numbers of organ donation including 3 hearts, 4 liver, 8 kidneys, 20 blood vessels, 2 heart valves, and 2 corneas.
Notably, in just 2 consecutive days of September, the hospital successfully performed 2 consecutive heart transplants.
Until now, the successful transplant of 23 organs in 13 days by the Viet Duc (Vietnam-Germany) Friendship Hospital is still the record of organ transplantation in Vietnam. Following the success, on September 28, the hospital continued to set a new record with the 1,000th kidney transplant for a 49-year-old male patient in Hanoi with a history of end-stage chronic kidney failure.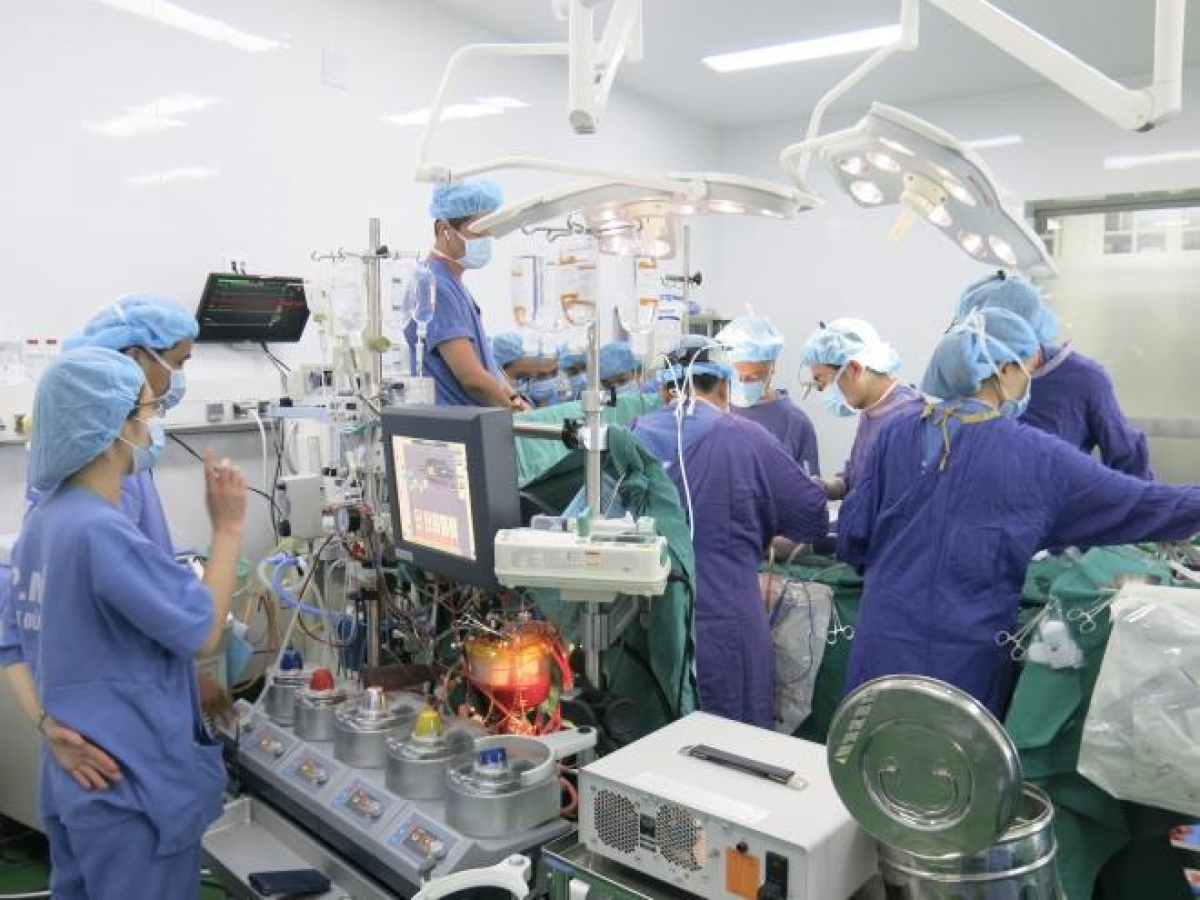 Vietnam has become only the 22nd country to successfully perform an intestinal transplant from a live donor.
Intestine transplants from live donors for the first time
Vietnam has become only the 22nd country to successfully perform an intestinal transplant from a live donor, a highly complex technique, according to Vnexpress.
The surgeries were conducted by Hanoi's Military Hospital 103 namely the two bowel transplants using live donors together with their colleagues from Japan's Tohoku University Hospital.
Globally, only around 1,000 such transplants have been done so far.
One patient is a 26-year-old male who had peritonitis and developed near-total colonic necrosis, causing doctors in the northern Lai Chau Province to almost completely remove his small intestine. He had only 20 cm left after the surgery while a normal human small intestine is around 6 m long.
He had been transferred to the 103 Military Hospital on September 29 with chronic (type 3) intestinal failure caused by severe short bowel syndrome (SBS).
He was treated and fed intravenously, but he developed a metabolic liver condition associated with dysfunctional bowel syndrome.
On October 27 nearly 100 doctors and other medical staff carried out the transplant, with the intestinal donor being his biological mother.
A second patient is a 42-year-old man who earlier had five abdominal surgeries for peritonitis due to intestinal perforation, including one to remove most of his small intestine in May 2007. Only around 80 cm remained.
In May this year, he was treated at the hospital for irreversible bowel failure due to type 1 SBS and colonic fistula.
He had surgery a day after the first patient did. His brother was the donor.
Both donors are in stable condition while the recipients, whose survival indicators are stable, are being carefully monitored.
Quyet said the biggest difficulty in intestine transplantation is connecting arteries and veins to nourish the transplanted organ. There is a higher risk of infection and organ rejection than in other transplants, and taking care of the two patients post-surgery would be a challenge, he said.
Military doctors and other experts had determined that a bowel transplant would be the only hope for the two patients.
Quyet said their intestines had completely lost their digestive function.
"If they do not have a bowel transplant, they face a high risk of complications related to vein nourishment such as infection, liver damage, wasting, and death at any time."
The transplant would restore the digestive function, and the patients could eat and drink normally, he said.
In Japan, around 80 percent of bowel transplant patients live for at least five years and 60 percent live for at least 10.
Deputy Minister of Health Tran Van Thuan congratulated the Military Medical University and the hospital for their achievement.
Overseas Vietnamese
Vice President Vo Thi Anh Xuan had meetings with several Thai leaders and high-ranking officials within the framework of her visit to Thailand to attend the Global Summit of Women (GSW) 2022.