16-year journey of Vietnam's first liver transplant patient
16 years after becoming Vietnam's first patient to undergo a liver transplant, Nguyen Thi Diep, 25, passed away. However, the story of her undaunted journey to fight the disease has inspired and touched hearts of many people.
On the morning of November 29, official Facebook account of Nguyen Thi Diep, the first patient to have a liver transplant in Vietnam, was covered in black. The alternate name of this account is also written as "tribute", making many people shocked by her death.
Her relatives and friends sent their condolences and goodbye to the brave warrior. "Miracle did not happen to you again! Rest in peace! ", a relative wrote on her Facebook.
After 17 years living with the liver of her father, Diep passed away in the morning of November 29, a few days before receiving her next treatment, which would bring to her the second organ transplant.
16 hours to bring miracle with the historic surgery
Diep, born in the northern province of Nam Dinh, had her life-saving liver transplant in 2004 when she was nine years old. She was born with congenital biliary atresia, a condition in which a child is born with one or more bile ducts abnormally narrow or blocked. At three, she underwent surgery to bypass the bile ducts and prevent damage to her liver.
However, by the time she was nine, her condition worsened and she had to give up her schooling to be hospitalized in Hanoi to prepare for a liver transplant. The donor was her father, who insisted on letting his daughter undergo a risky operation despite the doubts of many members of his low-income family.
Doctors at the Military Hospital 103 prepared five years for the first liver transplant surgery in the country. Many experts were sent abroad to learn different aspects of a liver transplants, including immunology and hematology.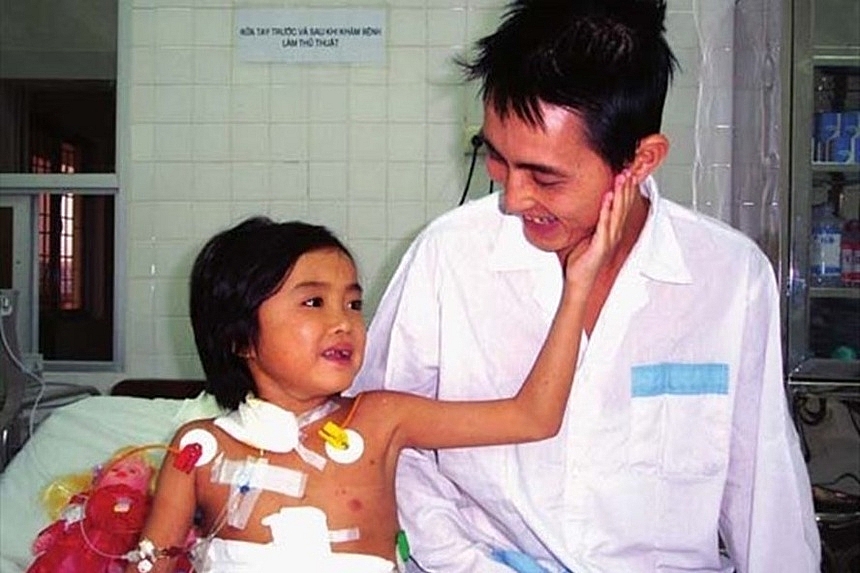 Diep and her father after the historic operation in 2004 that was the nation's first liver transplant. Photo courtesy of her family.
The operation was done under the leadership of Doctor Le The Trung with colleagues from Saigon's Cho Ray Hospital and Hue Central Hospital in attendance.
After 16 hours of the surgery, Nguyen Thi Diep was revived. The cost of this liver transplant is estimated at about USD 112,296.
Since the successful liver transplant in 2004, Diep's health has gradually stabilized. However, she must use anti-rejection drugs. She graduated from the Military Medical College and was accepted to work in 103 Military Hospital. Every day, she is in charge of loading, weighing, and sorting drugs. Due to his health, Diep has not to be on duty at night. 103 Military Hospital became the second home of her and the little girl gradually grows up in the white blouse.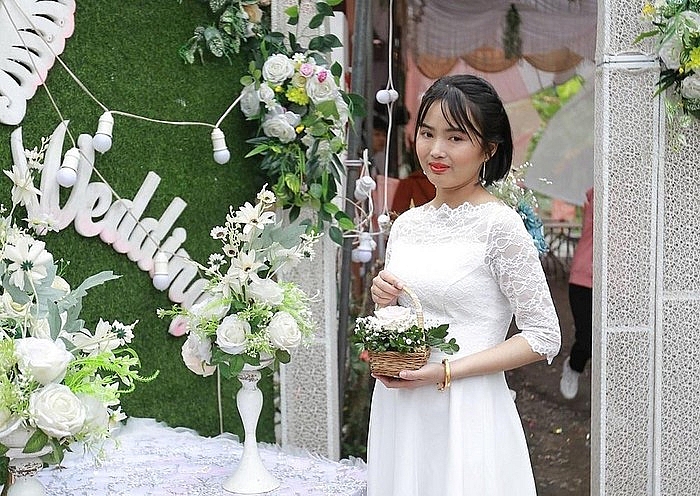 Nguyen Thi Diep. Photo: Diep's Facebook
Hope to have the miracle again
Over the past year, her health has deteriorated. At first, she was tired and gone out a lot, but she did not think the disease would get worse. Only when her stomach was enlarged, unable to eat or drink did she go for a checkup and the diagnosis results showed that she was suffering from elevated liver enzymes, cirrhosis.
In the end of 2019, she had been experiencing weight loss and fatigue caused by severe cirrhosis for months as she underwent treatment at Hanoi's Military Hospital 103 and waited for another liver transplant.
She was rushed to the hospital on November 28 when she experienced massive bleeding and physicians' efforts to save her were unrewarded. Her relatives took her home and she died on the next day.
According to Doctor Bui Van Manh, head of the intensive care and anti-poison unit at Military Hospital 103, Diep is the liver transplant patient having the longest life after the surgery in Vietnam. He added that the transplanted liver has limited longevity.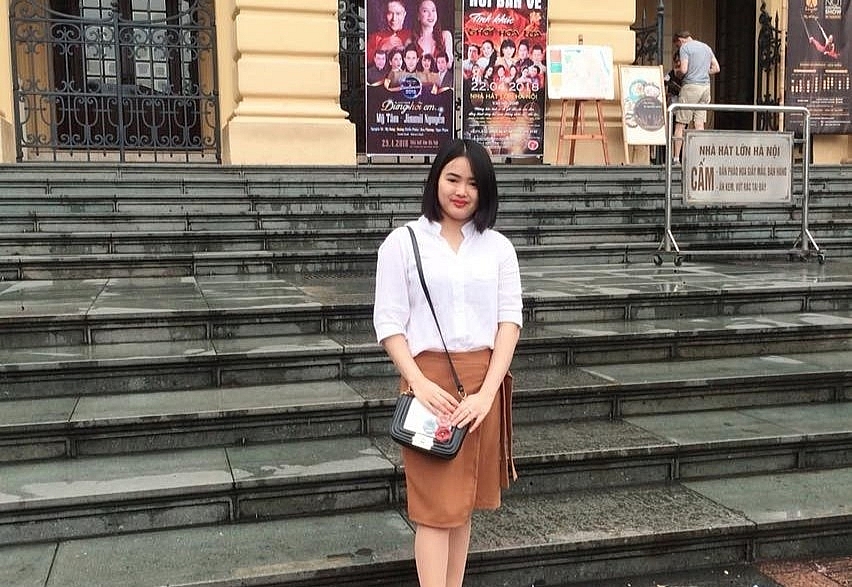 Nguyen Thi Diep. Photo: Diep's Facebook
A liver transplant is a complicated surgery. In Vietnam, only a few major medical facilities such as Military Hospital 103, Viet Duc Friendship Hospital, Central Children's Hospital (Hanoi), Cho Ray Hospital (HCMC) have implemented. The doctor will have to remove the diseased liver, replace all or part of the new organ from a dead brain donor or a living volunteer.
During the re-transplant, the patient will face many more complicated and dangerous problems than the first surgery. Additionally, Diep developed epilepsy, weakened immune system, the challenge for doctors is to manage patients' situation and prevent complications. "I hope to have enough financial resources and liver transplant resources to regenerate Diep for the second time", Associate Professor Manh added.
In addition to the challenge of not finding a suitable source, Diep and her family also have to face the burden of costs for surgery. Every day, the girl always has a strong desire to live.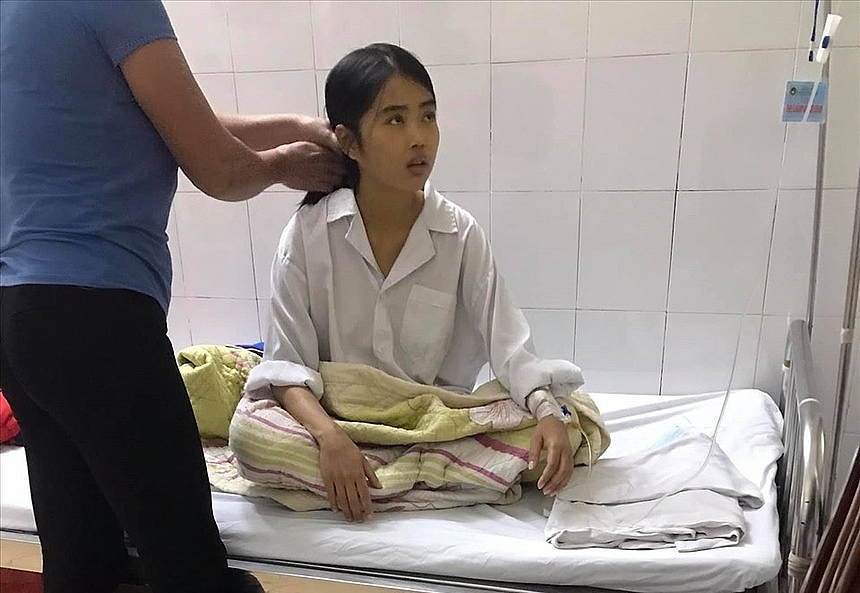 Nguyen Thi Diep in the hospital. Photo: Lao Dong Newspaper.
According to the patient's family members, one week ago, Diep was assigned by doctors at Military Hospital 103 to go home to rest so that this medical facility would prepare equipment and machines for the next treatment. However, her wish did not come true and she left an unfinished dream. It is undeniable that the journey that Diep, her family and doctors performed is a historic surgery and an important milestone of Vietnamese medicine, which touched the hearts of many people.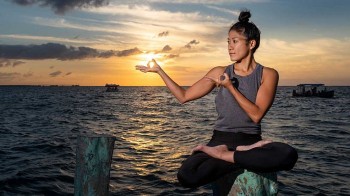 Overseas Vietnamese
With a view to inspire greater compassion, kindness, and empathy in the world, Caroline Vo left her high-paid job and came up with the idea to build an online yoga practice community.