Vietnam shows quick and effective response to the third wave of coronavirus
On January, the third wave of coronavirus began when local infection cases were detected in Hai Duong's Chi Linh City and Quang Ninh-based Van Don International Airport. Once again, Vietnam has shown its effectiveness in the fight against the new Covid outbreak.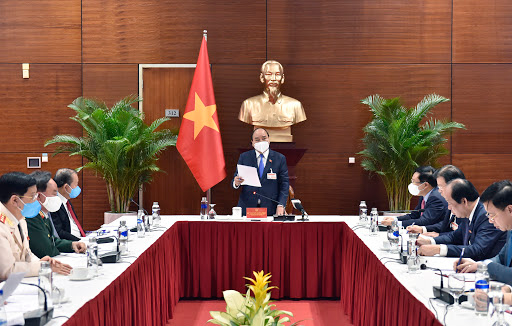 Prime Minister Nguyen Xuan Phuc (middle) presides over a meeting on COVID-19 response at the National Convention Center, Ha Noi, January 28, 2021. Photo: VGP
It is worth noting that these cases were infected with new variant first seen in the UK and the new outbreaks occurred just days before the Lunar New Year festival.
Right on the same day, Deputy Prime Minister Vu Duc Dam, Head of the National Steering Committee for COVID-19 Prevention and Control convened two separate meetings with leaders of Hai Duong and Quang Ninh Province, during which he stressed that response measures must be faster and more drastic, according to VGP news.
Dam urged Hai Duong to stay focused and strive to control the new COVID-19 cluster within 10 days.
Prime Minister Nguyen Xuan Phuc, who was attending the 13th National Party Congress, presided over a meeting on January 28 with the participation of Deputy Prime Ministers and members of the National Steering Committee.
The Government chief ordered subordinate levels not to waste a minute in zoning off the pandemic-hit area and conducting rapid contract tracing with a decisive attitude.
Later the same day, Phuc signed Directive No. 05/CT-TTg on urgent measures to prevent and control COVID-19, creating a legal basis for subordinate levels to deal with the resurgence of local COVID-19 transmissions.
On January 30, PM Phuc chaired the second meeting on COVID-19 response at the International Convention Center – the venue of the 13th National Party Congress, during which he emphasized that one of the foremost tasks was to isolate the COVID-19 clusters.
He demanded large-scale testing, contract tracing and serious observation of measures on COVID-19 prevention and control.
Phuc agreed with the proposals to build field hospitals and retrain health workers in a bid to enhance the treatment capacity.
He asked localities where new local infection cases were reported to impose social distancing only in high-risk areas in order to achieve the dual goal of COVID-19 containment and economic recovery.
Rapid isolation, rapid screening tests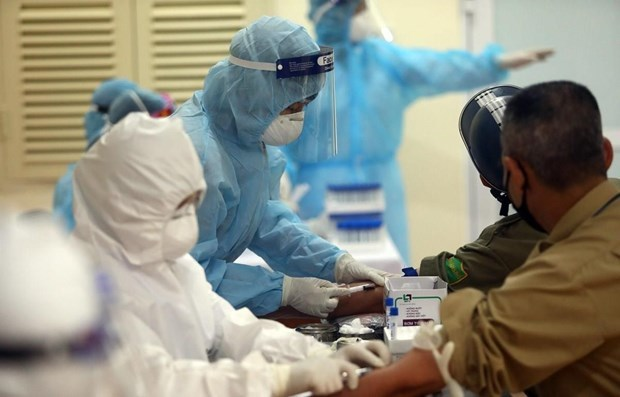 Photo: Vietnamnet
Thanks to quick support from the Ministry of Health, Hai Duong authorities quickly identified the affected area and found that the new COVID-19 patients were infected with the new strain (B.1.1.7) on January 28.
As this is a more transmissible strain, Hai Duong expanded isolation area, scaled up collection of test samples, and accelerated screening tests.
According to VGP, when new outbreaks were recorded in Cam Giang, Kinh Mon and Hai Duong City, fast and tougher measures were introduced to prevent the spread of the pandemic.
However, when the outbreaks were gradually put under control in Hai Duong and Quang Ninh, other 11 other localities including Ha Noi, Ho Chi Minh City, Hai Phong reported cases.
Thanks to large-scale screening and rapid contract tracing, almost all new cases recorded in the second half of February were F1 individuals who had been quarantined or in lockdown areas.
Foremost priority
Speaking at a meeting on COVID-19 response on February 15, Prime Minister Nguyen Xuan Phuc stressed that importing COVID-19 vaccine was one of the Government's foremost priority.
He ordered the Ministry of Health to make vaccine available right in February.
The first batch of 117,600 COVID-19 vaccine arrived in Ho Chi Minh City-based Tan Son Nhat International Airport on February 24.
It is part of the 30 million doses that the Viet Nam Vaccine Joint Stock Co., will bring in under a deal signed with AstraZeneca in November last year.
The Government expects to have 150 million doses of vaccines this year. Those who will be vaccinated first include health workers, Vietnamese diplomats, customs and immigration officers, essential service workers in such sectors like aviation, transport, tourism, electricity and water supply, among others.
Three waves of Covid-19 in Vietnam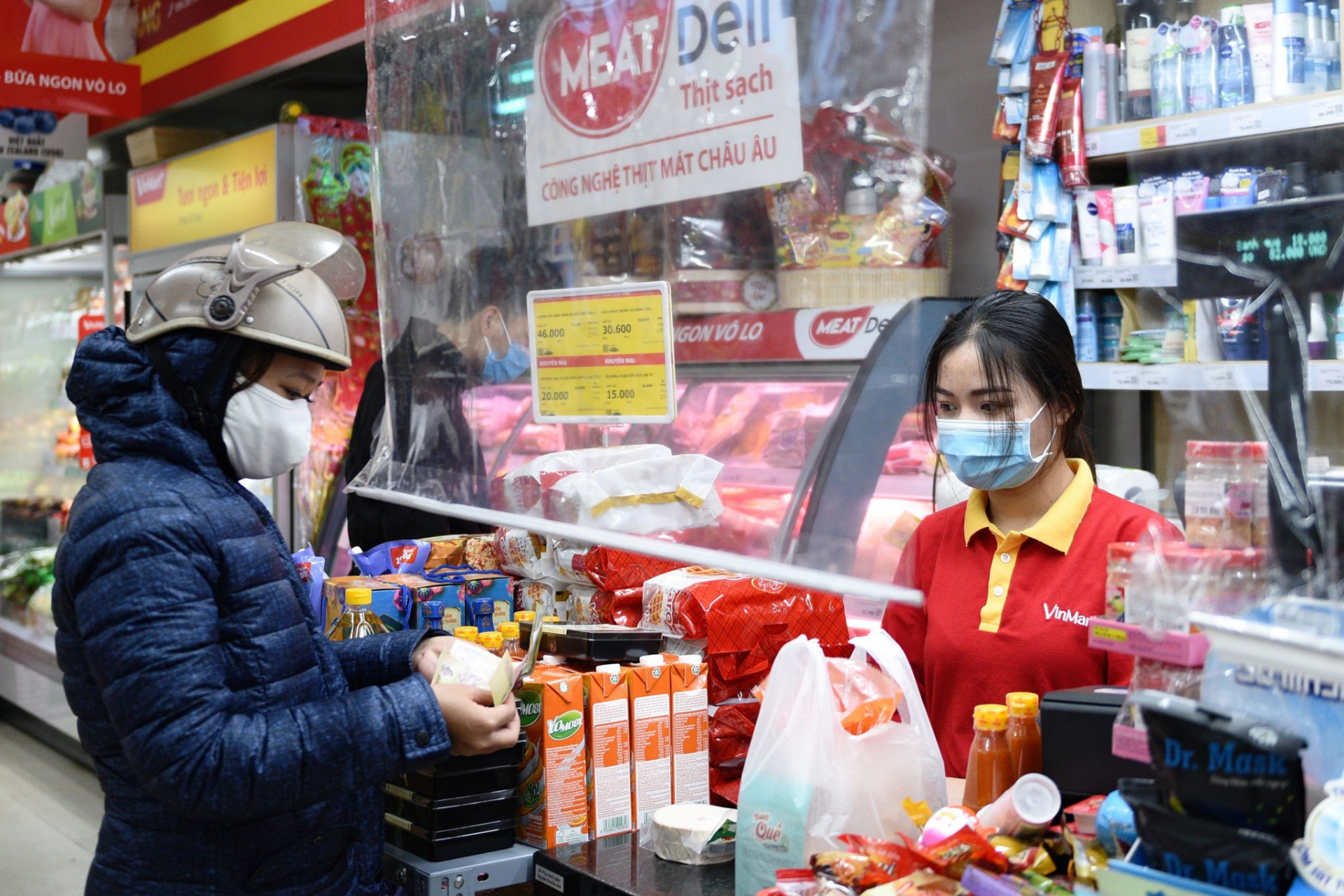 Photo: East Asia Forum
With a population of 97 million, the epidemic safety threshold in Vietnam is 970 people treated in medical facilities. After the first wave (March - April 2020), and the second wave (July - September 2020), Vietnam has entered the third wave (January - March 2021).
During the past year, from January 23, 2020, the number of people receiving Covid-19 treatment in Vietnam was always lower than the safety threshold of 970 people. The first wave of infections peaked on April 2, 2020, with 158 people under treatment.
The second wave of infections peaked on August 17, 2020, with 492 people treated at hospitals. The third wave started on January 27, 2021. By February 13, 2021, 631 people were being treated at hospitals, according to Worldometer.
If the safety threshold of less than 10 people treated at hospitals per 1 million people is applied to some provinces and cities in Vietnam in the 2nd and 3rd wave of infection, some localities are considered to have epidemics.
The outbreak in the central city of Da Nang began on July 27, 2020 with 14 people treated in hospitals. On August 14, 2020, the epidemic reached the peak with 280 patients treated in hospitals. Thus, Da Nang was considered to have a Covid-19 outbreak even though the country did not have one, according to Vietnamnet.
As of August 29, 2020, Da Nang had no new cases of Covid-19, but 159 people were still being treated in hospitals, 14 times more than the safety threshold. Therefore, the city was still in an epidemic situation. On September 23, 2020, when all patients were discharged from the city's hospitals, Da Nang was confirmed to no longer have an outbreak.
In the ongoing third wave of Covid-19, Hai Duong is the epidemic center.
With a population of 1.9 million, Hai Duong's safety threshold is 19 people treated in hospitals. On January 27, 2021, the first case was discovered in the province and after only one day, 72 locally-transmitted cases were recorded. A total of 77 people were treated at hospitals, four times higher than the safety threshold.
As of February 14, 2021, the number of people treated in hospitals was 418, 22 times higher than the safety threshold. At present, after 20 days, it is unclear when the epidemic in Hai Duong will reach its peak.
Based on the current situation, it is estimated that by February 18, 2021, the number of people under treatment will increase by no fewer than 60 people, raising the total number of patients treated at medical facilities to about 480 people, 25 times more than the safe threshold.
In Da Nang, the epidemic ended after 59 days. For the case of Hai Duong, it is predicted that the epidemic will end after at least 60 days or at the end of March 2021. At that time, the number of patients treated in hospitals will not exceed 19.
So far, Covid-19 has spread to 13 provinces and cities in Vietnam but except for Hai Duong, the number of patients under treatment at hospitals in these provinces and cities is still at the safety level.
Therefore, the end of the third wave of Covid-19 in Vietnam mainly depends on when the epidemic in Hai Duong ends.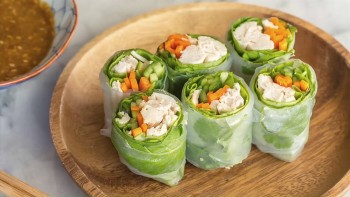 Travel
Rolls are a easy-to-make dish that is loved by many Vietnamese diners as well as Korean stars.