'Vietnam Soul' in Italy
"Vietnam soul" is an event to introduce Vietnamese traditional culture held by students studying Vietnamese at the Department of Asian and North African Studies, Ca' Foscari University of Venice, Italy. The event along with many other diverse activities have contributed to promoting Vietnamese culture to the Italian and international friends.
Growing the seed Vietnamese culture in Italy
At the beginning of the "Vietnam soul" event, the students chose to perform the Bac Ninh quan ho folk song because the song is a symbol of hospitality when guests come to visit.
After that, there was a performance of Vietnamese national costume with the highlight of Ao Dai, four-panel Ao Dai, loose-fitting blouse, and the song "The Great Circle of Vietnam" by musician Trinh Cong Son, performed by more than 20 Italian students, and Vietnamese students studying at the school.
A unique feature of this event is that the students were introduced to traditional Vietnamese art before performing an illustration, such as Clarissa Persello with the ancient cheo excerpt "Xuy Van gia dai"; Nicola Danieletto with the reformed excerpt "Ba Ly He" and Anna Battistella with the poem "Chan que" by poet Nguyen Binh.
The performance brought inspiration, excitement, passion, and love to Vietnam. Participants in the event are immersed in Vietnamese culture and feel like they are in Vietnam, not in Italy.
According to the students, by choosing the topic "Vietnam soul", they want to show their passion for the country, history, culture, and traditions of Vietnam. This is not only from learning Vietnamese from textbooks, but also from learning the typical Vietnamese tradition through various sources.
Previously, in 2019, the Vietnamese language department, under the Department of Asian and North African Studies of Ca' Foscari University was established. The special thing is that the school also provides students with knowledge about history, literature, economics, geopolitics, art and all aspects of Vietnamese culture.
Associate Professor Richard Quang Anh Tran, who is in charge of the development of the Vietnamese language department, said that Venice is a gateway for exchanges of civilizations and has great potential to develop a Vietnamese study program.
Professor Marco Ceresa, head of the Department of Asian and North African Studies, said that so far, the student feedback has been good, the number of students interested and registered to learn Vietnamese is quite stable.
In addition to the three-year bachelor's program, in the next 1-2 years, the department will open a master's program in Vietnamese. To meet the needs of students, Ca'Foscari also intends to open dual bachelor's degree programs with universities in Vietnam to allow student exchange between Italy and Vietnam, for students who want to have two university degrees.
Home of Vietnamese students abroad
May 2022 is a memorable time for many Vietnamese students in Italy when the Italy-Vietnam Friendship Association in Veneto (northern Italy) launched the Vietnamese Cultural House in Venice. Thanks to that, students have separate places to organize learning and cultural activities in Vietnam.
Pham Hung Vuong-Vietnamese student in Venice said: The Vietnamese Cultural House is a convenient place for Vietnamese students in Italy to exchange, study, and promote Vietnamese culture to Italian and international friends.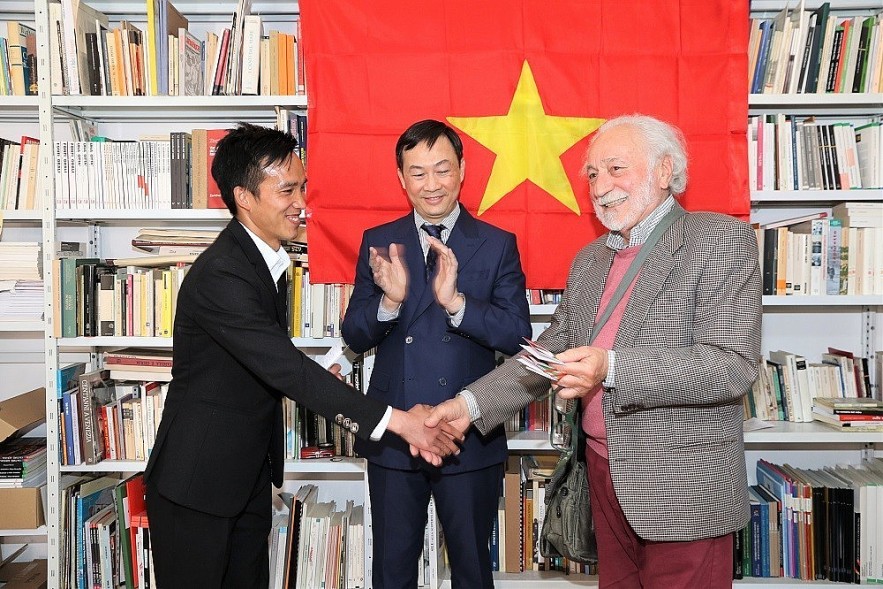 Head of the Italy-Vietnam Friendship Association in Veneto, Renato Darsie granted the right to use the Vietnamese Cultural House to representatives of Vietnamese students. (Photo: Hai Linh)
Vietnamese Ambassador to Italy Duong Hai Hung said that Vietnamese students in Italy are cultural ambassadors of Vietnam, a cultural bridge between the Vietnamese and the Italian people.
The launch of the Vietnamese Cultural House is an important event in the friendship and cooperation between Vietnam and Italy. It contributes to enhancing cultural understanding and the future relationship between Vietnam and Italy.
The Ambassador believes that the Vietnamese students will have more practical and useful cultural events about Vietnam to introduce to Italian friends, and encourage young Vietnamese to study in Italy.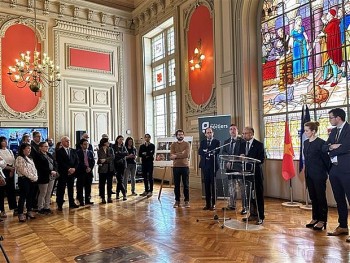 National
Vietnam News Today (Mar. 26): Vietnam and Thailand promote labour cooperation; Vietnamese, French localities look to step up cooperation; Attractive incentives on offer at Hanoi Tourism Festival 2023; E-commerce accounts for 60% of Vietnamese digital economy.