Vietnam stock market paid attention internationally by surge of new investors with "record" jumps
Vietnam, the region's small frontier market, has seen a four-fold jump in share trading volumes in December as the benchmark VN-Index surpassed the 1,000-point mark, a threshold it struggled to cross over the last two years, said the Reuters.
Vietnam's benchmark stock exchange is struggling to keep up with a large influx of local investorslooking to move cash away from savings accounts which are offering declining interest rates, sources and stock market analysts said.
Vietnam, the region's small frontier market, has seen a four-fold jump in share trading volumes in December as the benchmark VN-Index surpassed the 1,000-point mark, a threshold it struggled to cross over the last two years.
The index has jumped 23% since the start of November.
"The exchange has intentionally halted trading from 1400 (2 pm) since late-December last year for fear that the system would crash due to a sudden surge of orders," a source with direct knowledge of the matter told Reuters.
Around 2.8 million new trading accounts were opened last year, up 17% from 2019, which the government said was "a record", with individual investors the driving force.
"I can hardly place any orders in the afternoon session, which is very frustrating," said Nguyen Hoang Nam, a former photographer who turned to securities after having lost his job due to the coronavirus pandemic.
However, Nam said he was still pleased as his account had recorded a "massive" gain over the last eight months.
Analysts have attributed the rush to declining bank deposit interest rates following three cuts in the central bank's policy rate since March, and to the quick recovery of the economy from the pandemic.
"The COVID-19 pandemic has caused asset classes such as property, even gold to lose their charm and redirected cash into securities," said Nguyen Tri Hieu, a former government economic adviser.
"Investors' sentiment has been significantly positive over the past months and will continue like that until at least by the end of the March quarter."
Investor appetite has been whetted further by the government's firm response to containing the pandemic. The Vietnam Index opened at 1,139 on Wednesday and has recorded an increase of 18% this year.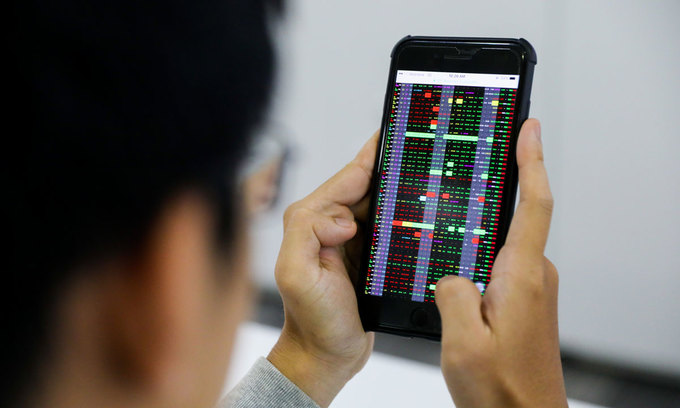 An investor looks at stock prices on a smartphone at a brokerage in Ho Chi Minh City. Photo by VnExpress
The VN-Index gained 1.08 percent to close Tuesday at 1,132.55 points, with blue chips driving gains.
The Ho Chi Minh Stock Exchange (HoSE), on which the VN-Index is based, saw 277 stocks gain and 166 lose. Total trading volume rose marginally over the previous session to VND16.22 trillion ($702.15 million), according to the vnexpress.
The VN30-Index for the stock market's largest caps climbed 1.14 percent, with 19 stocks gaining and 9 losing.
In this group, three blue chips in the Vingroup family led gains. VIC of private conglomerate Vingroup, went up 1.6 percent; and its two subsidiaries, VRE of mall operator Vincom Retail and VHM of real estate giant Vinhomes went up 5.2 per cent and 3.9 per cent, respectively. Together, these three tickers contributed to a rise of 4.7-point on the VN-Index, according to data from brokerage VNDirect.
The other best performers this session included MBB of mid-sized state-run Military Bank, up 5 percent, FPT of IT services firm FPT, up 4.2 percent, VNM of dairy giant Vinamilk, 2.3 percent, and SBT of agricultural exporter TTC-Sugar, with 1.9 percent.
Private banks were mostly in the green. HDB of HDBank added 2.7 percent, STB of Sacombank 0.9 percent, VPB of VPBank 0.4 percent and TCB of Techcombank, 0.2 percent. EIB of Eximbank kept its opening price.
Oil and gas sector also turned in a positive performance. GAS of energy giant PetroVietnam Gas gained 1.4 percent, POW of electricity generator PetroVietnam Power 0.7 percent and PLX of gasoline distributor Petrolimex with 0.4 percent.
In the opposite direction, ROS of construction firm FLC Faros topped losses with 2 percent, followed by VJC of budget carrier Vietjet Air, 0.8 percent, and PNJ of jewelry retailer Phu Nhuan Jewelry with 0.5 percent.
The red side of the board saw the presence of two major state-owned lenders, BID of BIDV and CTG of VietinBank, which shed 0.7 percent and 0.3 percent respectively, while the third, VCB of Vietcombank, added 0.3 percent.
The HNX-Index for the Hanoi Stock Exchange, home to mid-and small-caps, added 0.9 percent, while the UPCoM-Index for the Unlisted Companies Market gained 0.31 percent.
Foreign investors turned net buyers to the tune of over VND510 billion on all three bourses, with buying pressure mostly on VRE of Vincom Retail and the FUEVFVND, an exchange traded fund replicating the performance of stocks on the VN Diamond Index.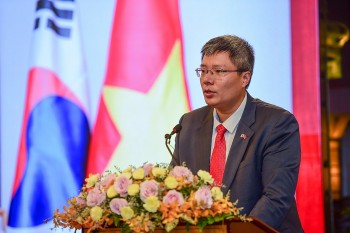 Viet's Home
Tran Hai Linh, member of the Central Committee of the Vietnamese Fatherland Front, chairman of the Vietnam-Korea Business & Investment Association (VKBIA) shared with the Vietnam Times about strengthening the capacity to promote Vietnamese culture to the world.
Economy
Vietnam Business & Weather Briefing (August 16): Vietnamese enterprises are limited in the global supply chain while international economists pro caste that the country can become a new tiger in Asia.
August 16, 2022 | 18:05