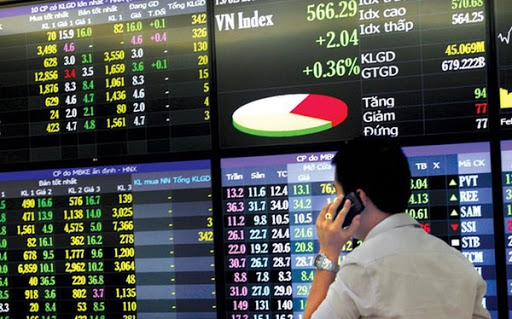 (Photo: Magazine of Industry and Trade)
The benchmark VN-Index on the Ho Chi Minh Stock Exchange gained 1.41 per cent to close at 768.59 points. The VN-Index rose a total of nearly 8 per cent last week. More than 135 million shares were traded on the southern bourse, worth VND2.40 trillion (US $ 103 million). Of the total, more than 123 million shares were traded via order-matching transactions, worth VND1.83 trillion.
Some securities experts believe that: The recovery of Vietnamese securities will happen strongly if the situation of COVID-19 epidemic control is getting better. Green color of stocks occupied overwhelmingly with 210 gainers on HoSE, while there were only 125 losers. In particular, aviation and oil stocks continued to maintain a positive trading pace.
The retail sector gave a major boost to the stock market in the early session as the industry index jumped nearly 4.6 per cent. Lifting the retail sector were Mobile World Investment Corp (MWG), Hang Xanh Motors Service JSC (HAX) and FPT Retail (FRT).
The three stocks gained 5 per cent, 6.8 per cent and 1.3 per cent, respectively. Hang Xanh Motors shares had fallen a total of nearly 2.7 per cent last Thursday and Friday. The company on May 6 will pay its 2019 dividend in cash at a rate of 15 per cent, meaning shareholders will receive VND1,500 per share. The ex-dividend day is April 17. On this day, every share will be traded without the subsequent dividend value. Other sectors that also advanced included energy and mining, insurance, securities, and banking, reported by VIR.
Some bluechips also prospered such as: ACB + 1.5% to VND 20,100/share, PVS + 1.6% to VND 12,400/share, DGC + 2.7% to VND 22,900/share...Meanwhile, PVS still has outstanding trading volume reaching over 5 million units; followed by SHS and SHB respectively 2.64 million units and more than 2 million units. In contrast, a number of other large stocks took profit and retreated, but the decrease range was not too large such as PVI, VCS, VCG ...reported by Bao tin tuc.
The HNX-Index on the Ha Noi Stock Exchange was up 1.12 per cent to end Monday morning at 107.37 points. The northern market index soared a total of 8.52 per cent last week. Nearly 27 million shares were traded on the northern market, worth VND303.3 billion.
"Along with countries in the world taking urgent measures to control the COVID-19 epidemic, the Government of Vietnam has also implemented drastic measures to socialize as well as minimizing the possibility of cross infection. This is probably the most positive policy impact to bring confidence to the people and will also help investors have better mindset", Mr. Le Duc Khanh, Chief Economist and Strategic Director of Petroleum Securities Joint Stock Company said.
Some opinions said that investor sentiment is good, and the recovery of stock index might continue in short-term. The shaking is not enough to cause the index to drop strongly again because the initiative of the buyers at the lower prices is still high.
Predicting the movements of the stock market this week, Mr. Tran Minh Hoang, Head of VCBS Analysis and Research Department, said: "Strong net selling pressure will take place continuously from foreign investors. The existing portfolio has contributed to increase the pressure on investors in general and limit the prospect of market recovery. On the other hand, profit-taking pressure last week also increased significantly when the VN Index exceeded 750 points. The market may experience a few "shake" and even downward adjustments", according to Bao tin tuc.
Candy Lee