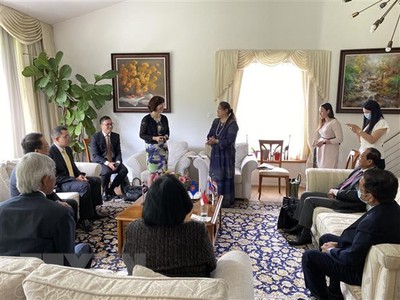 At the ceremony. Photo: Vietnamese Embassy to Switzerland
In her address at the meeting, the Vietnamese diplomat outlined a series of scheduled activities that took place during the country's tenure as ACB Chair for the second half of the year, adding the nation's desire to get further support from committee members moving forward.
During the online gathering, ambassadors of various ASEAN member states shared information detailing Switzerland and other countries' response to the COVID-19 pandemic. In addition, efforts to push for the establishment of the ASEAN – Swiss Parliamentary Friendship Group at the Federal Parliament during the 2019 to 2023 tenure were also discussed.
Members noted their thanks to Swiss Foreign Minister Ignazio Cassis for his letter to the ACB, in which the Minister called on greater international co-operation in the fight against the COVID-19 and to initiate economic recovery.
Swiss FM Cassis expressed the Central European nation's appreciation for its partnership with ASEAN and other member countries, especially in terms of its capacity as Sectoral Dialogue Partner of ASEAN.
Ambassador Lan used the occasion to highlight the nation's efforts to curb the spread of the pandemic, highlighting the Vietnamese Government's determination and effective measures implemented for the purpose of epidemic prevention and control. Moreover, The country has been able to maintain dialogues with its partners via teleconferences and presented medical supplies and face masks to both ASEAN and international friends, as well as successfully holding the online Special ASEAN Summit and ASEAN 3 Summit.
The diplomat added that as ASEAN Chair in 2020, the country has worked to promote ASEAN's drastic and timely measures to fight the COVID-19 pandemic. Steps taken include establishing the ASEAN Fund for COVID-19 Response and the regional emergency medical supplies warehouse, building a process that can successfully combat the pandemic, and embarking on socio-economic recovery plans.
The 36th ASEAN Summit, the first of its kind held online under the chair of Vietnamese Prime Minister Nguyen Xuan Phuc, serves to underline the spirit of solidarity, co-operation, economic integration, while also reaffirming the importance of maintaining an open, transparent, and rules-based region with ASEAN at its heart.
With regard to regional and global issues, the event serves to highlight the significance of maintaining and promoting peace, stability, security, maritime and aviation safety, along with freedom, within the East Sea.
Participants called for the strengthening of trust building, the exercising of self-restraint and other preventative actions that could complicate the issue and settle disputes in line with international law, including the 1982 United Nations Convention on the Law of the Sea (UNCLOS), Ambassador Lan concluded./.
Cambodia postpones ASEM 13 to mid-2021

Cambodia has officially postponed the upcoming Asia-Europe Meeting (ASEM 13) due to difficulties regarding the COVID-19 pandemic, the Cambodian Ministry of Foreign Affairs and International ...
VOV