Vietnam taps EU, US, Japan for Covid-19 vaccine access
Vietnam has sought assistance from the EU, the U.S. and Japan for accessing Covid-19 vaccine sources, the Ministry of Health said.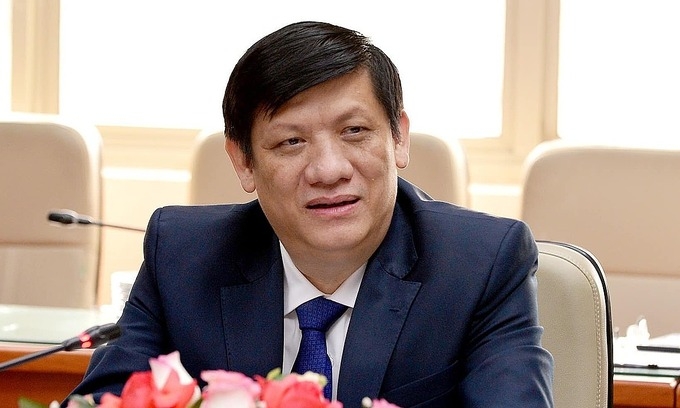 Deputy Health Minister Nguyen Thanh Long (Photo: VNE)
In a meeting with diplomats and international institutions Thursday, Deputy Health Minister Nguyen Thanh Long told U.S. ambassador Daniel Kritenbrink that Vietnam was seeking access to Covid-19 vaccines already approved by the U.S., including those produced by Moderna, Pfizer and Johnson & Johnson.
Kritenbrink suggested the formation of temporary U.S.-Vietnam joint teams to follow up on this issue, as reported by VNE.
Long also requested Japan to help and share its Covid-19 vaccine sources, including cooperating in technology transfer so that the vaccines could be produced and tested in Vietnam.
Yamada Takio, the Japanese ambassador, said Vietnam and Japan have supported each other in the Covid-19 fight. In a dialogue late last month with Party Chief and State President Nguyen Phu Trong, Japanese Prime Minister Yoshihide Suga said Japan would provide ¥220 million ($1.8 million) to support Vietnam's efforts to counter the pandemic.
Giorgio Aliberti, the EU ambassador to Vietnam, said the EU has already sponsored global vaccine access mechanism Covax with more than $2.5 billion. Vietnam recently received 811,200 Covid-19 vaccine doses from the facility, he noted. Long asked that the EU continues to help Vietnam by facilitating access to Covid-19 vaccine sources in Europe.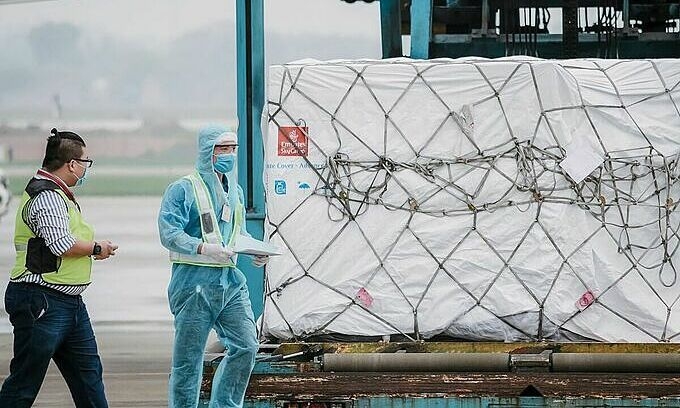 A shipment of Covid-19 vaccine by AstraZeneca under Covax scheme arrives at Noi Bai Airport in Hanoi, April 1, 2021. Photo by VnExpress/Phan Cong.
Last month, Long also expressed his desires while receiving diplomatic representatives of China, India, and Russia.
Working with Ambassador Xiong Bo, Minister Long required China to support Vietnam with the Covid-19 vaccine to inject for prioritized groups, including Vietnamese citizens wanting to travel, trade, and study in China.
"We hope to soon receive the registration and license form for the China-made Covid-19 vaccine. Upon receiving the form, the licensing will be quickly carried out within two weeks", Minister Long said.
Vietnam has reviewed the entire process of emergency use authorization for the vaccine and will facilitate procedures, Long added.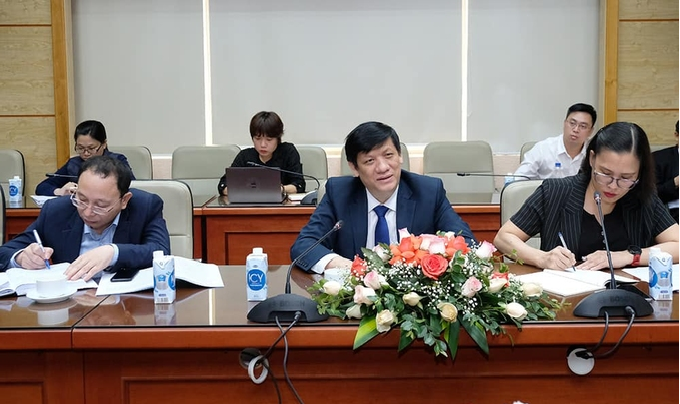 Minister of Health Nguyen Thanh Long (M) works with the Ambassador of China, India, and the Minister Counselor of the Russian Embassy in Vietnam on March 31 morning. Photo: Vnexpress
China is implementing the "vaccine passport" policy, in which including facilitating entry for those inoculated with vaccines manufactured by it.
Indian Ambassador Pranay Verna said that India is producing two Covid-19 vaccines namely AstraZeneca and Covaxin.
Duc Minh Company requested the Health Ministry to allow it to register to license the Covaxin vaccine. Vietnam also asked India to aid it with the third phase of human trials of locally-produced vaccines.
Minister Counselor of the Russian Embassy in Vietnam Bublikov Vadim said that it is willing to provide to and cooperate with Vietnam in producing the Sputnik V Covid-19 vaccine.
Vietnam has so far received 117,600 doses of AstraZeneca vaccine out of 30 million doses purchased by Vietnam Vaccine JSC (VNVC). More than 800.000 doses supplied by Covax is expected to arrive in Vietnam on April 1.
Vietnam aims to secure 150 million Covid-19 vaccine doses this year to cover 70 percent of its population. It has so far received over 900,000 Covid-19 vaccine doses from British-Swedish firm AstraZeneca, either through direct orders or the Covax facility.
Vietnam launched its inoculation campaign on March 8. According to the National Expanded Immunization Programme as of March 30, an additional 1,840 people across nine provinces and cities, had been vaccinated, bringing the overall number of vaccinated people nationwide to 48,256.
As of Friday, over 51,000 Vietnamese had received their first Covid-19 vaccine shots, mainly frontline workers in the pandemic fight.