Vietnam aims to reach herd immunity this year
So as to reach herd immunity this year, Vietnam needs 150 million doses of Covid-19 vaccines to inoculate its citizens.
Health Minister Nguyen Thanh Long had a meeting with the Ambassadors of European Union (EU), the U.S, Japan, the World Health Organization (WHO), the United Nations Children's Fund (UNICEF) and the United Nations Population Fund (UNPFA) to Viet Nam to discuss the issue on the Covid-19 vaccines, Vietnamnet reported.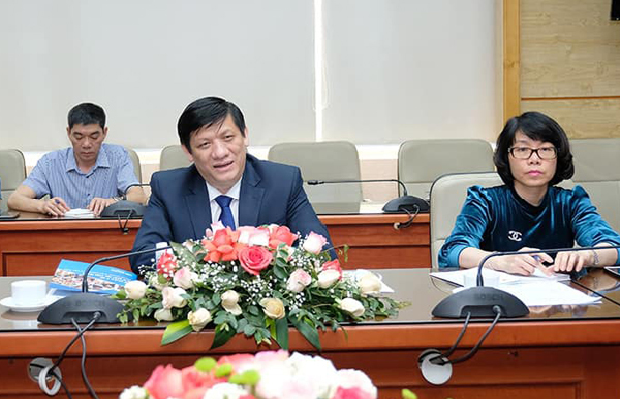 Health Minister Nguyen Thanh Long at the meeting. Photo: Vietnamnet
Health Minister extended thanks to countries and international organizations for assisting Vietnam in the healthcare field, especially in the fight against the Covid-19 pandemic.
According to Minister Long, the Covid-19 vaccine is one of the priorities of all countries. In Vietnam, along with epidemic prevention measures, the Government has paid special attention to the Covid-19 vaccine so that residents' life can soon return to normal.
"So as to reach the herd immunity in 2021, Vietnam needs 150 million doses of Covid-19 to inoculate its citizens. Together with efforts to accelerate the research and development of locally-produced Covid-19 vaccine, Vietnam is also stepping up negotiations with foreign manufacturers to purchase their vaccines", Long said.
In 2021, Vietnam will certainly receive only 60 million doses of AstraZeneca vaccine including 30 million doses supplied by Covax and the other ordered by Vietnam Vaccine JSC (VNVC).
811.200 doses sourced via Covax arrived in Hanoi on April 1.
Minister Long wished the U.S would help Vietnam to access the Covid-19 vaccines such as Moderna, Pfizer, and Johnson & Johnson.
He also wished the U.S to provide Vietnam with technical and financial support for vaccination campaigns.
The two sides consented to establish a temporary working group to implement the abovementioned proposals.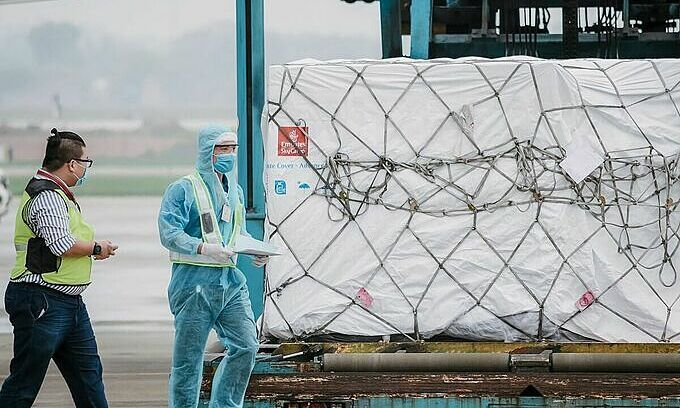 A shipment of Covid-19 vaccine by AstraZeneca under Covax scheme arrives at Noi Bai Airport in Hanoi, April 1, 2021. Photo by VnExpress/Phan Cong.
Long expressed his hope that Japan would help and share its Covid-19 vaccine sources, simultaneously cooperating with Vietnam in technology transfer and testing of vaccines.
In a dialogue late last month with Party Chief and State President Nguyen Phu Trong, Japanese Prime Minister Yoshihide Suga said Japan would provide ¥220 million ($1.8 million) to support Vietnam's efforts to counter the pandemic, according to Vnexpress.
Giorgio Aliberti, the EU ambassador to Vietnam, said the EU has already sponsored global vaccine access mechanism Covax with more than $2.5 billion. Vietnam recently received 811,200 Covid-19 vaccine doses from the facility, he noted. Long asked that the EU continues to help Vietnam by facilitating access to Covid-19 vaccine sources in Europe.
As of April 2, more than 51,000 Vietnamese had received their first Covid-19 vaccine shots.
The prioritized groups receiving the vaccine are medical workers directly treating Covid-19 patients, those involve in taking samples, testing, contact tracing, members of Covid-19 community groups, and members of the Steering Committees for disease prevention and control.
Vietnam saw three new imported COVID-cases in the evening of April 2, according to the Ministry of Health, which added that all the patients were sent to quarantine immediately upon arrival in Quang Ninh, Ho Chi Minh City, and Tay Ninh.

As of 6 pm on April 2, the national count was 2,620, including 1,603 domestically transmitted cases, said the ministry.

The MoH's Medical Service Administration reported that as many as 2,383 have been given the all-clear from the coronavirus SARS-CoV-2 so far.

The death toll from the disease was still kept at 35, the administration said.

Among active patients undergoing treatment at medical establishments across the country, 38 tested negative for the virus once, 15 twice, and 28 thrice.

Indonesian President's son break-up with girlfriend stirs Chinese community

Their break-up has cast a fresh spotlight on interracial and interfaith relations in Indonesia, where ethnic Chinese make up less than 2 percent of the ...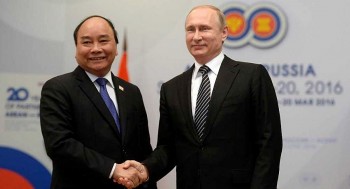 Friendship
The visit is expected to boost bilateral cooperation in Covid-19 prevention and control, especially in promoting Russia's support for vaccine production and technology transfer.