Vietnamese labourers to enjoy greater protection when working abroad
The International Labor Organization (ILO), on the occasion of the International Migrants Day (December 18), welcomes the opportunity to better protect Vietnamese labourers working abroad thanks to the newly-revised Law on Contract-Based Vietnamese Overseas Workers.
The law, first adopted by the National Assembly (NA) on November 13, which will become effective as from January 1, 2022, is built on the previous legal foundation with a specific focus on strengthening protection for migrant workers.
Most notably, the revised law eliminates brokerage fees that employees previously had to pay to service enterprises, as well as prohibiting the collection of service fees for employees from non-business units. Indeed, workers who pay too high recruitment fees and other related costs are at increasing risk of becoming victims of labour exploitation, forced labour, and human trafficking.
By reducing costs for workers the law provides greater protection for Vietnamese labourers, according to Nilim Baruah, a migration specialist at the ILO Regional Office for Asia and the Pacific.
Furthermore, in pre-departure orientation training courses, employers must also incorporate knowledge and skills to prevent forced labour, gender-based violence, and human trafficking.
The country has therefore expressed its commitment to preventing forced labour involving Vietnamese nationals heading abroad to work, as reflected in this newly amended law.
As such, implementing this law is widely seen as an important first step towards ultimately reducing recruitment fees and other related costs that employees have to pay, the ILO official said.
The law prohibits discrimination and forced labour within labour migration and permits workers who are subjected to, or threatened with, maltreatment, sexual harassment or forced labour to unilaterally terminate their employment contracts without financial penalty.
Under the new law, recruitment agencies may have their licence revoked if they use deceitful advertising or other deceptive means to recruit workers for the purpose of forced labour/trafficking in persons or other forms of exploitation.
Dr. Chang-Hee Lee, director ofILO Vietnam, said that the ILO pledges to support the process of developing sub-laws through social dialogue and law enforcement next year and beyond.
International Migrant Day this year also commemorates the 30th anniversary of the International Convention on the Protection of the Rights of All Migrant Workers and Members of their Families (CRMW).
The adoption of the Law on Contract-Based Vietnamese Overseas Workers is an important step towards labour migration that can be viewed as a positive experience, whilst also promoting empowerment for all Vietnamese workers.
english.vov.vn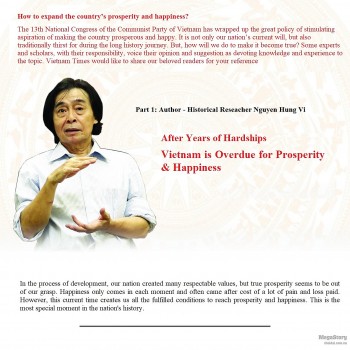 Focus
In the process of development, our nation created many respectable values, but true prosperity seems to be out of our grasp. Happiness only comes in each moment and often came after cost of a lot of pain and loss paid. However, this current time creates us all the fulfilled conditions to reach prosperity and happiness. This is the most special moment in the nation's history.