Vietnam Tightens Google, Facebook Ad Regulations
Vietnam has issued a new decree to tighten cross-border ad regulations for foreign companies like Google and Facebook
Social media app icons are seen on a smartphone. Photo: VNE
The Ministry of Information and Communications will take sole charge of regulating ads, instead of sharing the responsibility with the Ministry of Culture, Sports and Tourism as before.
Platforms that run ads must provide details of its business to the ministry 15 days before operation. Details include where their servers are located in Vietnam (if any) and contacts, as reported by VNE.
Foreign platforms are required to prevent and remove content that violates the law as required by the communications ministry or other competent authorities.
These platforms also need to provide information on the company or individual that ran the illegal content.
The communications ministry or any other competent authority would block these illegal ads if the platforms do not comply with their demand.
Earlier last month, Le Quang Tu Do, deputy head of the Authority of Broadcasting and Electronic Information under the ministry, said the new decree would bring "new advantages" to local newspapers and media companies.
Last week, the Ministry of Information and Communications also proposed several regulations to tighten control on livestream activities on social media like Facebook and Youtube.
Cross-border social media must demand operators of accounts with 10,000 or more followers/subscribers in Vietnam to provide contact information to the ministry, a draft decree says.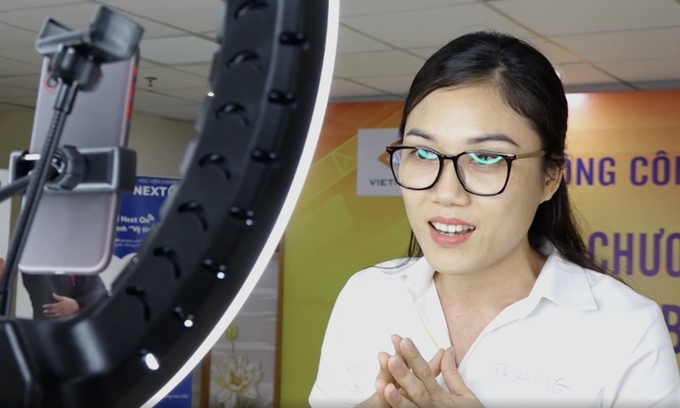 A woman practices livestreaming on social media in a training course in Hanoi in July, 2021. Photo: VNE
It also requires websites and apps with 100,000 or more monthly frequent users to register with the ministry.
Only registered accounts can host livestream videos to sell goods and services.
The social media platforms will also be asked to block or remove flagged content within 24 hours upon "justified" requests by Vietnamese individuals and organizations affected by such content.
Vietnam has seen a major tightening of online content, with ramped up censorship of posts, culls on accounts spreading "wrong views" and frequent criticism by regulators of some global firms, Reuters said.