Over 60,000 Vietnamese receive AstraZeneca Covid-19 vaccine
As many as 60,139 Vietnamese people have been given an AstraZeneca coronavirus vaccine shot since the national COVID-19 vaccination campaign was launched on March 8, according to the Ministry of Health on April 14.
As many as 60,139 Vietnamese people have been given an AstraZeneca coronavirus vaccine shot since the national COVID-19 vaccination campaign was launched on March 8, according to the Ministry of Health on April 14.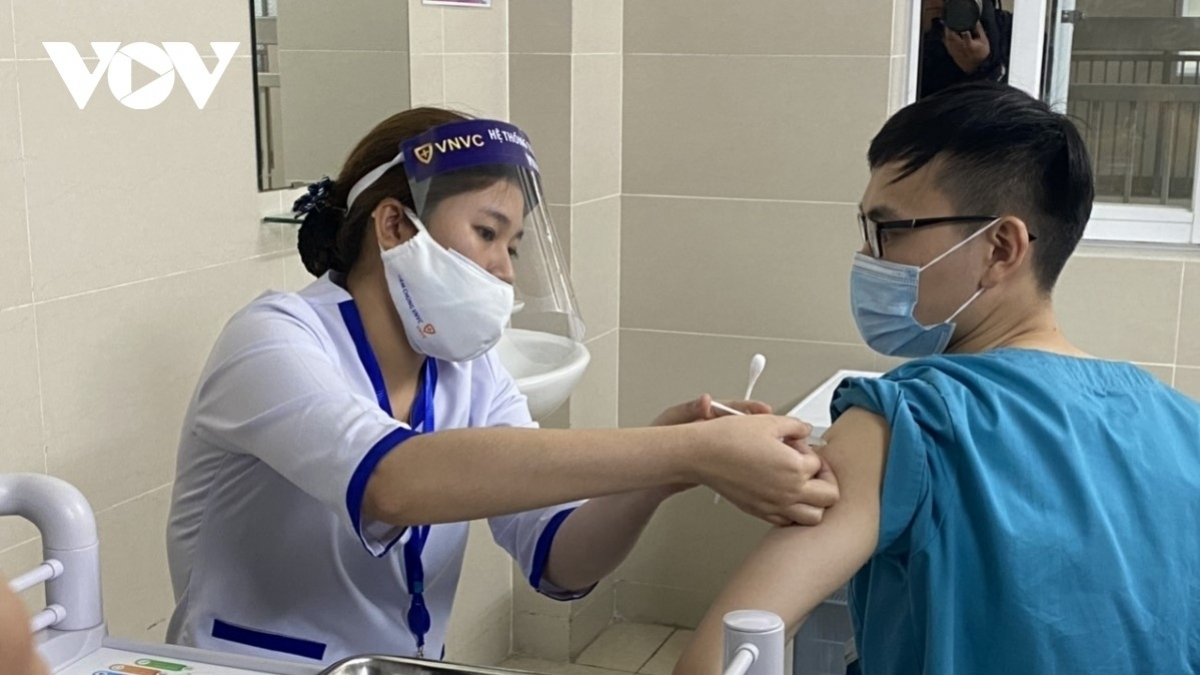 A medical worker is injected with the AstraZeneca Covid-19 vaccine. Photo: VOV
Among the first vaccinated people are healthcare workers, and members of anti-coronavirus community groups, and the steering committees on COVID-19 prevention and control in 19 cities and provinces, VOV reported.
The MoH has received more than 800,000 doses of the AstraZeneca vaccine sponsored by the COVAX Facility after purchasing 117,600 doses of the same vaccine in February 2021.
It is distributing the vaccine to localities to ensure priority groups can get the jab first.
Vietnam targets August start for mass Covid-19 vaccine production
Vietnam could start mass production of its own Covid-19 vaccine in August if a three-phase human trial is completed in May.
As scheduled, the third phase of the human trial of the Nanocovax vaccine developed by the HCMC-based Nanogen Pharmaceutical Biotechnology JSC will be completed within May in coordination with the Vietnam Military Medical University under the Ministry of National Defense.
Three months from then, which is August, Vietnam could start the mass production of this vaccine to inoculate its citizens, Major General Nguyen Xuan Kien, head of the ministry's Military Medical Department said a press conference on Friday.
A total of 560 people were involved in the second phase of the Nanocovax human trials that started in February, following the end of the first phase, which commenced last December with 60 volunteers.
The third phase, slated for May, will inject a pool of 10,000-15,000 volunteers, according to Vnexpress.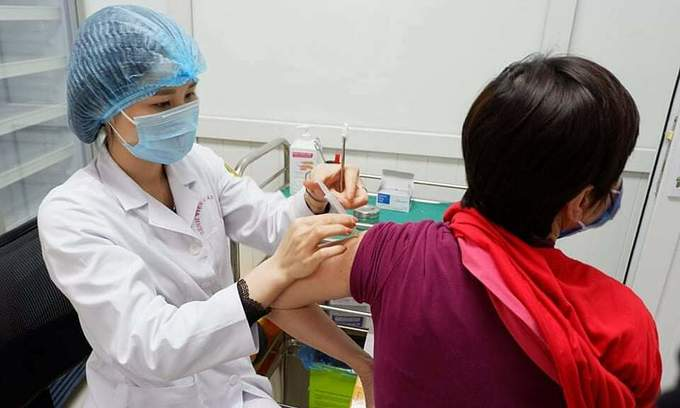 A woman gets a shot of Nanocovax as part of the second phase of its human trials in Hanoi at the Vietnam Military Medical University, March 25, 2021. Photo by VnExpress/Chi Le.
The first phase is to determine the safety of the vaccine and the side effects on the body and the second one would allow researchers to see how exactly immunogenic Nanocovax is, Kien said.
"Hopefully, three months from the third trial phase, by August, we will have our own vaccine to inject soldiers and fellow citizens to proactively prevent the pandemic," he said.
Vietnam currently has four domestic Covid-19 vaccines under development and trial. These are produced by Nanogen, the Institute of Vaccines and Medical Biologicals, the Vaccine and Biological Production Company No. 1, and the Center for Research and Production of Vaccines and Biologicals.
The government has also approved AstraZeneca's ChAdOx1 vaccine and Russia's Sputnik V Covid-19 vaccine for emergency use.
While speeding up trials and production of indigenous vaccines, the country is looking to procure around 150 million doses towards covering 70 percent of its population by 2022.
Seven imported cases of COVID-19 were reported in the past 12 hours to 6 pm April 13, raising the national count to 2,714, according to the Health Ministry.
Of the new cases, one is a German citizen arriving from the Philippines, and six are Vietnamese returning from abroad. They have been quarantined immediately after arrival.
Meanwhile, 2,445 COVID-19 patients have been given the all-clear, and the death toll remains at 35.
Among patients still under treatment, 16 have tested negative for the novel coronavirus once, 18 twice and 18 thrice.
A total of 36,234 people who had close contact with COVID-19 patients or arrived from pandemic-hit areas are being quarantined across the country.
The Health Ministry continues to urge all people to follow the 5K motto – Khau trang (wearing facemask) – Khu khuan (disinfecting) – Khoang cach (keeping distance) – Khong tu tap (no gathering) – Khai bao y te (making medical declaration), in order to live safely amid the pandemic.
Handbook
Yoga has recently become one of the best exercise methods that bring many health benefits to people, but it also requires a lot of technique and training to avoid injuries. There are several ways to practice it home, and will still help you achieve your goals.