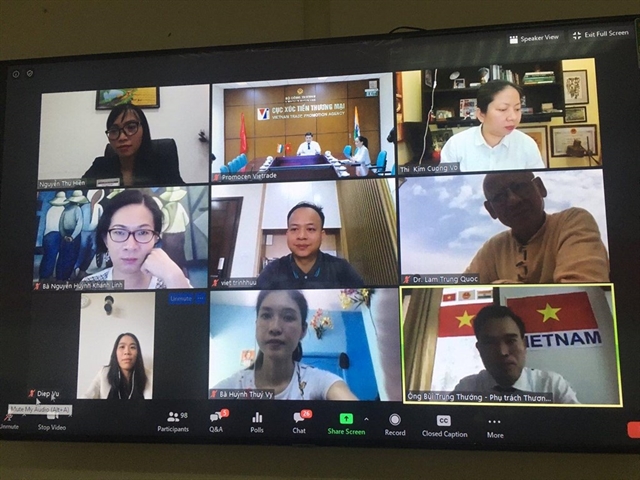 An online meeting was organised to promote exports from Viet Nam to India on Wednesday. (Photo bnews.vn)
Viet Nam has a lot of potential to export goods to India, one of the most populous countries in the world with nearly 1.4 billion people.
Le Hoang Tai, deputy director of the Ministry of Industry and Trade's Vietnam Trade Promotion Agency (Vietrade) made the statement at an online meeting on trade promotion through the Vietnamese community in India on Wednesday.
The agency and trade office of the Vietnamese embassy to India in collaboration with the Vietnamese community in India and Nepal and the Indian Importers Chambers of Commerce and Industry organised the online meeting.
The seminar aimed to create a bridge with the Vietnamese community in India to exchange information with domestic businesses on trade prospects in India.
Trade relations between Viet Nam and India are complementary and many Vietnamese goods have export potential like agricultural products and processed foods, especially dragon fruit and basa fish.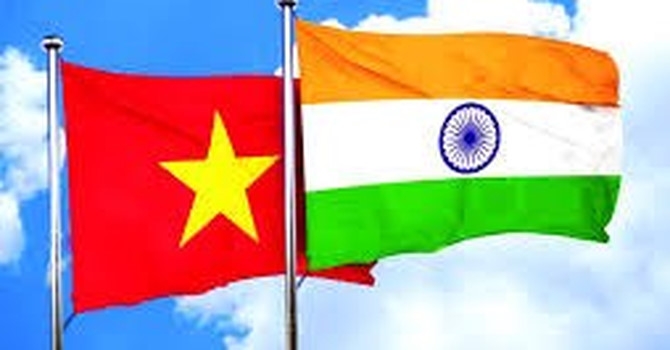 Trade relations between Viet Nam and India are complementary (Photo: Bizlive)
Cashew, coffee, pepper, rubber and spices also have much potential in the Indian market.
The governments of the two countries have realised there is a need to promote co-operation in developing value chains in the textiles, footwear, electronic equipment, machinery and mechanical products sectors.
Tài said total import-export turnover between Viet Nam and India increased by 2.06 times from US$5.43 billion to $11.21 billion from 2016 to 2019.
Exports increased by 2.5 times from $2.69 billion to $6.67 billion, while imports increased by 1.65 times from $2.75 billion to $4.54 billion.
Though Nepal is a small market it still has great potential for Vietnamese businesses.
Viet Nam and Nepal are both members of the World Trade Organisation (WTO) and have developed good economic and trade relations in recent years, but two-way trade turnover is small at only about $30 million per year.
Viet Nam exports mobile phones and components, computers, electronic products and components, and pepper to Nepal.
The Southeast Asian country imports aromatic substances, cosmetics, sanitary products and others.
To increase exports to India and Nepal, Nguyen Thu Hien, a representative of the Chamber of Commerce and Industry of Indian Importers in Viet Nam, shared some experiences with businesses when exporting goods to India.
She recommended businesses learn about the customs and culture of the partner country.
Apart from language barriers, other challenges that Vietnamese businesses face include time-consuming transport by sea and competition with countries such as Thailand and Malaysia.
vietnamnews.vn