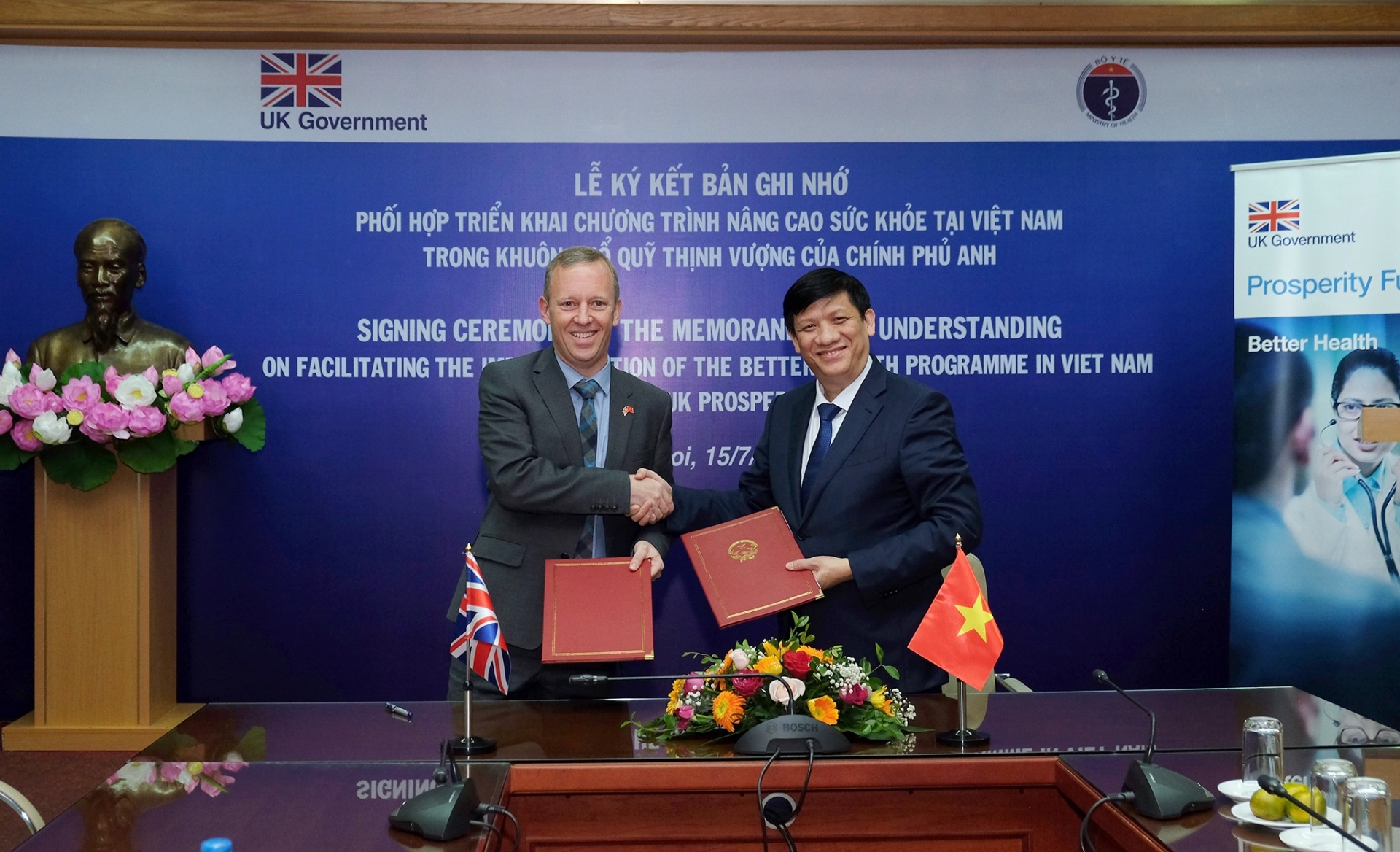 At the signing ceremony. Photo: UK's Embassy in Vietnam
British Ambassador Gareth Ward met with Vietnam's Acting Minister of Health Nguyen Thanh Long on July 15.
The two sides discussed bilateral cooperation on various aspects of the health sector; including preventing antimicrobial resistance through the Fleming Fund; cooperation in scientific research, especially for infectious diseases - an important component of the Newton Fund; and facilitate pharmaceutical companies in terms of policy .
On this occasion, the British Ambassador also thanked the support and coordination of the Vietnamese side in the response to the COVID-19 pandemic.
"We are very grateful to the dedicated help of Vietnamese doctors who care and treat British citizen in Vietnam who unfortunately got infected with novel coronavirus in recent times. Coordination between countries is essential to face the global health threat. For example, the Oxford University Clinical Research Unit and the Ministry of Health for clinical trial to treat and prevent COVID-19, or the University of Bristol collaborated with the Company for Vaccine and Biological Production No.1 (VABIOTECH) under the Vietnamese Ministry of Health to develop a vaccine based on virus vector technology. Health is also an important area in the Strategic Partnership between the UK and Vietnam," he said.
The meeting at the Ministry of Health in Hanoi saw Ambassador Ward and Acting Minister Long sign a MoU outlining cooperation on the Better Health Programme, part of the UK's Prosperity Fund.
The Prosperity Fund aims support the inclusive economic growth needed to reduce poverty in partner countries. Through its primary purpose, the Fund's activities will contribute to achieving the UN Sustainable Development Goals.
This programme mobilises technical collaboration for 8 nations, including Vietnam, from world-leading UK and international experts, aimed at improving health and related inclusive economic growth outcomes by increasing equitable access to safe and quality care, and tackling the burden of non-communicable disease.
Acting Minister of Health Nguyen Thanh Long affirmed that the signing of this MoU took the Vietnam-UK medical cooperation to a new level and opened up many opportunities for professional exchange between medical doctors, physicians and health professionals of the two countries.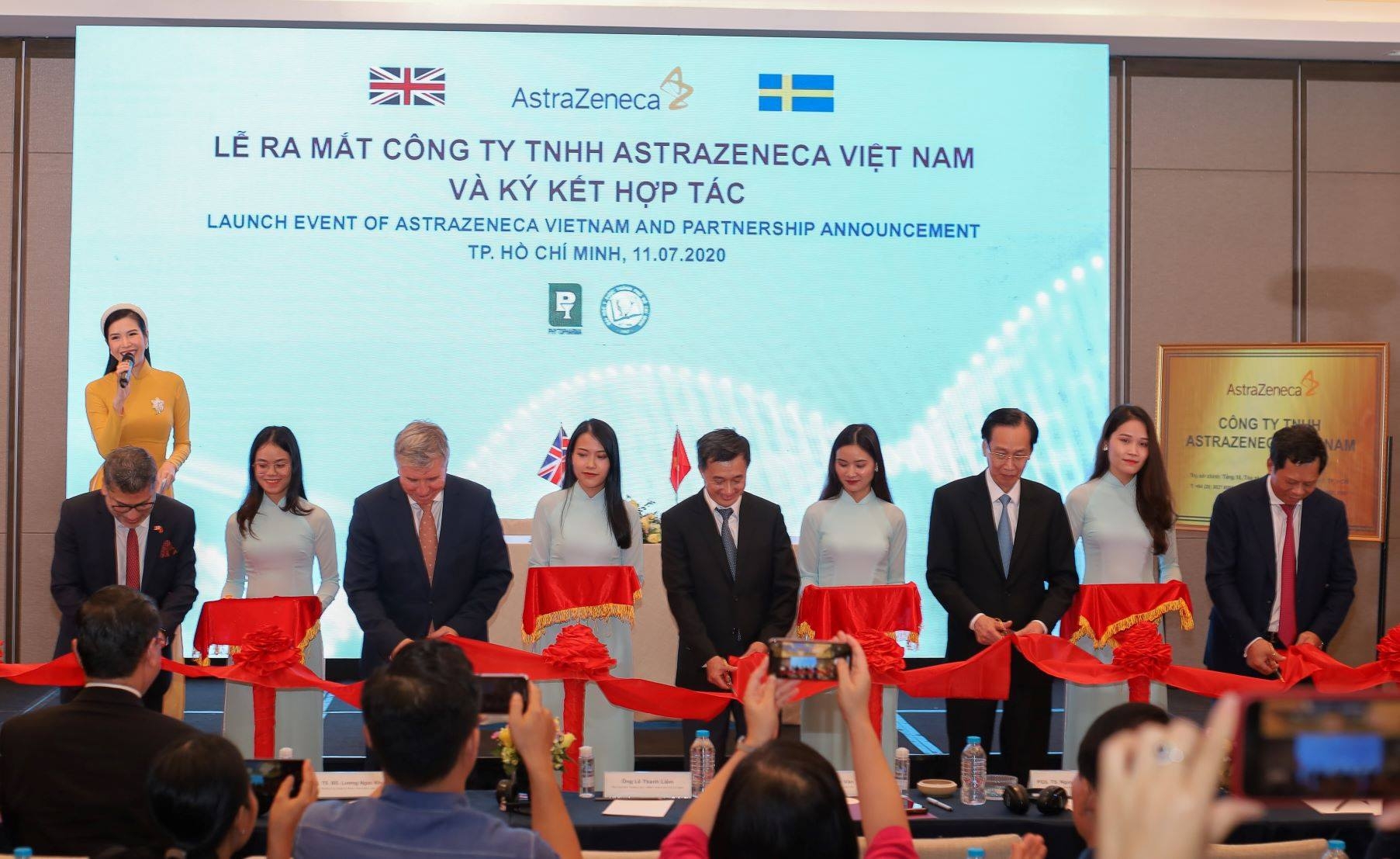 Through a new partnership called "Green Energy for Health," AstraZeneca Vietnam and the UK government will donate 5 solar energy systems to medical centres in Vietnam in 2020-2021.
Earlier, British Consul General Ian Gibbons on July 11 attended the launch event of AstraZeneca Vietnam Co., Ltd. and the announcement of a new partnership called "Green Energy for Health".
Through this partnership, AstraZeneca Vietnam and the UK government will donate five solar energy systems to medical centres in Vietnam in 2020-2021.
Speaking at the event in Ho Chi Minh City, he said: "We are delighted to partner with AstraZeneca Vietnam in their "Green Energy for Health" programme to help local health facilities save energy costs while protecting the environment, and ultimately afford local patients better access to healthcare. Health system strengthening and tackling climate change are long-term priorities for the UK government."
This partnership contributes to the activities to promote sustainable development that the UK government is prioritising, ahead of COP26 that the UK will co-host next year. It is also part of AstraZeneca's "Ambition Zero Carbon" global programme, with a commitment to becoming carbon negative across its entire value chain by 2030./.
Hannah Nguyen