Vietnam vs Australia World Cup 2022: Park Hang-seo Boosts The Players' Confidence Ahead The Match
After their lost against Saudi Arabi on September 3, Vietnam coach Park Hang-seo said the team would "try their best" ahead of Australia clash, and will step into the game with high determination.
Admitting a large gap between Vietnam and Australia, coach Park Hang-seo promised Monday that the team would play their Tuesday match with high determination.
"Vietnam have the lowest FIFA rank among the teams in group B, so all games at this stage will be challenging. In the previous game with Saudi Arabia, we scored first but lost after playing with 10 men. But we gave our best until the last seconds.
"Playing Australia tomorrow, the team will definitely continue to fight with the highest spirit. As the head coach, I will find a way to boost the mentality of the players to help them battle and get the best result possible," Park said in the pre-game interview.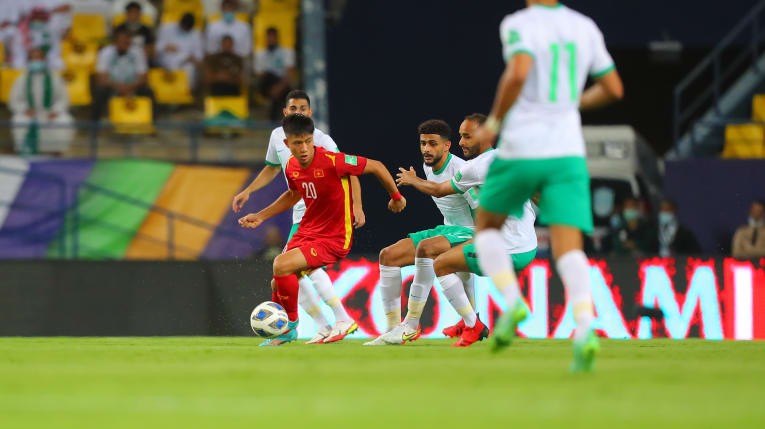 Photo: AFC
In the 1-3 loss against Saudi Arabia, Vietnam had drawn first blood with a goal from Nguyen Quang Hai. However, in the second half, the team conceded three goals quickly after Do Duy Manh's red card.
On Tuesday, Vietnam will get to play at the My Dinh National Stadium in Hanoi, where they have been unbeaten for 17 games. However, Park admitted that Australia are at a much higher level.
"In the second qualifying round, they scored 28 goals and conceded two, which shows their formidable offense. Among their 27 players, only one plays in Australia. Twenty-one are in Europe and the rest in Japan, China and Kuwait. Their physique is also really good, which makes Australia dangerous in aerial situations. In addition, they have great skills so they can fit in different styles of play," Park added.
Besides the gap in level, Vietnam are also facing a crisis in defense, with most of their key defenders absent because of injuries or suspension.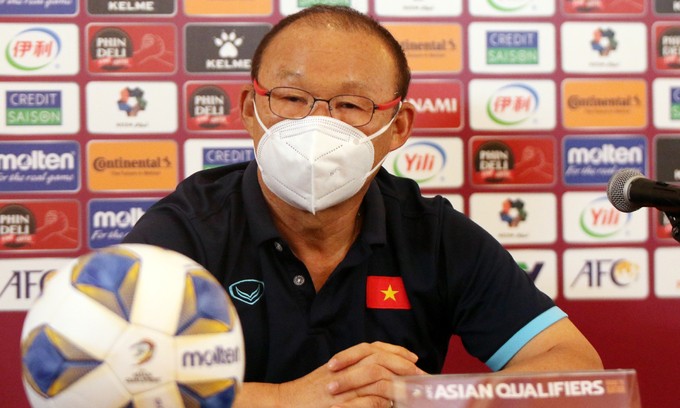 Vietnam coach Park Hang-seo speaks at a press conference ahead of the Vietnam and Australia's World Cup qualifiers match, September 6, 2021. Photo by Vietnam Football Federation
"This game means a lot because it will be the first time that Vietnam face Australia at the national team level. I can't guarantee anything, but the team will give their best," Park said.
"Australia played eight qualifying matches [in the second round], scored 28 goals and conceded only two," said Park, whose team are 17 unbeaten at My Dinh National Stadium.
"This a very powerful opponent. The players are all highly capable, have experience playing in the top leagues in the world, plus have good physique and are very good in the air.
"Australia are in the top five ranked teams in Asia, while we are the lowest [in Group B], so every game is difficult. We scored first in the last game but lost, and we will continue to fight again."
"We will try harder"
The Vietnamese players lost to Saudi Arabia rivals by three goals to one in their opening World Cup qualifier on September 3 in Riyadh.
"We scored first but lost this match. We were unlucky suffering two goals from the penalty spot, and then we played with less men," Coach Park Hang-seo said at the post-match briefing.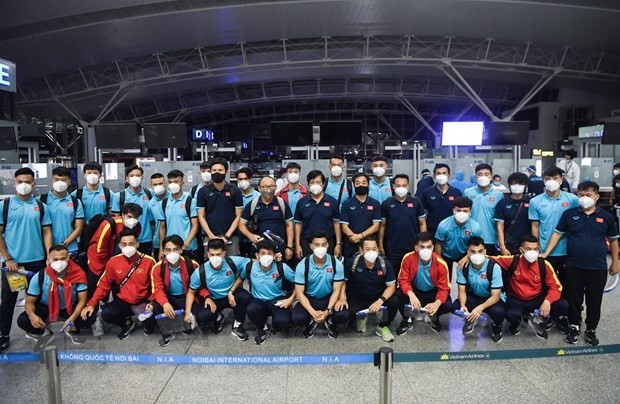 Vietnamese team (Photo: VNA)
"Clearly the shortage of personnel created more problems for us than our lower level of technique compared to the hosts. The result, of course, could not be changed but if we could play with full players, it could have been closer."
Park and his players did threaten an upset from the off after an early goal by Nguyen Quang Hai three minutes into the game. The team had to work hard to protect their lead in the first half.
The second half saw Vietnamese defender Do Duy Manh receiving a second yellow card in the 54th minute. His sliding challenge resulted in a handball inside the box, prompting the referee to point to the spot and send Manh off following confirmation from VAR.
In the second period Saudi Arabia scored two penalties converted by Salem Al Dawsari and Saleh Al Shehri. Yasser Al Shahrani also scored a stunning header at the King Saud University Stadium.
"My players tried their best," the coach added. "Two penalties showed some lack of tactics which will be perfected when we play back home.
"In the next match we know Australia are stronger than Saudi Arabia. But on home ground, we will try harder," he said.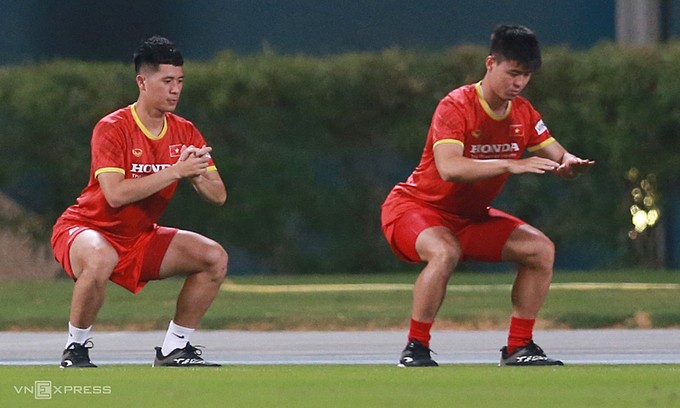 Defenders Tran Dinh Trong (L) and Do Duy Manh will be absent in Vietnam's next match with Australia. Photo by VnExpress/Lam Thoa
Arnold wants Australia to build on impressive start as Vietnam aim to bounce back
Graham Arnold believes Australia can benefit from a lack of crowd at My Dinh National Stadium when they take on Vietnam in Group B of the AFC Asian Qualifiers – Road to Qatar on Tuesday.
Goals from Awer Mabil, Martin Boyle and Mitchell Duke saw the Socceroos ease to a 3-0 victory over China PR in their opening fixture in Doha on Thursday as they became the early pacesetters in Group B.
Next up they travel to the Vietnamese capital for a first-ever meeting with Vietnam at what is normally an intimidating My Dinh National Stadium. However, with the hosts playing behind closed doors due to COVID-19, Arnold sees the perfect opportuity to claim back-to-back wins.
"I do believe it's an advantage for the away team to play against a home team with no crowds, and there'll be no crowds in Vietnam," said Arnold.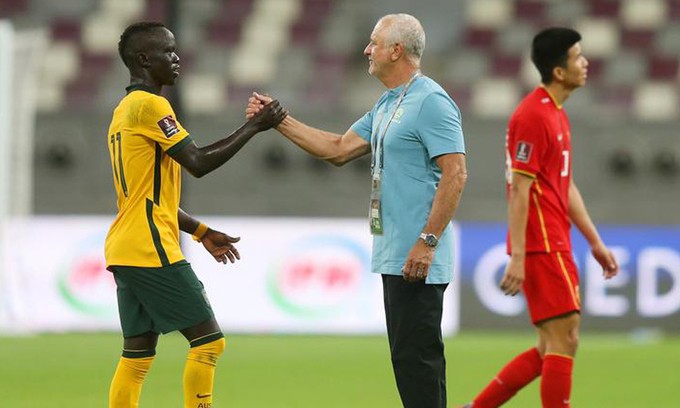 Coach Graham Arnold (C) shakes hand with an Australian player after the 3-0 victory against China in World Cup qualifiers on September 3, 2021. Photo by AFP
"We prepare ourselves expecting to go out and win every game. Tuesday against Vietnam will be no different. For us that's our mentality – every time we go out we have to win.
"The most important thing for me is we recover well from the game against China and we get ourselves ready mentally and freshen up for the game against Vietnam, and we go there and get three points."
The Socceroos go into the all-ASEAN encounter on impressive form, having won all nine of their Asian Qualifiers to date, posting eight consecutive victories in the second round prior to the win over the Chinese in what is their best winning run since 1977.
Standing in their way of victory number 10 is a Vietnam side who will count themselves unlucky not to have come away with something from their Matchday One clash against Saudi Arabia.
Competing in the third round of the Asian Qualifiers for the first time, their opening-day result does not tell the whole story, with Park Hang-seo's team taking the lead through Nguyen Quang Hai after just three minutes at King Saud University Stadium.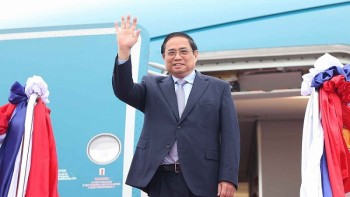 National
Vietnam News Today (Feb. 6): PM Chinh to pay official visits to Singapore, Brunei; Vietnam attends ASEAN+3 Tourism Ministers Meeting; Exports in 2023 and high demands from new generation FTAs; Digital technology to spearhead Vietnam's drive for Industry 4.0.