Vietnam vs Saudi Arabi World Cup 2022: Vietnam Suffered 1-3 Loss Against Saudi Arabi
The match between Vietnam and Saudi Arabi ended with Vietnam lose against Saudi Arabi in a 1-3 defeat on Friday in the final round of World Cup qualifiers.
Saudi Arabia survived a major scare to hand 10-man Vietnam a 3-1 defeat in Group B of the final round of Asia's preliminaries for the 2022 World Cup as Australia beat China 3-0 on Thursday.
Saudi Arabia fought back to avoid Vietnam shock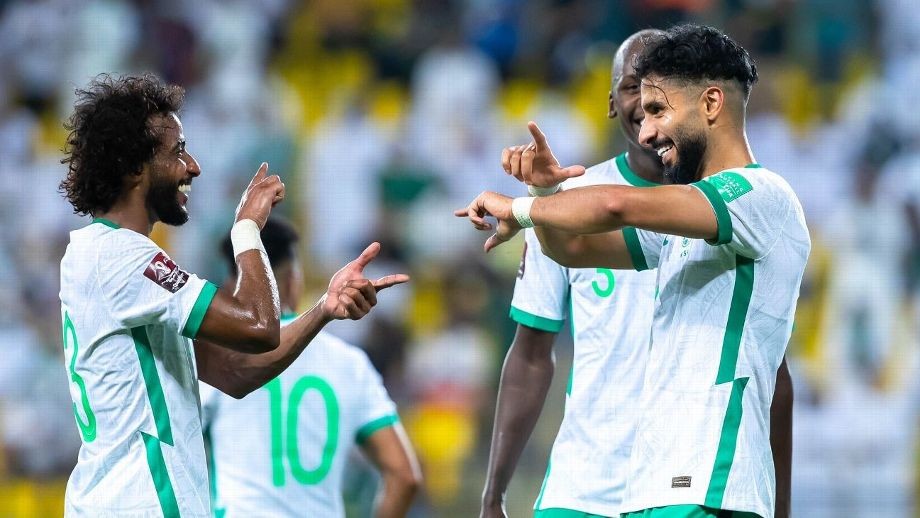 Saudi Arabia survived a strong Vietnam first half to comeback for a 3-1 win. Asian Football Confederation
The Saudis, who appeared at their fifth World Cup finals in Russia in 2018, needed a penalty from Salem Al Dawsari after Do Duy Manh's red card to draw level against a Vietnam side making the country's first appearance at this stage of qualifying.
Nguyen Quang Hai had given Park Hang-seo's side a third- minute lead with a sweet left-foot shot that silenced the Mrsool Park crowd in Riyadh.
The Vietnamese held out despite concerted Saudi pressure until the 54th minute when Duy Manh was judged to have handled while sliding in to block Salman Al Faraj's shot at goal.
The offence earned the defender a second yellow card and, after Al Dawsari rolled his spot-kick past Bui Tan Truong, a Saudi victory always looked likely. Yassir Al Shahrani headed home in the 67th minute and Saleh Al Shehri's Panenka penalty 10 minutes from time wrapped up the points.
Meanwhile, two goals in two first-half minutes gave the Australians the upper hand after China had controlled the opening exchanges at the Khalifa International Stadium in Doha.
Awer Mabil put the Socceroos in front from close range as Tyias Browning failed to clear Martin Boyle's lofted ball into the box.
Boyle doubled the lead when the Hibernian winger beat Yan Junling with a low shot and substitute Mitchell Duke added the third.
Next in the group, Saudi Arabia travel to Muscat to face Oman, who beat Japan earlier in the day, while Vietnam's Tuesday fixture sees them welcome an Australia side who opened their campaign with a comfortable win against China.
Vietnam suffer 1-3 loss to Saudi Arabia despite early surprise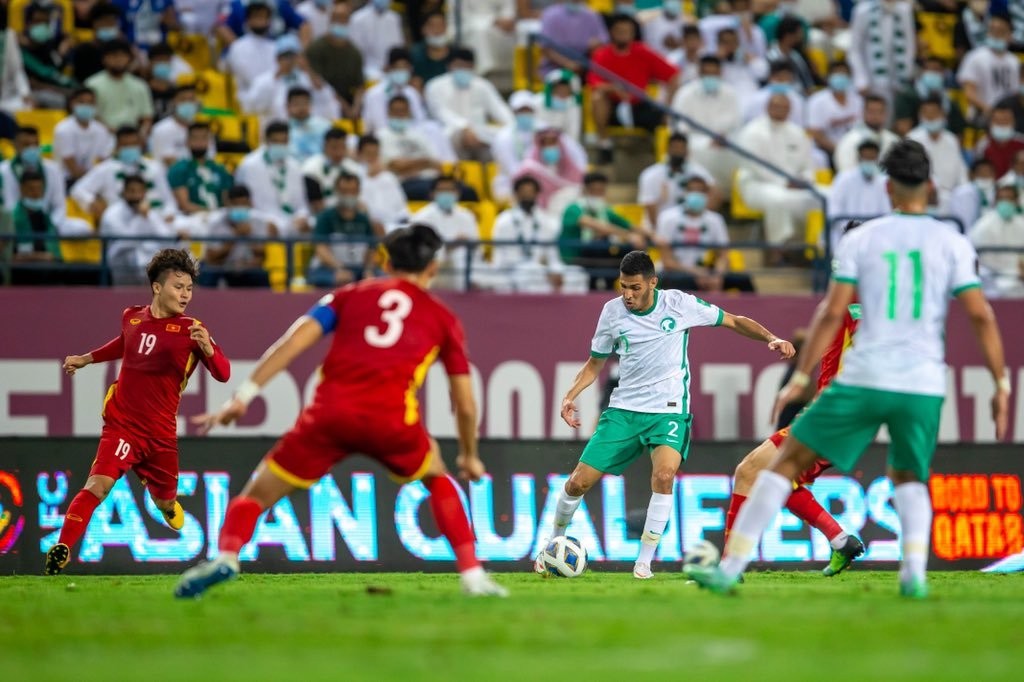 Photo: Vietnamnet
Vietnam showed that they had good control of the game in the first half, with Nguyen Quang Hai opening the scoreboard early and his teammates putting up solid defense.
But the game turned in the second half. A referee decision following VAR review found Do Duy Manh committed a handball. Manh was given a second yellow card, the first one for reacting, believing that he had been fouled in the collision. Manh left the game while Saudi Arabia were awarded a penalty.
Salem Al-Dawsari took the penalty shot and equalized for Saudi Arabia in the 55th minute.
Down to 10 men, Vietnam rushed to strengthen their defense. Yet they suffered the second goal as Yasir Al-Shahrani scored from a header 12 minutes later.
The hosts were awarded the second penalty in the game after Que Ngoc Hai made a wrong tackle inside the box. Saleh Al-Shehri raised the scored to 3-1 in the 79th minute.
This is Vietnam's first ever game in the final round of World Cup qualification.
Vietnam coach rues Saudi Arabia defeat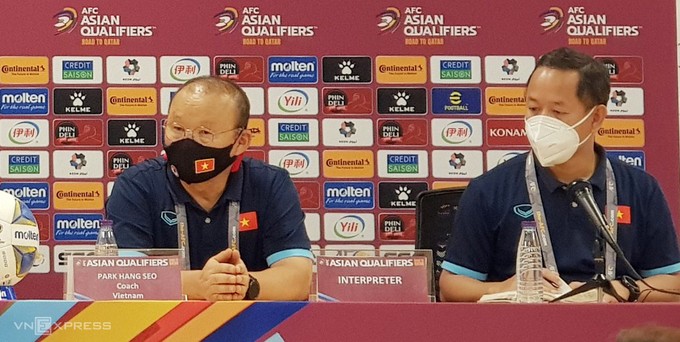 Park Hang-seo (L) during an interview after the World Cup qualifiers game between Saudi Arabia and Vietnam on September 3, 2021. Photo by Vietnam Football Federation
Coach Park Hang-seo said Vietnam were unlucky as they lost 1-3 to Saudi Arabia in the final round of World Cup qualifiers on Friday.
"Vietnam scored first but lost. It's quite unfortunate. We were also not lucky when we conceded two goals from penalties and had to play with 10 men for most of the second half," Park said in the post-match interview.
Three minutes into the game, Vietnam had a dream start with Nguyen Quang Hai scoring a beauty from outside of the box after a mistake of Saudi Arabia's defense. The Golden Dragons were able to protect the lead for the rest of the first half.
The turning point of the game came in the 49th minute. In an attempt to block a shot, the ball bounced from Do Duy Manh's leg to his hand. At first, the referee let the game continue, but after receiving supports from the VAR room, he reviewed the incident and decided to give Saudi Arabia a penalty as well as a second yellow card for Manh. On the penalty spot, Salem Al-Dawsari equalized for Saudi Arabia.
A 10-player Vietnam conceded another two goals in the 67th and 79th minute, with the latter being a penalty again.
"Of course, what's done is done, we cannot change it. But if we didn't lose a player, the score could have been 3-2," Park added.
Park also said that the players have given their best. However, conceding two goals from penalties has revealed some flaws in the tactics and the team must fix it to prepare for the next game with Australia on September 7 in Hanoi.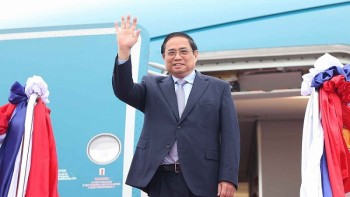 National
Vietnam News Today (Feb. 6): PM Chinh to pay official visits to Singapore, Brunei; Vietnam attends ASEAN+3 Tourism Ministers Meeting; Exports in 2023 and high demands from new generation FTAs; Digital technology to spearhead Vietnam's drive for Industry 4.0.