Vietnam willing to support India to overcome Covid-19 crisis: Spokesperson
Vietnam has kept a close watch on the COVID-19 situation in India and is willing to support the Government and people of India in this hard time, Foreign Ministry's Spokesperson Le Thi Thu Hang said on April 26.
In reply to reporters' query on the COVID-19 situation in India and citizen protection measures of Vietnam, Hang said that the Vietnamese Embassy in India had reported that the pandemic is developing complicatedly and causing negative impacts to locals' living conditions.
The Government of India is mobilizing resources and rolling out measures to respond to the pandemic such as increasing medical equipment and medicine and speeding up COVID-19 vaccination, she said.
"We believe that with efforts by the Indian Government, the situation will soon be controlled and become stable," Hang stated.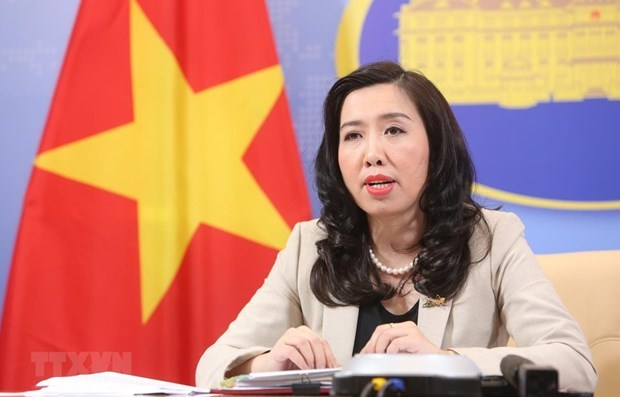 Foreign Ministry's Spokesperson Le Thi Thu Hang. Photo: VNA
Regarding the protection of Vietnamese citizens living, studying, and working in India, Hang said that Vietnam's Foreign Ministry and representative agencies in India have worked closely with authorized agencies at home and in the host country as well as airlines to organize flights to bring nearly 1,000 Vietnamese citizens home safely.
Currently, there are about 100 Vietnamese citizens in India, she said, adding that Vietnamese representative agencies in India are coordinating closely with authorized agencies at home and in India to keep a close watch on the pandemic, maintain a contact channel with the Vietnamese citizens, and to be ready to conduct necessary citizen protection measures.
In case of seeking support or report information on Vietnamese facing difficulties, citizens can contact the embassy via its citizen protection hotline at 91-7303-625-588 or the citizen protection switchboard at 84-981-848-484, she added.
Update on Covid-19 situation in India
India ordered its armed forces on Monday to help tackle surging new coronavirus infections, as nations including Britain, Germany, and the United States pledged urgent medical aid to try to contain an emergency overwhelming the country's hospitals, said Reuters.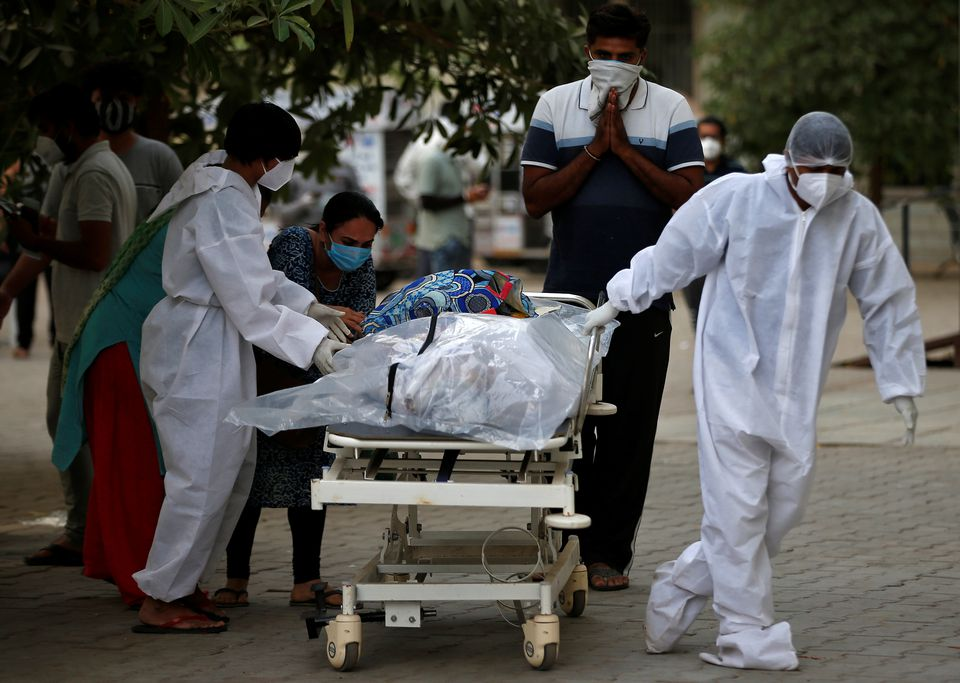 Relatives react as a healthcare worker pulls a stretcher carrying the body of a person, who died from the coronavirus disease (COVID-19), at a mortuary, amidst the spread of the coronavirus disease (COVID-19) in Ahmedabad, India, April 26, 2021. Photo: Reuters/Amit Dave
The situation in the world's second-most populous country is "beyond heartbreaking", World Health Organization chief Tedros Adhanom Ghebreyesus said, adding that WHO is sending extra staff and supplies including oxygen concentrator devices.
In a meeting with India's Prime Minister Narendra Modi, the Chief of Defence Staff General Bipin Rawat said oxygen would be sent to hospitals from armed forces reserves and retired medical military personnel would join COVID-19 health facilities.
Modi has urged all citizens to get vaccinated and to exercise caution amid what he called a "storm" of infections, while hospitals and doctors in some northern states posted urgent notices saying they were unable to cope with the influx.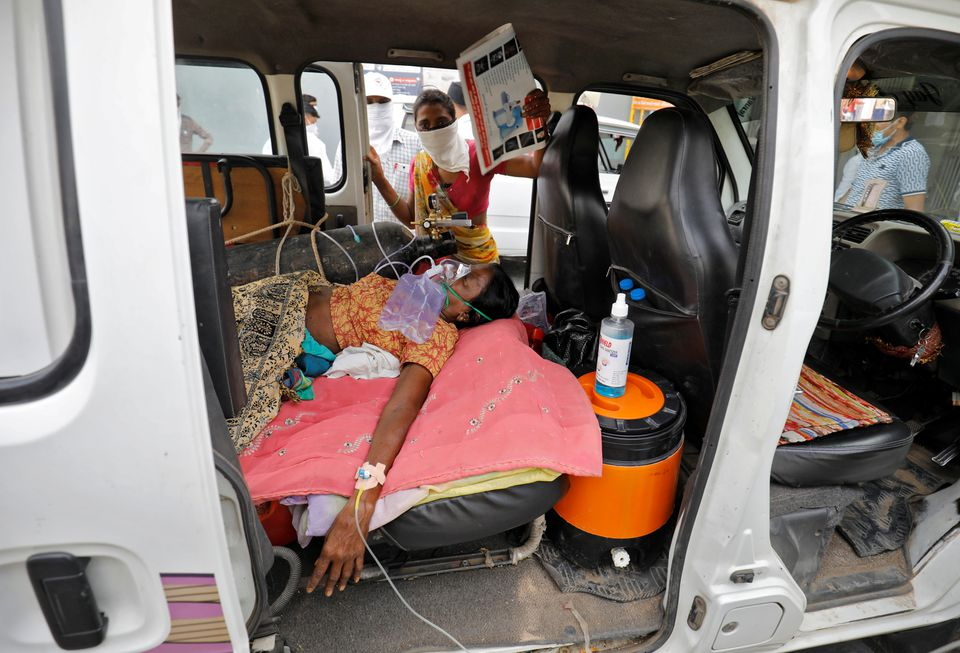 A patient wearing an oxygen mask is seen inside a car waiting to enter a COVID-19 hospital for treatment. Photo: Reuters/Amit Dave
In some of the worst-hit cities, bodies were being burnt in makeshift facilities offering mass cremations.
The southern state of Karnataka, home to the tech city of Bengaluru, ordered a 14-day lockdown from Tuesday, joining the western industrial state of Maharashtra, where lockdowns run until May 1, although some states were also set to lift lockdown measures this week.
The patchy curbs, complicated by local elections and mass festival gatherings, could prompt breakouts elsewhere, as infections rose by 352,991 in the last 24 hours, with crowded hospitals running out of oxygen supplies and beds.
India, with a population of 1.3 billion, has an official tally of 17.31 million infections and 195,123 deaths, after 2,812 deaths overnight, health ministry data showed, although health experts say the figures probably run higher.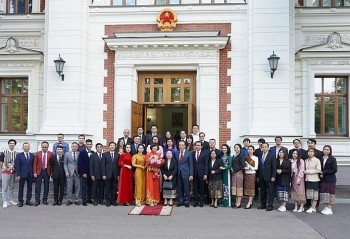 Friendship
The Vietnamese Embassy in Cuba will make efforts to consolidate and cultivate the special Vietnam-Laos relationship in the spirit of respect and support for mutual benefits.