Over 10,000 sponsored children received annual gifts from RoK's NGO
As of October 2020, the Korean non-governmental organization Good Neighbors International (GNI) in Vietnam organized annual gift-giving activity for 10,010 sponsored children in the project areas.
Annual gift is a very meaningful activity, help improve living quality of sponsored children and encourage them to endeavor more in learning, reduce economic burden for their families. Photo: GNI
Annual gift program is GNI's activity to provide sponsorship services by supporting necessities and supplies for sponsored children. The activity always receives much interest and attention from communities and families.
The gift packages including school backpacks, electric fans, rice cookers, water filters, pot sets, clothes, shoes, etc. The gifts are given according to the needs of the child and family after GNI's survey.
Most recent, GNI handed over annual gifts to 1,181 sponsored children in Gia Mo commune, Lo Son commune, Nhan My commune and Van Son commune, Tan Lac district, Hoa Binh province.
As of October 2020, GNI has given gifts to 10,010 sponsor children in the project areas.
In the coming time, in addition to giving annual gifts to sponsored children in Mai Chau district (Hoa Binh province), GNI will also conduct annual health checks for sponsored children in all project areas. The above activities in the Child Protection field have been implemented by GNI since 2005 to present.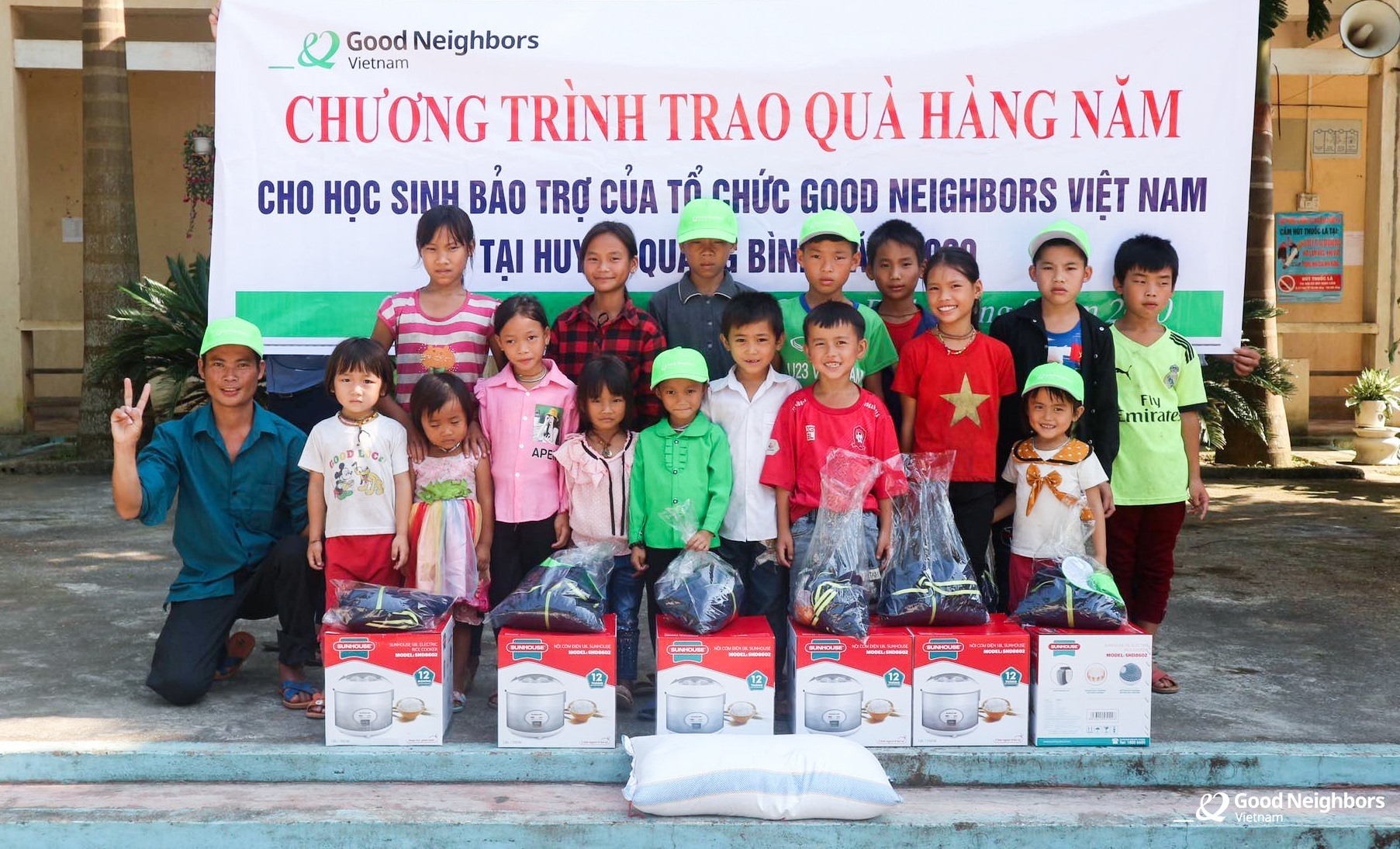 1.417 sponsored children in September received gifts in Quang Binh district, Ha Giang province. The gifts are given according to the needs of the child and family. Photo: GNI
The sponsored children are provided with quality education, good nutrition, and proper health care. This is achieved through an annual medical checkup and a regular distribution of school supplies, nutritional items, and hygiene kits to sponsored children.
They are thoroughly monitored through monthly updates, quarterly home visits, house tagging, spot mapping, service-rendered cards, and annual progress reports. These tools are helpful not just in monitoring the children's progress, development, and services received but also in monitoring their present status.
To update the sponsors about their sponsored children's status, GNI organizes an Annual Child Letter (ACL) activity with the help of the community development committee/community sponsorship facilitators. The ACL is a way through which the children share their stories and express their appreciation to their sponsors in forms of letters and drawings. The sponsors are also given the opportunity to send special gifts to their sponsored children—they could be in the form of a gift, money, or a letter.
This year, Good Neighbors International (GNI) Vietnam is celebrating its 15th anniversary celebration. For 15 years, to improve the living quality of people, especially children as key focus, GNI has implemented six Community Development Projects (CDP) at four provinces of Hoa BInh, Tuyen Quang, Thanh Hoa and Ha Giang, supporting more than 10,000 sponsored children and 200,000 local people who are project beneficiaries./.