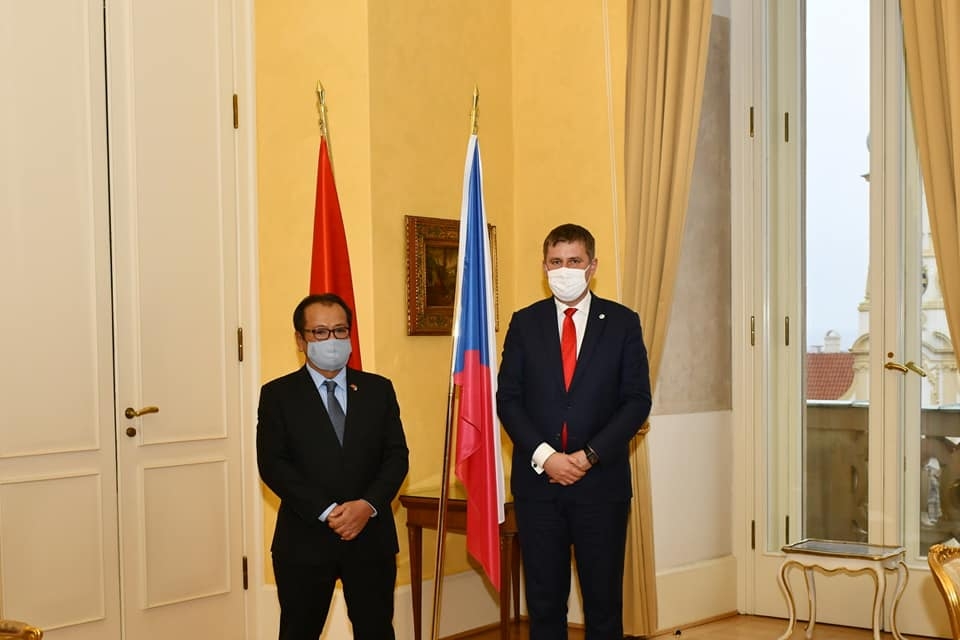 Vietnamese Ambassador to the Czech Republic Thai Xuan Dung and the host country's Foreign Minister Tomáš Petříček both agree that Vietnam and the Czech Republic have shared traditional ties that have been nurtured and developed in all fields. Photo: Vietnamese embassy
In their meeting, the two sides noted that the Czech Republic has considered Vietnam an important partner in Southeast Asia, and supported the Vietnam-EU Free Trade Agreement (EVFTA), which they believed that will benefit both countries.
Meanwhile, the Czech Republic is a gateway for Vietnam to enter the Central and Eastern European regions, they said.
At the meeting, the Czech FM lauded the traditional friendship and all-round cooperation between the two countries over the years, while showing gratitude towards the Government of Vietnam and the Vietnamese community in the Czech Republic for the timely and effective support in the first period of COVID-19 outbreak with the provision of masks, medical equipment and aids as well as humanitarian flights by Bamboo Airways to repatriate people of the Czech Republic and European countries.
He extended sympathies to Vietnam over the losses caused by the recent flooding in the central region, revealing that his country will provide assistance to flood victims.
The official expressed his hope that the Vietnam visit of Prime Minister Andrej Babis will be held in 2021 after the pandemic is controlled.
On economic cooperation, he showed his impression at the economic growth of Vietnam despite COVID-19 pandemic.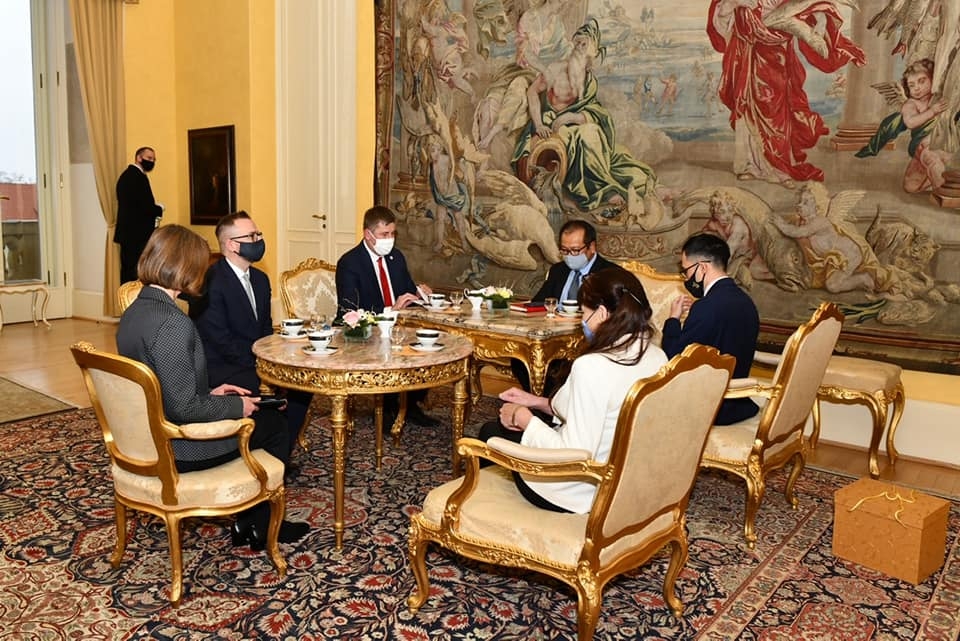 At the meeting. Photo: Vietnamese embassy
For his part, Ambassador Dung affirmed that Vietnam hopes to further expand the traditional ties and comprehensive partnership with the Czech Republic.
He thanked the Czech Republic for supporting the EVFTA and the EU-Vietnam Investment Protection Agreement, becoming the first country to vote for the approval of the deals.
The ambassador said that he hopes the Czech Republic will seek business opportunities in Vietnam, especially in energy, machinery manufacturing, health care, chemicals, tourism and transport in the context of the efficiency of the EVFTA.
He also thanked the host country for creating favourable conditions for the Vietnamese community to settle in the country.
Bilateral relations have been growing in various areas over the past seven decades.
In the recent five years, visits by the two countries' leaders have been maintained, notably those made by President Truong Tan Sang in 2015, National Assembly Chairwoman Nguyen Thi Kim Ngan in 2017 and Prime Minister Nguyen Xuan Phuc in April 2019. Czech President Milos Zeman also visited Vietnam in 2017, not to mention the regular exchange of visits at ministerial and provincial officials.
Two-way trade reached close to 1.2 billion USD last year, and Czech investors are currently investing about 100 million USD in 35 projects across Vietnam.
A large number of Vietnamese citizens are living and working in the Czech Republic. About 200,000 Vietnamese people could speak Czech language.
Hannah Nguyen