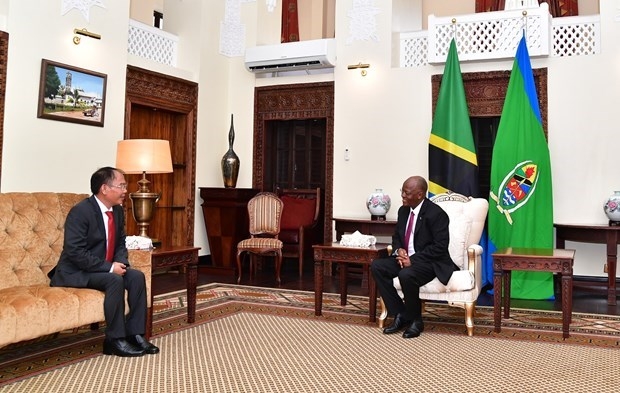 Newly-appointed Vietnamese Ambassador to Tanzania Nguyen Nam Tien (L) and Tanzanian President John Pombe Joseph Magufuli. Photo: VNA
During the meeting on August 2, the newly-appointed Vietnamese Ambassador has called on both nations to provide mutual support and boost co-ordination ties during multilateral forums, as well as signing co-operation agreements towards creating a legal framework in future bilateral relations.
Moreover, the Vietnamese Ambassador called on the nation's Tanzanian partners to offer the best possible conditions for Halotel, a venture being conducted by the country's military-run telecom service provider Viettel, to effectively operate within Tanzania.
The diplomat added that he wishes to contribute to further enhancing the traditional friendship that exists, in addition to boosting collaboration between the two sides through increasing the exchange of delegations at all levels, especially in terms of high level exchanges.
In response, President Magufuli hailed the sound development of bilateral relations between the pair, affirming the East African country's eagerness to provide support for the nation.
The Tanzanian President therefore called on Vietnamese businesses to enhance co-operation and investment within his country, especially in relation to developing cashew processing and fabric production plants.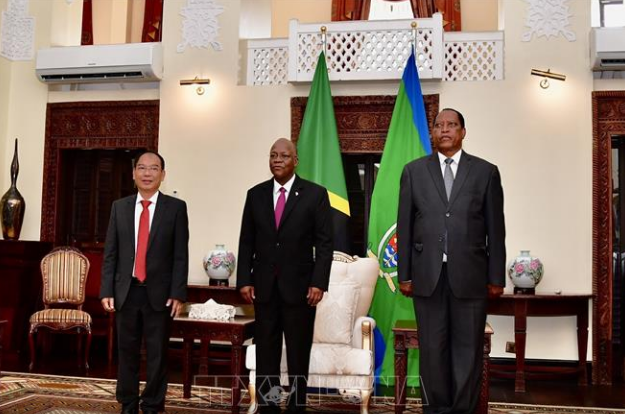 Newly-appointed Vietnamese Ambassador to Tanzania Nguyen Nam Tien (L) and Tanzanian President John Pombe Joseph Magufuli (M). Photo: VNA
These comments came following a ceremony held for Ambassador Tien to present a copy of his credentials to Tanzanian Foreign Minister Palamagamba Kabudi, with the event indicating the strengthened friendship and co-operation in politics, trade, and people-to-people exchanges between the two countries.
The Tanzanian FM suggested that the two sides facilitate Halotel's operation and actively co-ordinate efforts to fine-tune legal frameworks and expand joint activities in fields relating to their respective strengths moving forward.
Kabudi praised Vietnam for its socio-economic achievements at present, saying that Vietnam has inspired Tanzania to further promote development.
He affirmed Tanzania's support for Vietnam at the United Nations and other international oganisations.
He also thanked Halotel for creating thousands of direct and indirect jobs for local labourers, saying that it is the only telecom company in Tanzania that has delivered mobile telecommunications coverage in remote and rural areas of the East African nation.
Vietnam and Tanzania celebrate 55 years of bilateral diplomatic this year (Feb 14, 1965 - 2020).
55 years of Vietnam-Tanzania diplomatic ties.
Hannah Nguyen