Vietnamese Banh Mi appears in creative variations with video
2020 sees the creation of weird yet interesting versions of banh mi, such as dragon fruit banh mi, black banh mi, national flag banh mi, crocodile banh mi.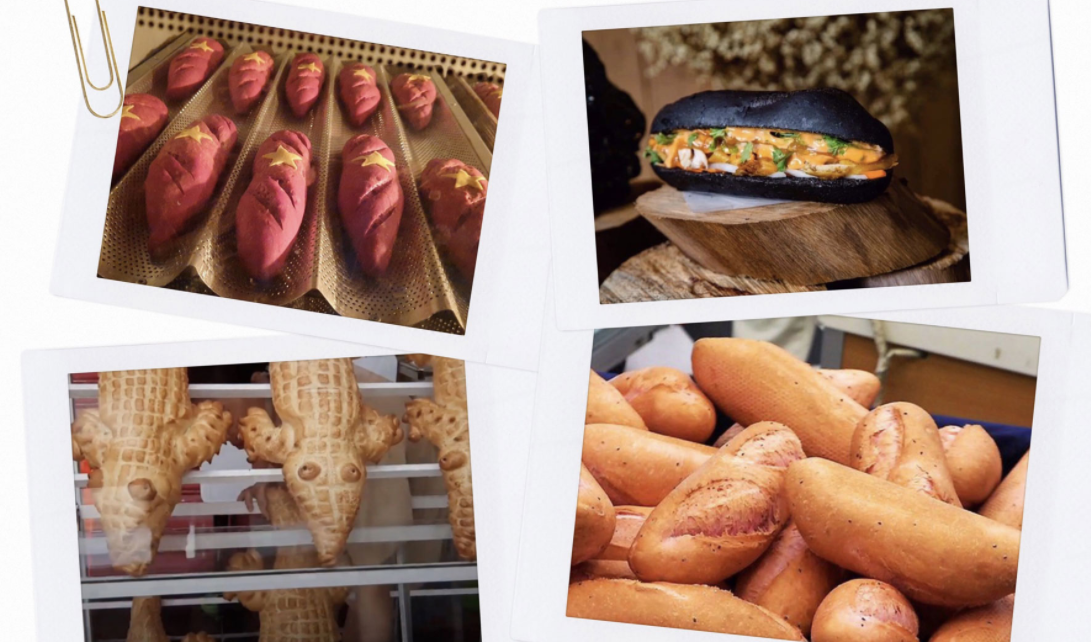 Photo: VN Express
Banh mi made from dragon fruit
First appeared in mid-February, dragon fruit banh mi was an attempt to "rescue" Vietnam's dragon fruits that couldn't be imported due to COVID-19 impacts. A bakery in Ho Chi Minh city was its birthplace. The flesh of red dragon fruits is smashed and mixed into the banh mi dough, after which the banh mi are shaped and baked in the conventional way. Dragon fruit banh mi has a pink color and the special aroma of the fruit. There are 3 types of dragon fruit banh mi: plain, butter-filling and taro-filling, with price ranging from 6.000 - 22.000 VND (0,3-1 USD).
Dragon fruit banh mi is widely loved by the community. There were times that the bakery which "invented" this recipe welcomed hundreds of customers waiting in line to buy the bread. US's Business Insider once referred to this banh mi as proof of Vietnamese people's creativeness and adaptability in the situation of COVID-19.
"Even though it was created to battle the economic impact of the coronavirus, it could have been made for Instagram. The bread wasn't just a social media stunt — it was legitimately good, with a perfectly crusty outer layer that satisfyingly ripped apart to reveal a flavorful, airy interior", the journal said.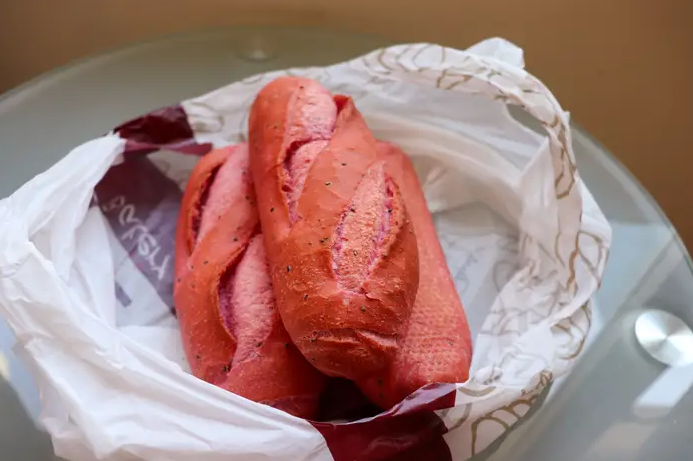 Photo: Business Insider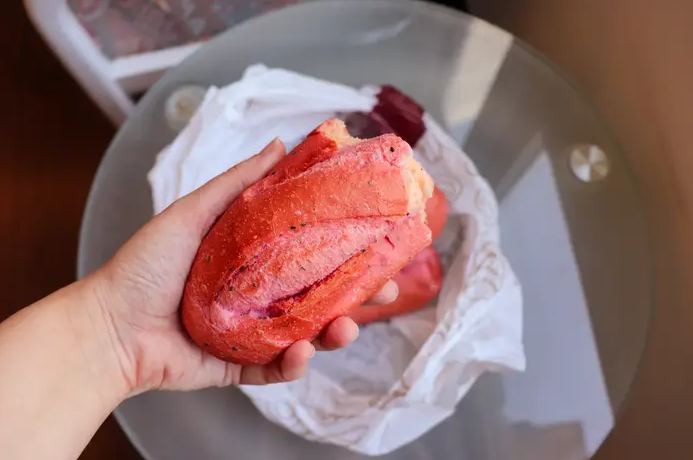 Photo: Business Insider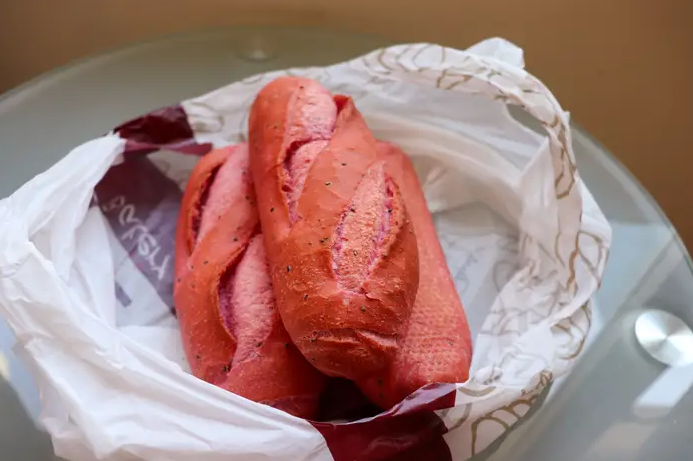 Photo: Business Insider
Crocodile Banh mi
In July 2020, the photos of a banh mi made in the shape of a crocodile were widely shared on social networks. This banh mi, which weighs nearly 2 kg and has a length of 60-70 cm is the creation of a bakery in Long Xuyen, An Giang.
Crocodile banh mi is still made from traditional dough recipe. However, the baker uses his cleverness to shape the dough, then skillfully uses a knife and scissors to add details such as crocodile eyes and nose. After baked, fresh-out-of-oven crocodile banh mi is sprinkled with sesame, and coated in durian butter. The price of crocodile banh mi is 50,000 VND (about 2 USD) per loaf.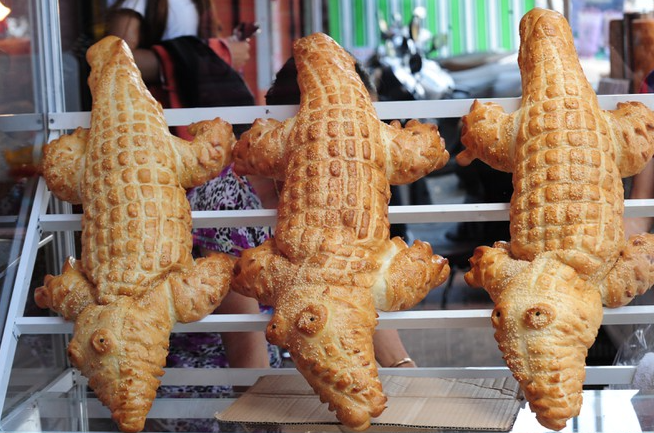 Photo: Thanh Nien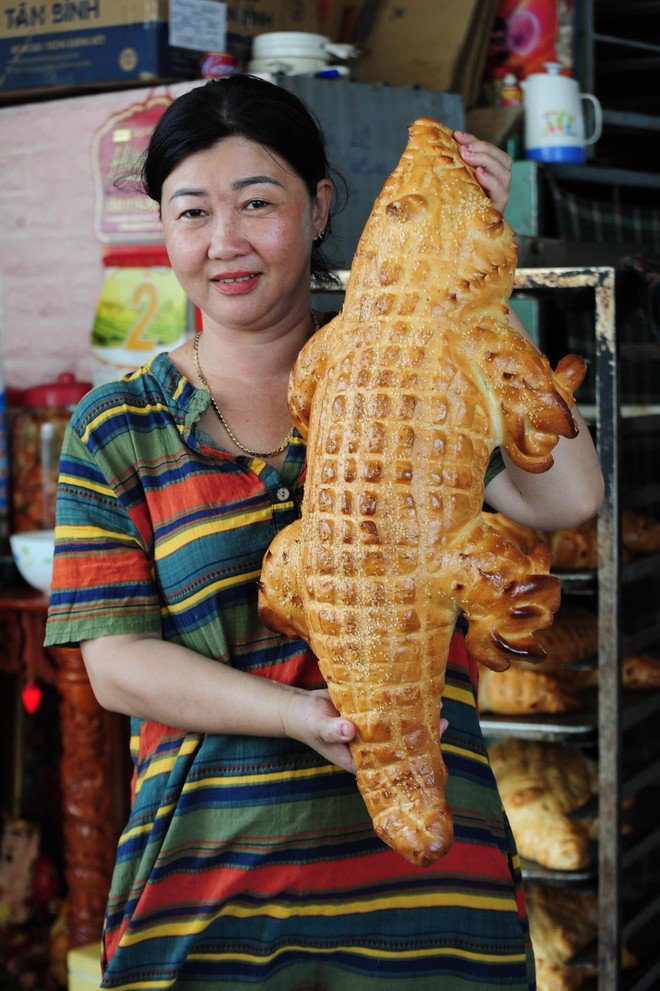 Photo: Thanh Nien
Black Banh mi
Inspired by the banh mi that coal miners in Quang Ninh usually eat, together with the desire to bring the specialty of squid cake closer to tourists, a group of youngsters including Khac Tuan, Nguyen Quyet, and Pham Tuyen (Quang Ninh province) created a special recipe of "black-as-coal" banh mi around August 2020.
This banh mi's crust is colored with squid gourd and bamboo charcoal, filled with squid cake - a Quang Ninh specialty, sprinkled with vegetable sauce. In addition to Ha Long squid filling, the bakery also sells black banh mi with fillings of crab cake, grilled shrimp, cheese and beef, BBQ chicken, roasted pork. Black banh mi costs from 25,000 - 45,000 VND/ loaf (1-2 USD), in which the ones with squid cake filling are sold at the highest price.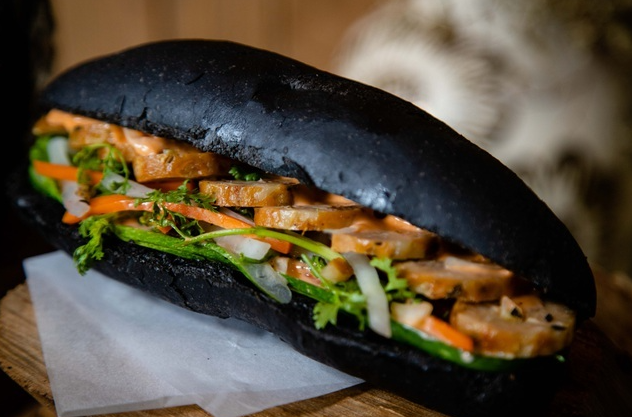 Photo: Vietnamnet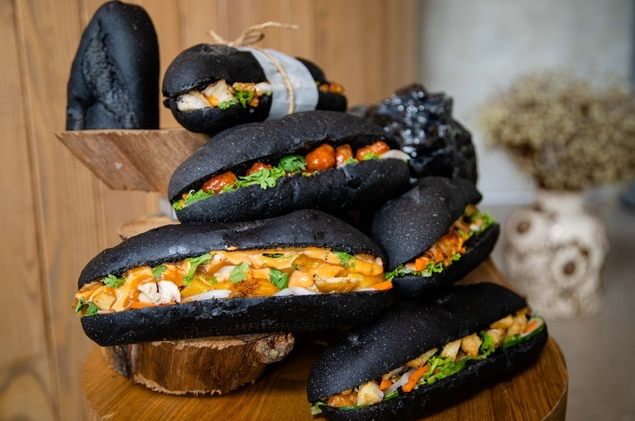 Photo: Vietnamnet
Photo: Vietnamnet
National flag banh mi
Around the time of October 2020, a strange banh mi with a red crust, and a golden star in the middle appeared on social media. This banh mi is called with dear names such as "banh mi of patriotism", or " the fatherland banh mi".
The banh mi that looks like Vietnam's national flag is the idea of ​​Ngoc Huy and Thu Huong, owners of a small bakery in Hanoi. The two were inspired by the anti-pandemic spirit of the Vietnamese people, and at the same time, wanted to bring Vietnamese cuisine closer to international friends.
The red color of the banh mi crust is made from beet juice, and the yellow star is colored with natural turmeric powder. The banh mi is sold plain or filled with 5 types of stuffing, all inspired by familiar dishes in Vietnamese family meals. However, each filling is given unique names such as distributed ginger and beef (sauteed ginger and beef), renovation chicken (sweet and sour chicken with vegetables). , subsidized fried pork fat (crispy fried pork fat sauteed in sauce), fried egg with onion, traditional red sausage and pate.
The national flag banh mi with filling is sold at the price of 15,000 VND (0,7 USD) per loaf, while the plain version is sold at 4,000 VND (0,2 USD)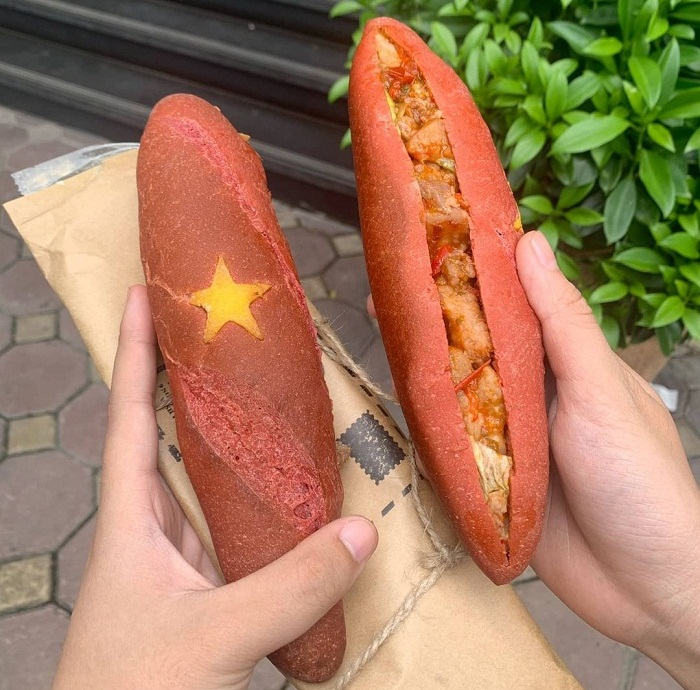 Photo: Dulichvietnam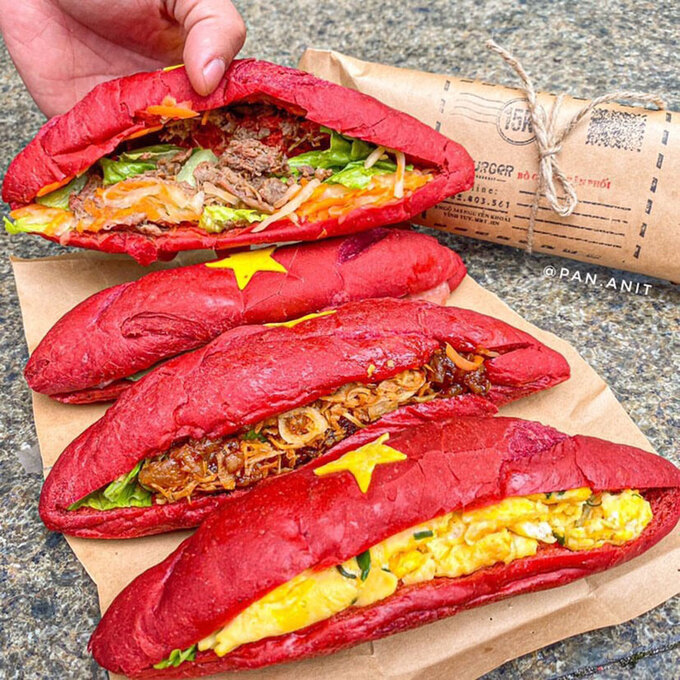 Photo: PHANO.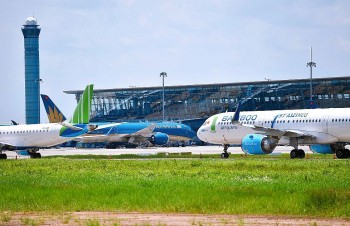 Economy
Vietnam Business & Weather Briefing (August 9): Vietnam's economic growth is expected to reach 7.5% in 2022, new securities accounts hit a near two-year low in July.