Vietnamese Billards Dominate Global Championship
Bao Phuong Vinh and Tran Quyet Chien made history for Vietnamese billards, creating an all-Vietnamese Final when they were both present at the 2023 World Championship 3-Card Carom.
According to VNA, 28-year-old player Bao Phuong Vinh won 50-34 against Tran Quyet Chien in the All-Vietnam Final at the World 3-Card Carom Championship.
In the Final match on the evening of September 10 in Ankara (Turkey), Phuong Vinh led his seniors for most of the time, with the turning point being an 8-point series to lead 29-22. While Quyet Chien lost his sense of chance and has continuously missed points since then, Phuong Vinh played more stably and accumulated points. In the last 12 rounds, Vietnam's number one player only earned four points, while his juniors won 11 points. In the end, Phuong Vinh won Quyet Chien 50-34 after 33 rounds.
Photo: Five&Six
In the 95-year history of the 3-cushion Carom World Billiard Championship, only three times has the Final been held between two players from one country, that is Argentina in 1938, Belgium in 2017, and this time in Vietnam. In the past, Vietnam had a player reach the World Championship Final, Nguyen Duc Anh Chien in 2019, but he lost to Torbjorn Blomdahl.
Phuong Vinh is currently ranked 21st in the world, with an outstanding previous achievement of reaching the Asian Semifinals in March 2023 in Korea. This time, Phuong Vinh eliminated the Korean "prodigy" with a score of 50-48, to meet Quyet Chien in the Finals.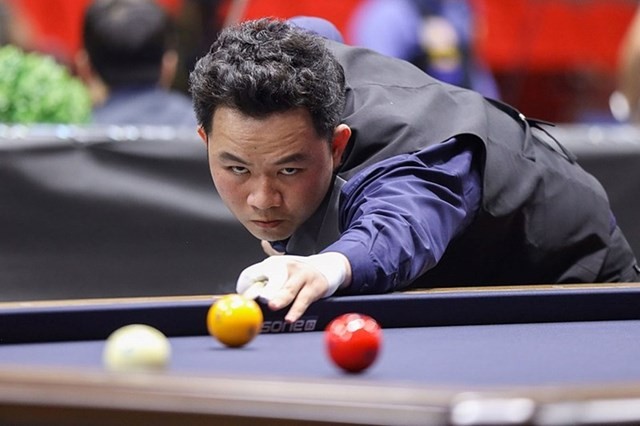 Bao Phuong Vinh joins the game. Photo: UMB
In the 3-cushion Carom Tournament system of the World Billiard Federation (UMB), the World Cup and World Championship always gather top players. The World Cup takes place about six or seven times a year, and any player can participate. The World Championship only invites the top players on the planet and continents, taking place once a year.
This year's tournament takes place in Ankara, Türkiye from September 6 to September 10.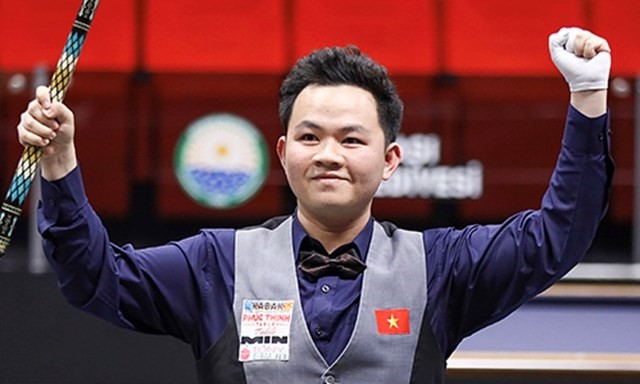 Photo: UMB