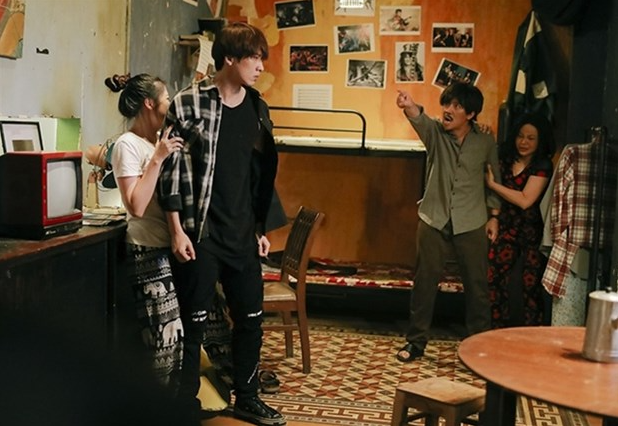 A scene from the movie. (Photo: VOV)
Bo Gia (Dad, I'm Sorry), a Vietnamese film produced by TRAN THANH TOWN, was distributed in cinemas in the US and Australia on May 28 after its premiere in Malaysia and Singapore on April 22, VOV reported.
In the U.S., the movie will be shown in California, Texas, Virginia, Georgia, Massachusetts, Illinois, and New York. Meanwhile, Australian moviegoers can enjoy it in Brisbane and Sydney.
The film's distributor, Galaxy Studio, has announced it is working with international partners to bring "Bo Gia" to Asian countries like Thailand, Indonesia, and the Philippines.
Bo Gia portrays the life of an elderly xe om (motorbike taxi) driver living in Ho Chi Minh City who faces challenges earning money for his wife and two teenaged children. It tells the story of Ba Sang, an old motorbike-taxi driver who lives in a low-income neighborhood of downtown Saigon and struggles to earn enough to take care of his family. Way too nice to his siblings and neighbors, Sang is routinely taken advantage of, to the ire of his son, a rising YouTuber who tries to force his father to change his ways.
Bố Già (Dad, I'm Sorry) will be distributed in cinemas in the US and Australia on May 28, after screening in Malaysia and Singapore. (Photo courtesy of the producer)
"My film features the culture and lifestyle of HCM City residents," said actor Tran Thanh, owner of TRAN THANH TOWN who also plays the driver.
The movie achieved a number of milestones along the way, becoming the fastest to collect VND100 billion (US$4.3 million) and VND200 billion (US$8.6 million). The film is an adaptation of a hit web drama directed by Vu Ngoc Dang stars comedian and TV host Tran Thanh. The producer invested 4 billion VND (US$172,000) in filming. It broke recent ticket sale records for Vietnamese films after earning 400 billion VND (US$18 million), according to the film's producer. Its trailer attracted more than 2.7 million views on YouTube before and after screening between March and April.
Bo Gia features famous comic artists Tran Thanh and People's Artist-theatre actress Ngoc Giau. Young actors Tuan Tran and Lan Phuong are also included, VNA cited.
Valerie Mai