Vietnamese-born Legislator Running for Secretary of Georgia State, USA
After winning the primary election, Georgia state legislator Bee Nguyen became the Democratic Party's candidate for state secretary.
Bee Nguyen, 40, on June 21 defeated Dee Dawkins-Haigler, in the Democratic primaries. She will face Brad Raffensperger, the incumbent Republican Secretary of State of Georgia in November.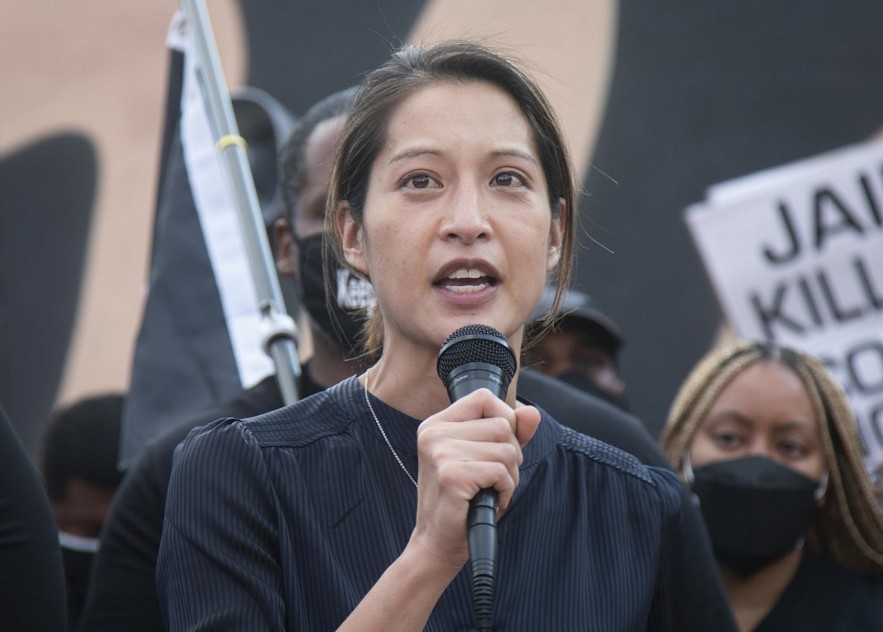 Legislator Bee Nguyen speaks in Atlanta, Georgia, the southeastern United States, on April 20, 2021. Photo: AP
Bee Nguyen is the first Vietnamese-American to serve in the Georgia state congress. Since being elected to the state house in 2017, Nguyen has been a strong advocate for the right to vote, especially for minorities and immigrants.
Bee Nguyen won the Democratic primaries amid the rapidly growing Asian-American and Pacific Islander (AAPI) community in Georgia. The number of AAPI voters in the southeastern US state in the 2020 election has increased by 84% compared to 2016.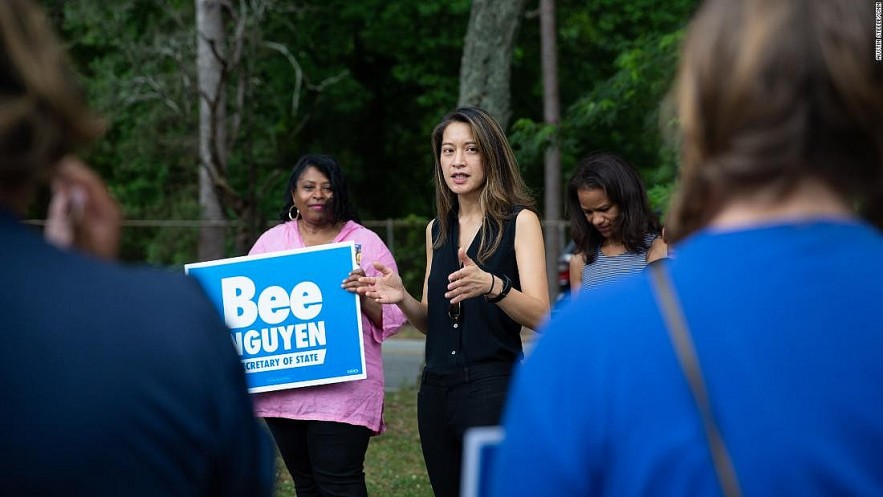 Georgia state Representative Bee Nguyen speaks to volunteers at Adams Park prior to canvassing in Atlanta on May 21, 2022. Nguyen is running for secretary of state. Photo: CNN
"I understand the needs of the people of AAPI in Georgia, if these needs are not addressed, the economy and public health will be compromised," Nguyen said. "Growing the state of Georgia based on an ethnically diverse coalition is important, and representing AAPI is part of this mission."
Bee Nguyen is fluent in Vietnamese and obtained a master's degree in English literature at the age of 23, and a master's degree in finance and administration at the age of 31. She has participated in or founded many community projects, promoting inter-ethnic dialogue and fighting for Syrian refugees living in the state of Georgia.
The duties of the secretary of state of Georgia are to oversee elections, keep track of the annual records of businesses, issue licenses, and oversee the state's stock market.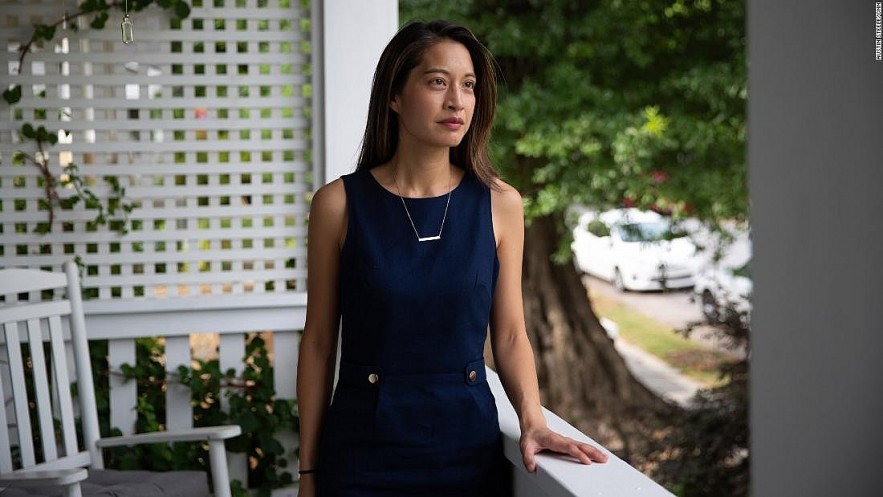 Nguyen poses for a portrait. Photo: CNN
Before that, Bee Nguyen became the first Vietnamese-American congresswoman in the state of Georgia, located in the southeast of the United States, famous for the city of Atlanta. The seat in the lower house that Nguyen was elected to by voters was vacated after the congressman who previously held it ran for governor.
Nguyen said that her father, a pharmacist and lieutenant who worked in medicine for the South Vietnamese army that was allied with the Americans, was detained for three years in a reeducation center after Saigon fell in 1975. After he was freed, the family fled; it was a terrifying journey that featured a fisherman from Thailand saving them at sea.
Nguyen was born in Iowa in 1981 after the family relocated there in the late 1970s. When she was a little child, they relocated to Augusta, Georgia.
Nguyen frequently discusses how her ideas are shaped by her family's experience as refugees while running for office in Georgia as she's a refugee's daughter.
During the election campaign, Bee Nguyen said that when the family first immigrated to the US, in 1981, her father worked at a mental health hospital for more than 3 USD an hour to support his wife and 5 small children. She also said that she inherited from her parents the values ​​of family, education and community.
She participates in or founded many community projects, promotes inter-ethnic dialogue and advocates for Syrian refugees living in the state of Georgia. Her priority goals when elected to the state house include improving education, promoting equality and access to health insurance for the people.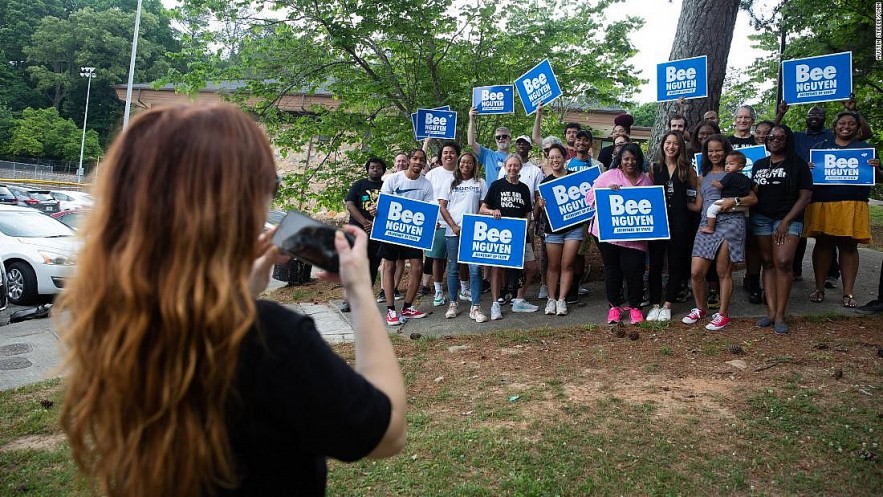 Campaign volunteers take a photo with Nguyen. Photo: CNN
Nguyen claimed that her parents are not particularly political and advise their offspring to "keep their heads down," work hard in school, and pursue careers. Nguyen, however, asserted that she and her four sisters had also been taught to value their rights as citizens.
As a sports enthusiast, she participates in Atlanta's half-marathons every year and every day instead of driving to work, she often travels by tram, bus or bicycle.
Bee Nguyen was the first Vietnamese American elected to Georgia's General Assembly when she was first elected to the State House in 2017. She would become the first Asian American elected to a state office if she wins in November. Asian Americans are becoming more numerous in the Atlanta area, which has fueled Democratic wins in the 2020 presidential election and in the U.S. Senate runoffs.
Thời Đại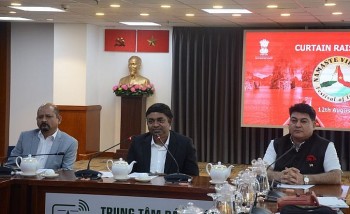 Handbook
The First Namaste Vietnam Fest will be held to mark 75 years of Indian Independence and the 50th anniversary of the establishment of Vietnam-India diplomatic ties (1972 – 2022).