Vietnamese-Born Student Creates Cancer-Detecting Toothbrush
James Nguyen, an 18-year-old high school student who came to the US with his family in 2019 has attracted special attention because of his invention, a toothbrush that can detect cancer.
James Nguyen is a senior at La Quinta High School, California (USA). Thanks to the toothbrush that detects cancer, he has become the winner of a program to find excellent talent for global community service projects in 2022 (Rise Global Winners).
Rise is an initiative from the collaboration of the Schmidt Futures Foundation (founded in 2017 by the American businessman, former Google executive, and his wife Eric and Wendy Schmidt) and the Rhodes Trust Fund (founded for Oxford University in 1902 by Cecil Rhodes, a British businessman, and politician). Rise is a Program for 15-17 years old, global winners will be awarded scholarships and funding for activities that solve humanity's most pressing problems.
Recently, James Nguyen was also honored by the City Council of Garden Grove, Orange County (California) at a meeting on February 14, 2023. Cindy Tran, a Member of the City Council said that she was very impressed with James's achievements.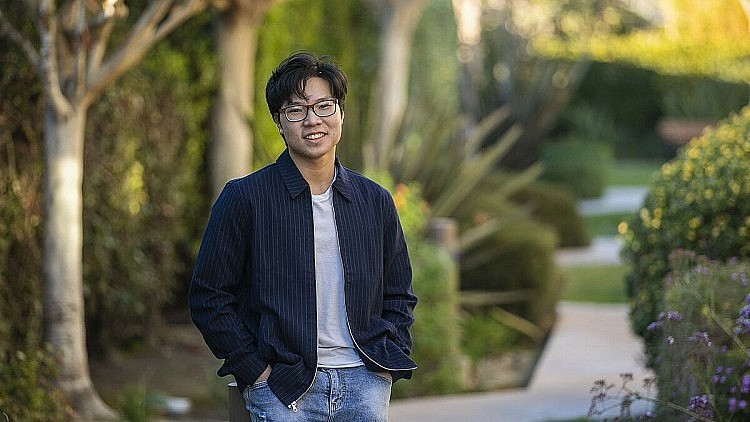 Photo: Vietnamtimes
James Nguyen said that when he was just starting to settle down in the US, his family learned that his grandmother in Vietnam had a brain tumor. At that time, the COVID-19 pandemic was breaking out, and James' family could not return to Vietnam to visit her for the last time.
"She meant a lot to me, I am where I am today thanks to her," he shared, sadly. "She gave me a childhood to remember when we were together, with her stories, advice, and the food she cooked. When we heard she was ill, there was nothing I could do to help, other than watch her death comes closer and closer. That makes me very sad."
After his grandmother died in 2020, James began to dive into cancer research to better understand the disease that took his beloved grandmother's life. While reading and studying the document, James came across a microfluidic chip, which James intended to use to display cancer cells. But how to make it most convenient for users, James had not yet figured out.
One day, when he visited his aunt's house, he saw his aunt put toothpaste on the brush and told his son who was addicted to the game to stop playing to brush his teeth. That image made a strong impression on James, because every day, James always voluntarily brushed his teeth three times a day, not waiting for his mother to remind him like his cousin.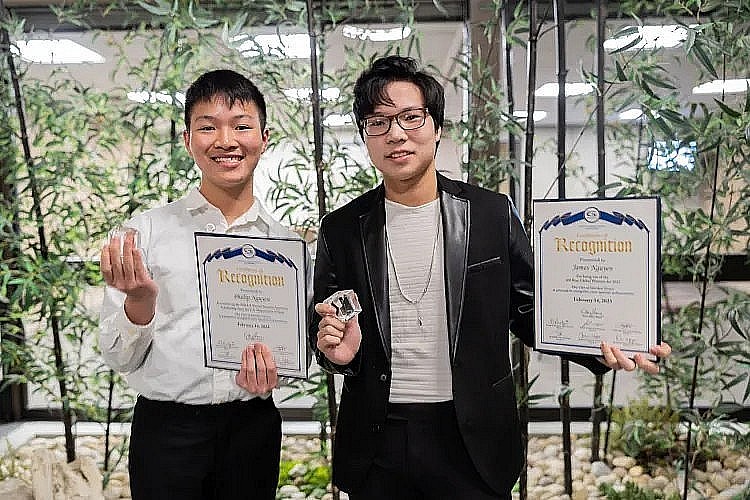 James Nguyen, black shirt on the right, was honored by the Garden Grove city council during a meeting on February 14, 2023. Photo: Vietnamtimes
Thanks to that, James thought about putting a chip programmed to separate cancer cells from saliva into a toothbrush. A toothbrush is an essential item, almost everyone uses it every day, so it is very convenient to detect cancer. James Nguyen believes that hard work will lead to success, but along the way, he is always grateful because he always receives the help of his family, friends, and teachers.