Vietnamese businesses provide technology solutions to combat Covid-19
Vietnamese companies have built many applications for pandemic prevention and control such as automatic temperature measurement gates suitable for applications in buildings, areas to be controlled, or online meeting software.
The camera screen displays the temperature of the person near the remote automatic thermometer. Photo: qtsc.com.vn
With the complicated Covid-19 pandemic, many technology enterprises have come up with solutions and applications to solve the "problem" while ensuring work and implementing effective pandemic prevention and control.
Automatic body temperature gate to check body temperature
Currently, Ho Chi Minh city is drastically implementing the requirements of epidemic prevention and control, complying with Directive 15 of the Prime Minister for the whole city and Directive 16 in Go Vap and Thanh Loc wards. People entering and exiting buildings and offices are always temperature checked, required to wear masks, and have to make medical declarations.
However, this is still largely done manually, the security force has to regularly come into contact with many people.
Facing that fact, QTSC Company has cooperated with TMA Innovation Company (under TMA Solutions in Quang Trung Software Park) to research and develop, put into application the automatic body temperature gate to check body temperature and automatic mask reminder.
With this application, when someone passes by, the system will automatically measure body temperature and prompt to wear a mask (if not wearing a mask). If someone exceeds 37.5 degrees Celsius, the machine will give a warning.
The automatic body temperature measurement gate is suitable for applications in buildings and areas where people need to be controlled, the purpose is to replace the current body temperature checker to reduce direct contact between people, limit risk.
The system helps units reduce the number of employees in charge of temperature checks and reminds people to wear masks to limit the spread of disease in the community.
Device supports automatic medical declaration and patient screening
TMA Solutions Company has also researched and developed a device to support automatic medical declaration and patient screening, saving personnel as well as avoiding overload and congestion when declaring by paper. The device integrates a remote information control system, easily accessing data when needed, screening suspected infected subjects according to low to high risk groups.
The device uses voice to guide users step by step and automatically checks body temperature, prompts to wear a mask; then automatically fill in the information for the user by scanning the identity card, face recognition, or scanning the QR code if the user has previously declared online.
Users only need to fill in their health information and receive an authenticated QR code after completing the medical declaration.
Another technology solution that has also been tested to reduce pressure on the medical industry is the POD Health Information Collection System, developed by Alta Software (at the QTSC Research and Implementation Center), meet most of the requirements of medical staff in hospitals and medical facilities.
The system allows taking vitals such as height, weight, temperature, blood pressure and blood oxygen levels of the examiner. The system is being trialled at a number of hospitals in Ho Chi Minh city.
Online meeting software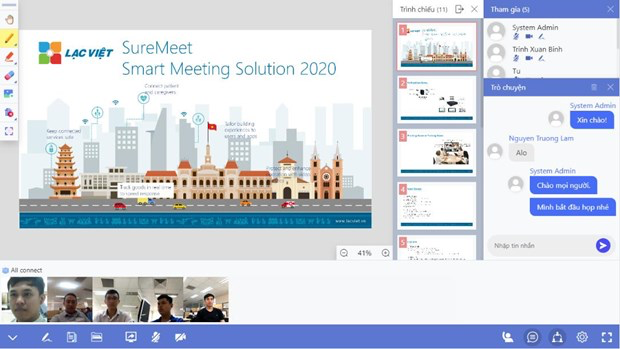 The main interface of SureMeet system. Photo: qtsc.com.vn
Currently, many agencies and units are gradually transitioning from face-to-face meetings to online interactions to limit contact and facilitate group meetings in multiple locations at the same time. They have implemented remote work to limit the spread of Covid-19. The security of information when meeting online and sharing documents when working from home is always a matter of focus.
With that request, QTSC Company cooperated with Lac Viet Company to deploy SureMeet online meeting software. This is an interactive internet-based online meeting (or learning) solution, which helps to improve the efficiency of meetings (study), reduce travel costs, take advantage of previous investments such as meeting room, projection board, camera, microphone.
Along with online meetings, QTSC has also built a document management, storage, sharing and security system (QTSC drive), a solution for businesses that are implementing plan to work online, work from home.
This is a tool to assist businesses in managing externally shared documents; backup document storage; help create an interactive environment, work online, support each other in work for members in the business.
With the pandemic situation still complicated and unpredictable, the transformation of working forms in the current period is very necessary. Technology enterprises have been and continue to offer many solutions and applications to "remove" difficulties, contributing to ensuring the good implementation of Covid-19 prevention and control.