Vietnamese CEO initiates interactive pet cameras in the heart of America
Before launching the pet camera project, Michael Nguyen made a strong impression of being a chief engineer in a start-up having turnover up to 80 million USD.
Develope e-commerce start-up and pet cameras
Petkix, located in the US, is one of the pioneers relating to manufacturing technology equipment for pets. However, few people know that the founder of Petkix is ​​a young Vietnamese man!
The CEO and founder of Petkix is ​​Michael Nguyen, who has in-depth knowledge in math, economics, computer algorithms. He used to be the chief engineer at an e-commerce start-up in the US, which successfully exited when its annual revenue was at $80 million.
Having an impressive background with many years of experience, Michael Nguyen immediately attracted the attention of the "sharks" in the reality show named Shark Tank. Thanks to this, Petkix successfully raised capital when it sold 20% of its shares for $ 120,000.
Michael Nguyen founded Petkix with his special passion for pets. Photo: vietnamnet.
According to CEO Michael Nguyen, when he was at school, he lived in a dormitory far from home. At that time, he had a pet named Mini. In order to interact regularly with Mini, Michael Nguyen usually spent 3 hours driving home at weekends and had to get up early at 5 a.m on Monday to be on time for school.
At that time, he just aimed to interact remotely with his dog. That is also the reason why he cherished the dream of developing a device that could interact with pets remotely via the Internet.
Interact remotely and use AI to manage pets
Compared to other surveillance camera models on the market, Michael Nguyen's product is the only one that can rotate 360 ​​degrees. In addition, it is also developed specialized AI features for pets.
The breakthrough of this model lies in the software. Petkix's camera can spot many actions of the dog such as barking, crying, running, or messing around.
Thanks to the built-in AI alert system based on motion and sound, pet owners can regularly update their pet's status through the Petkix app. Petkix's camera helps them access via the Internet to observe, chat, and play with their pets even when they are not at home.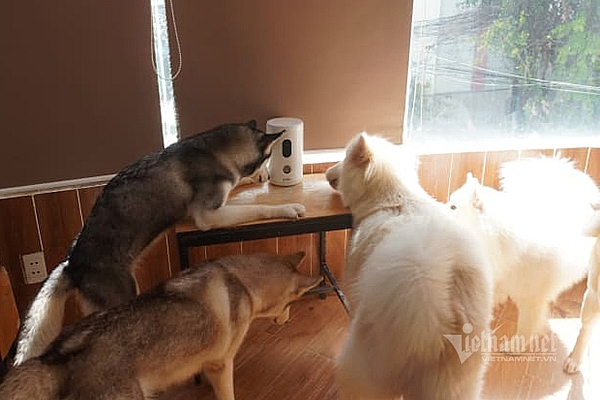 The camera model developed by Petkix has a tray for food. Users can shoot food far away for pets with a simple movement under the app. Photo: vietnamnet.
According to Michael Nguyen, in this project, his team designed both the circuit and the livestream technology by themselves. It is very difficult to develope stable, live-streaming boards which requires to test many times. Therefore, Petkix is ​​holding the core technology to apply to other products.
After 20 days of opening for sale in the form of crownfunding, Petkix's camera product has gained more than $ 20,000. Due to the high production cost, Petkix's AI camera will cost 179 USD (about 4 million VND) when officially opened for sale.
Michael Nguyen shared that hardware start-ups turning to the stage of designing boards, building products and preparing for production cost from 8 to 9 million USD. That is also the reason why he valued his company at more than 1 million USD when participating in the "Shark Tank" reality show.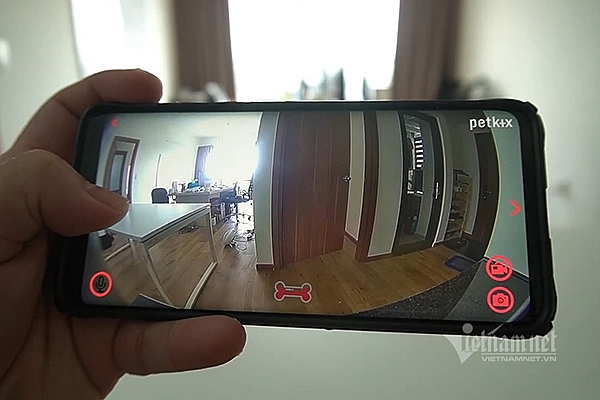 Users will also be provided with an account on the app to monitor pets remotely. Photo: vietnamnet.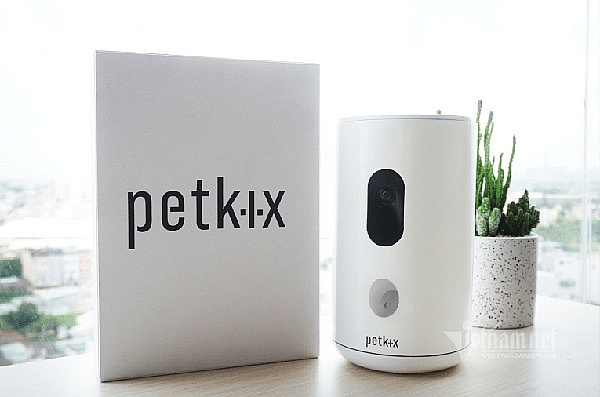 The Petkix camera product is priced at 179 USD. Most of them are consumed in the international market. Photo: vietnamnet.
Until now, PetKix has only focused on developing camera products and leaves the opportunity to develop an ecosystem of other products in the future. Currently 70% of this brand's camera products are being consumed in the US, 20% in Europe and Australia. These are also considered as potential markets of Petkix.
However, the founder of Petkix always affirmed that this is a product with Vietnamese imprints. Petkix cameras are manufactured in many different countries, but the final part of the product is always "Make in Vietnam", shared Michael Nguyen.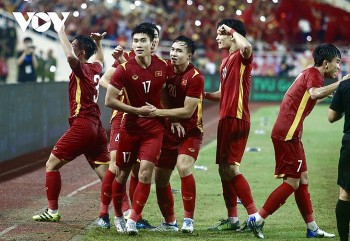 Viet's Home
The Vietnamese football team, both male and female, played their best, devoted themselves, united, and promoted the collective spirit, successfully defending their SEA Games champion title.