Sipping Vietnamese coffee at the heart of Paris
At the center of the magnificent Capital of Light, does "Via he" cafe (Sidewalk café) hold a special place in the mind of many Vietnamese and Frenchs.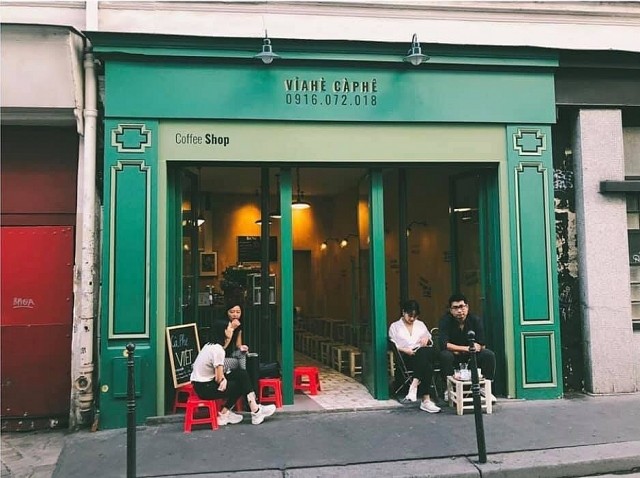 "Via he" cafe looks attractive on the outside (Photoed: Vietnamese students Association in France)
Once step inside "Via he", coffee walkers can easily catch sight of Hanoi' corners right at the inner-city of Paris. From the faded yellow walls interweaved with "khoan cat be tong" (concrete cutting) flyers, crockery from the Subsidy Economy period, to plastic stools, rattan tables where customers can comfortably lean against the wall watching passers-by, etc., all offer a true Hanoi-feeling that can not easily be found elsewhere outside the capital.
"Via he" coffee is at No.16, Davel Street, District 11, 75011 Paris, founded by the Vietnamese-Chinese couple, Ms. Mai Phuong and Mr. Tong Van Phu. In the company of Phuong, Phu had visited Vietnam countless times during their 10 years of dating, and Phu immediately "fell in love" with sidewalk coffee - the idyllic drink he had tried countless times during his visits in Vietnam with Phuong during their 10 years of dating. His great love for Hanoi's sidewalk coffee didn't stop at enjoying only, Phu even determined to bring this sidewalk drink back to Paris – the city well-known for coffee.
Through such iconic images as faded yellow walls, advertising phone numbers, Phu said that he and his wife wanted to recreate the atmosphere and the friendliness they had experienced in Hanoi.
"There are a bunch of things that anyone who has visited Vietnam can see inside our coffee house", Phuong proudly shared. "Via he" café is the "crystallization" of the memories I've accumulated for the last 20 years in Hanoi, where my childhood and adulthood filled with nights of hanging out at sidewalk café, sitting on the familiar plastic stool.
Not only favored by oversea Vietnamese, the plastic stools in "Via he" café also captured the heart of many French coffee goers. Some visit to embrace the freshness and uniqueness the place has on offer, others come to "feel like in Vietnam" – the beautiful S-shaped country they used to visit and fell in love with.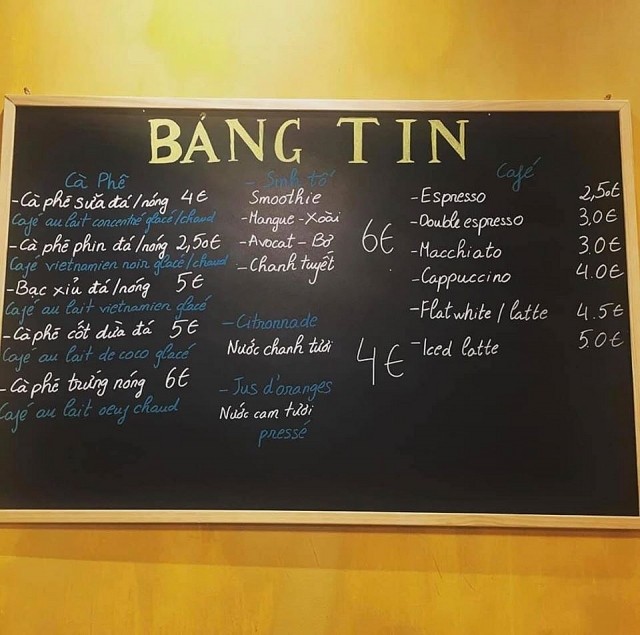 There are many drinks on offer, but Vietnamese drinks are always put on top (Photo: Vietnamese students Association in France)
"Via he" menu has "addictive drinks" on offer, including brown iced coffee, black iced coffee, egg coffee, coconut coffee, etc.
The couple had enrolled in a 2-week-vocational training from a relative trying to bring the true taste of Vietnamese coffee to each cup. "All Vietnamese coffee choice are brewed the Vietnamese way, with coffee beans imported from Vietnam and roasted in France.
Having put all their heart and soul into "Via he" café, it's understandable why Phu and Phuong's brainchild is frequented by flocks of customers, especially at weekends or late afternoons when people go for an after-work. On days when the coffee house is packed, there are even some customers ready to join the waiting line or stand drinking outside, not to mention it's biting cold now in Paris, people still make time to enjoy a steaming hot, aromatic cup of Vietnamese coffee. The little coffee house in the heart of Paris is filled with Hanoians' smiles all the time.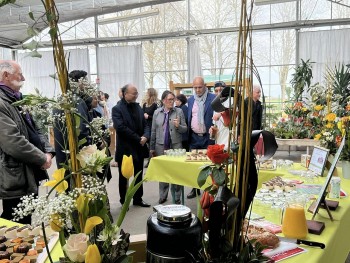 Overseas Vietnamese
Vietnamese Ambassador to France Dinh Toan Thang recently paid a working visit to Saintes, a city in southwestern France, to promote cooperation between the city and Vietnamese localities and attended the Vietnamese Culture Day, VNA reported.