Vietnamese Community in Italy Bridge to Promote Vietnam-Italy Trade Relation
The Vietnamese Embassy in Italy hosted an online gathering on January 15 to celebrate Vietnam's 2022 lunar New Year holiday (Tet).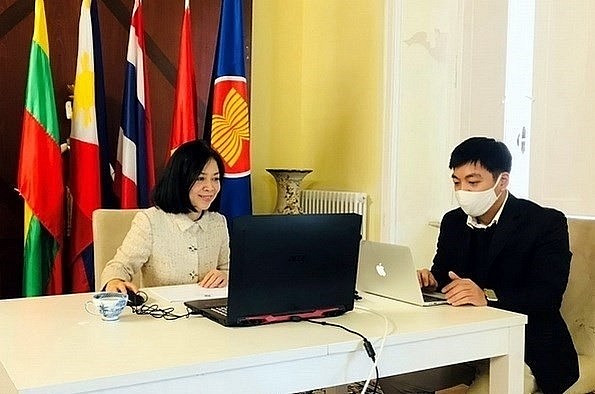 Vietnamese Ambassador to Italy Nguyen Thi Bich Hue (L) at the gathering (Photo: VNA)
The Vietnamese Embassy in Italy has organised a virtual New Year gathering with representatives from the Association of Vietnamese Entrepreneurs in Italy (ASSOEVI) to collect suggestions in a bid to strengthen the nations' trade relations.
At the event, ambassador Nguyen Thi Bich Hue reviewed the Vietnamese community's major activities as well as their contributions to the homeland in 2021.
In her remarks at the January 15 event, Ambassador Nguyen Thi Bich Hue reviewed activities and contributions to their home country of the Vietnamese expatriates last year. The community took part in mobilizing local authorities' support in terms of COVID-19 vaccines, medicines and medical equipment for Vietnam; charity activities to help children in Vietnam; and the teaching of Vietnamese language in Italy. They also worked to assist Italian and Vietnamese enterprises.
The diplomat wished for further contributions to be made in the near future.
Among the activities, she said the community lobbied local administrations to support vaccines, drugs and medical equipment for Vietnam's COVID-19 fight. They also carried out charity activities to help needy children in the homeland, along with teaching Vietnamese and supporting businesses in both Italy and Vietnam.
The diplomat noted that despite the impact of the COVID-19 outbreak, the two-way trade turnover between Vietnam and Italy still grossed US$5.6 billion, of which Vietnamese exports reached US$3.8 billion, up 22% and imports were US$1.8 billion, up 19% thanks to the implementation of the Free Trade Agreement between Vietnam and the European Union (EVFTA).
Ambassador Hue expressed hope that the Vietnamese community and organizations like ASSOEVI will continue to design positive activities and make more practical contributions to the homeland.
The delegates raised ideas for ASSOEVI to boost cooperation between the two countries' businesses, through enhancing information transmission, supporting legal procedures, and conducting research and surveys to seek investment and business opportunities, said the VOV.
Established in June 2011, ASSOEVI gathers most of Vietnamese businesses in Italy with the goal of uniting, improving the capacity of its members, and creating an environment for cooperation and information exchange between Vietnamese enterprises in their host country.
The association also aims to introduce and promote Vietnamese goods and services in Italy, as well as to strengthen economic-trade cooperation between Italy and Vietnam.
According to Hue, despite COVID-19, trade between Vietnam and Italy hit US$ 5.6 billion in 2021 thanks to the implementation of the EU-Vietnam Free Trade Agreement. Vietnam's key exports included aquatic products, farm produce, and handicrafts.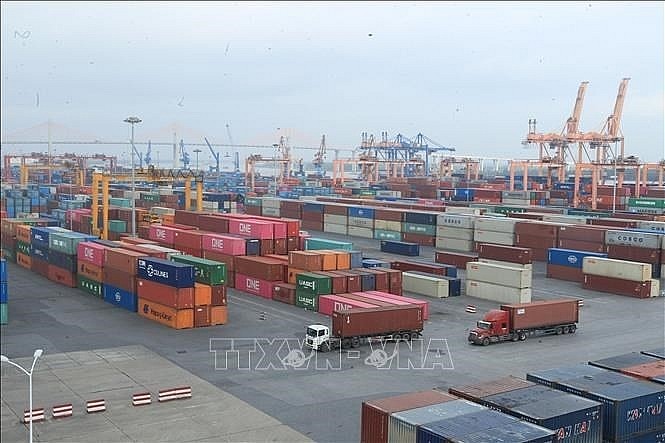 In 2021, Vietnam's export to Italy got US$3,8 billion, increasing by 22% compared to the last year.
Pham Van Hong from the advisory council of ASSOEVI recommended the association improve the effectiveness of its operation to build a stronger foundation for future development.
Participants suggested ASSOEVI work more to connect Vietnamese and Italian firms via communications activities, legal procedure support, and the organisation of market surveys, among others, according to the VNA.
Founded in June 2011, ASSOEVI groups most of Vietnamese enterprises in Italy, aiming to boost the capacity of its members, facilitate their information exchanges and cooperation, assist their investment and business activities, and promote Vietnam-Italy collaboration in trade and economy.