Vietnamese Community in Poland Supports Compatriots and Ukrainians
The Vietnamese community in Poland is not only willing to support compatriots coming to Poland to avoid bombs and bullets, but also helps Ukrainians. They called for donations of food, medicine, blankets and pillows, and then immediately transported to the border gate.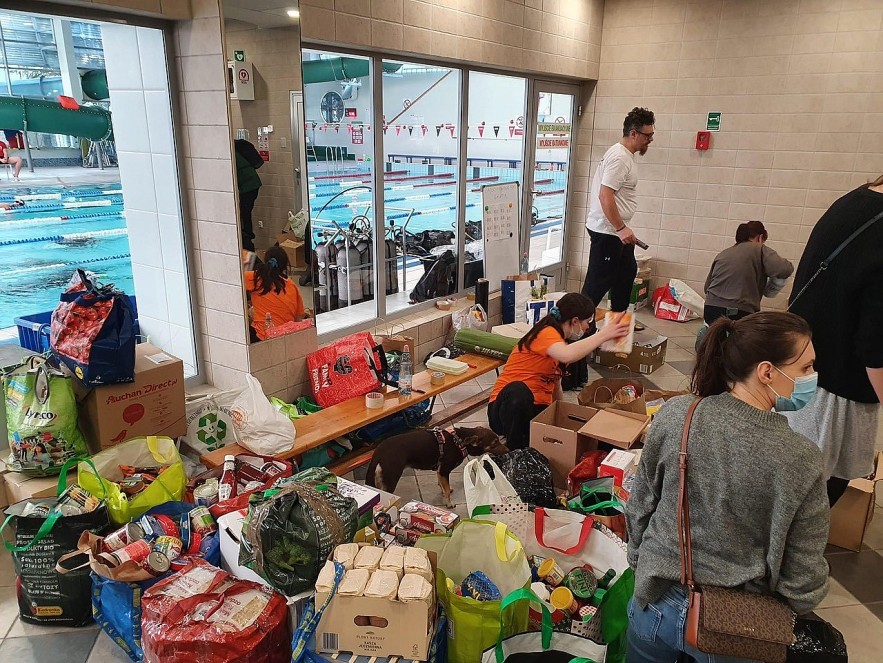 The donation program coordinated by Hoang received a lot of goods in just 1 day. Photo: Thanh Nien
Donating food and medicine
The Vietnamese Association in Poland and the Wólka Center have called for donations to help Ukrainian people of Vietnamese origin, overseas Vietnamese, and Ukrainians who come here to avoid bombs and bullets.
Karol Hoang, in charge of this campaign, said that the goods called for donations are mainly: food, personal items, medical supplies. He received support from the Vietnamese in Poland and local people. The donated goods, according to Hoang, are used to support people coming to Poland, people in the border area, and send back to Ukraine for overseas Vietnamese. He said that the group had recently coordinated with local authorities to send more food and supplies to the capital Kyiv.
"We had many activities to support people coming from Ukraine. On February 27, we officially called on social media to spread the program to more people," he said.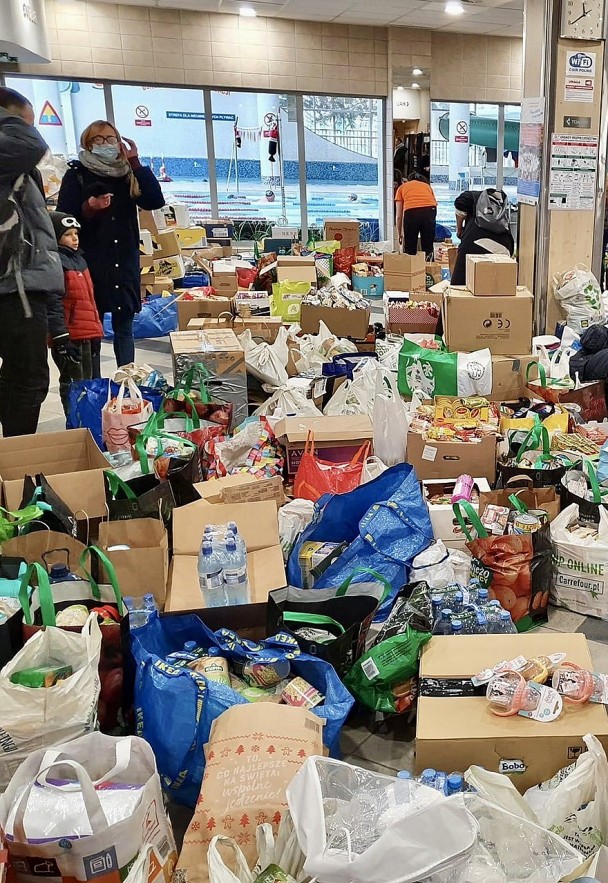 Vietnamese community in Poland helps compatriots and Ukrainians. Photo: Thanh Nien
Hoang said many Vietnamese people have prepared accommodation for people coming from Ukraine. Many people have camped at the Ukraine-Poland border areas to support the people here.
"My biggest concern as well as everyone here is that many people living in Ukraine, especially the Vietnamese community, really want to go to Poland. If people come here, we will support everything," he said. The program will continue because many people are still in dire need of help.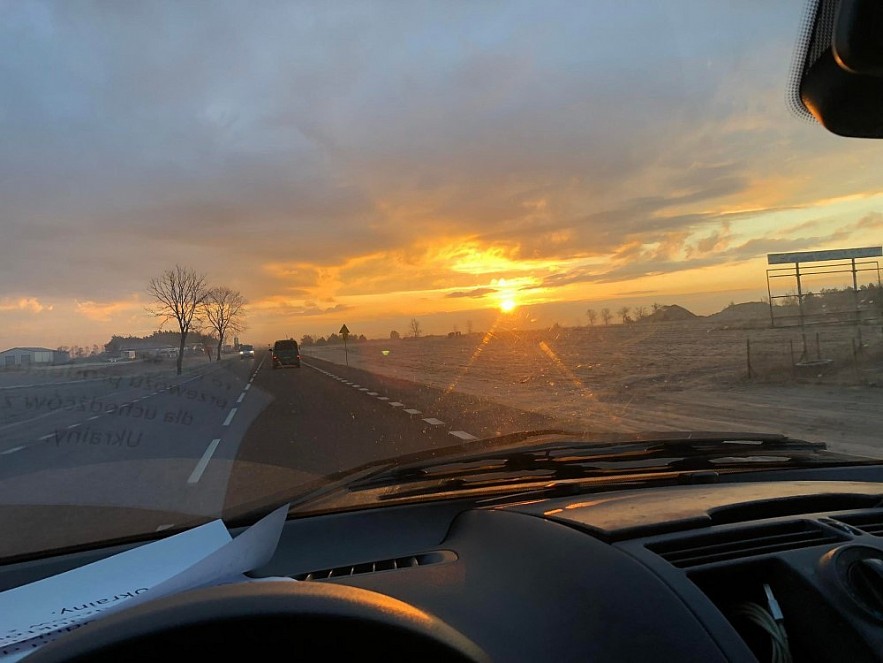 Phuong transfers necessities to the Dorohusk border gate. Photo: Thanh Nien
Supportive overseas Vietnamese in Poland
When hearing about the situation of people queuing at the Ukraine-Poland border, on February 26, Nguyen Quoc Phuong (50, living in Warsaw) immediately came up with the idea to call for relief supplies.
"From the moment I thought about it to the moment I decided to go, it took only one minute, although I still don't know where to go and where to find relief goods," Phuong said.
Tran Anh Tuan, president of the Vietnamese Association in Poland, said that the Association intends to welcome about 300 more Vietnamese people in Ukraine wishing to come to Poland. Currently, about 40 Vietnamese are on their way from Ukraine to the border area. "In the early days, about 12 Vietnamese people came to Poland and have now settled down. We will try to support them with all we have. At this time, we do not distinguish between Vietnamese or Ukrainian, we try our best to unite to overcome difficult times," Tuan said.
After only 2 hours of posting on Facebook, Phuong has received support from people. He had 2 buses carrying mostly food, drink and 4 cartons of clothes. "Food is the most essential thing that people always need in the long wait to cross the border. Therefore, I packed the bus full of bread, butter, milk, fruit, and warm clothes," he said.
On the morning of February 27, he departed at 4:00 a.m. (Polish time), traveled more than 300 km from the capital Warsaw and arrived at the Dorohusk border gate at 7:30 a.m.
After communicating with a church, he was given priority to delivering food to the kitchen's storage room. The church will be in charge of distributing food to people, mostly Ukrainians.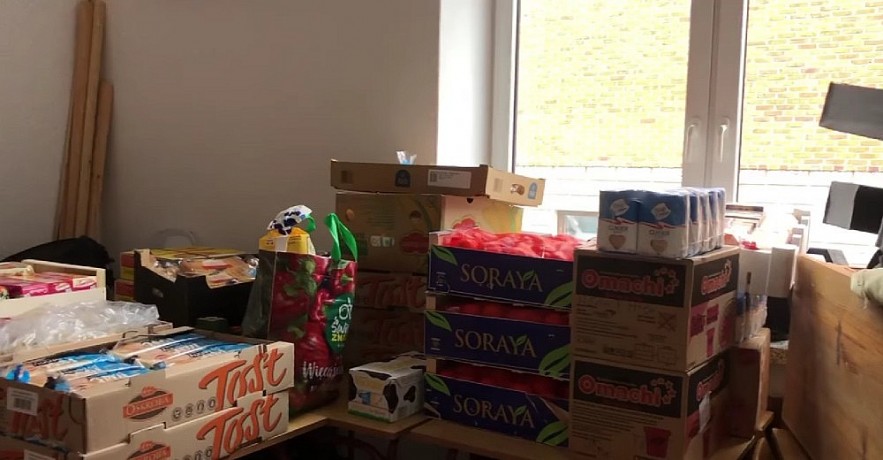 Phuong transfers necessities to the Dorohusk border gate and put them in the church kitchen. Photo: Thanh Nien
Phuong said if the situation continues, he will spend the weekend to support everyone. "Living in Poland for more than 30 years now, this place is like a second home, I will help with whatever I can," he said.