Vietnamese dishes debut in California's charity meals
Meals on Wheels - A project to give out free meals in California, USA recently added Vietnamese dishes into its menu to serve Vietnamese elderly in the region.
Westminster Mayor Tri Ta places Vietnamese meals in vehicles during a drive-through distribution. (Photo: SCNG)
Meals on Wheels Orange County has added Vietnamese dishes to its menu, offering the seniors it serves in Westminster, in the heart of Little Saigon, some more familiar options. On a recent morning, cars lined up in the parking lot of the Westminster Community Services building to pick up six days worth of frozen meals – volunteers from the senior center and city gave out 1,500 meals to 250 people, according to The Orange County Register.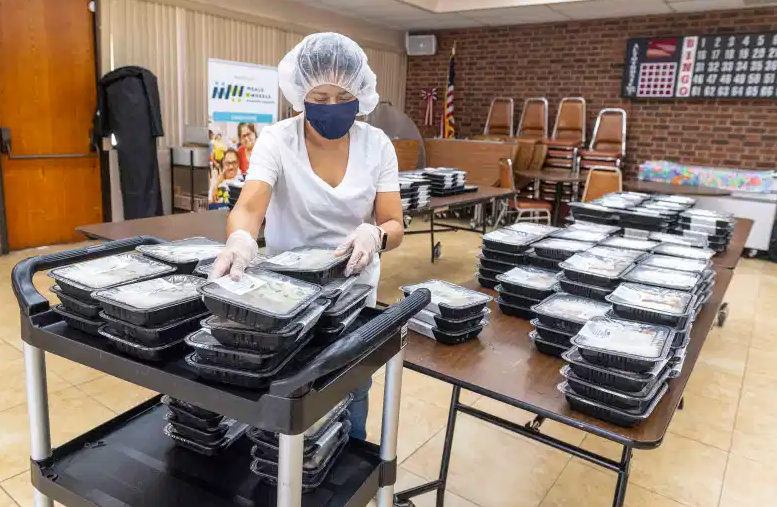 Maribel Avilez of Westminster places Vietnamese meals on a cart for distribution before taking them outside. (Photo: SCNG)
Satisfy people's "craving" for Vietnamese dishes
"When we heard that there was a need, or a desire, to have Vietnamese meals, we worked to identify an authentic meal and spent a lot of time researching and engaging members of the community to find that authentic meal," said Delena Gutierrez, the organization's vice president of social services. Recently dishes such as ginger chicken with rice, coconut braised pork with quail eggs and rice, and beef stew with noodles have debuted. The Vietnamese menu is offered Tuesdays, joining the rotation with mostly American fare.
In order to find just the right authentic meals to offer, there was a vetting process in which taste testers graded a variety of different dishes found in traditional Vietnamese households. "It's a diverse menu and we're looking to improve it and change it," Gutierrez said. Participants waiting in the drive-thru said they are more familiar with Vietnamese food than any other, and while more traditional American food is fine, there is a special comfort to eating the food they grew up with.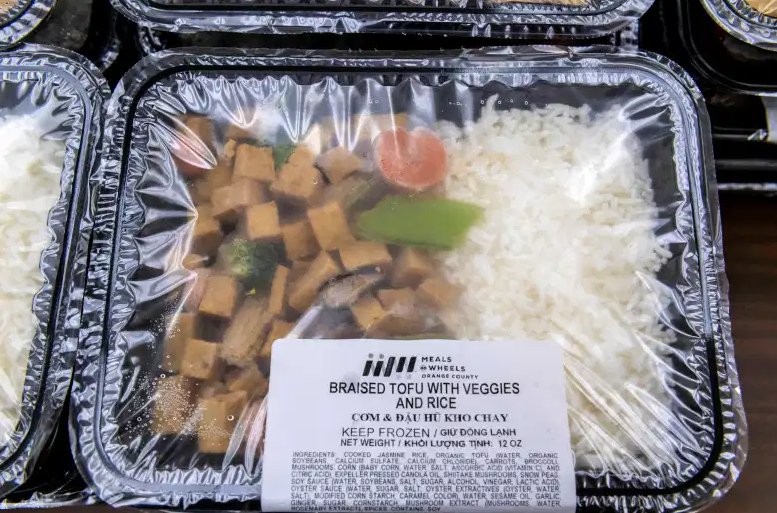 One of the Vietnamese meals given out during drive-through food distribution. (Photo: SCNG)
Bring joyfulness to the elderly
Westminster Mayor Tri Ta, who was helping out as a volunteer, said "we understand that our Vietnamese seniors love Vietnamese food. It's really helpful if we provide food, but we provide the food that they really like."
This last year has been an adjustment for the program, Gutierrez said. Meals On Wheels used to provide sit-down hot meals at senior centers throughout Orange County.
Before the pandemic, the Westminster senior center would serve around 200 people a month, but in the past year, it has been helping about 800 people. Meals On Wheels now serves around 20,000 people across 25 senior centers, a 100% increase in just nine months.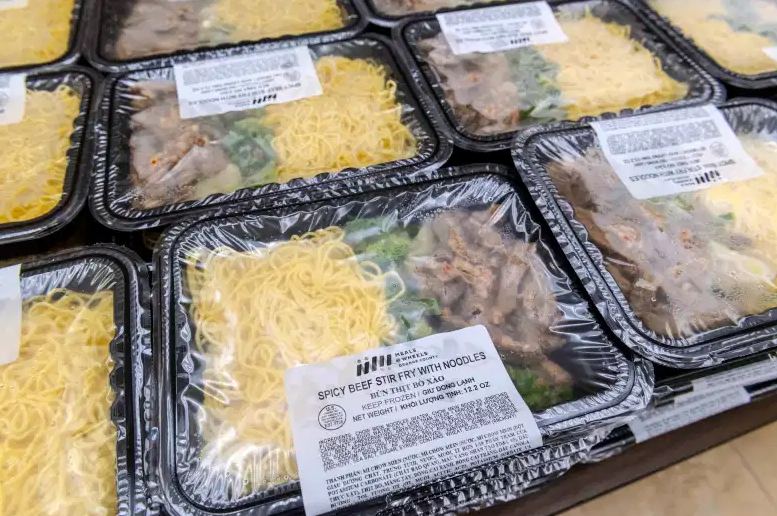 One of the Vietnamese meals given out during drive-through food distribution. (Photo: SCNG)
Meals on Wheels originated in the United Kingdom during the Blitz when many people lost their homes and therefore the ability to cook their own food. The Women's Volunteer Service for Civil Defence (WVS, later WRVS) provided food for these people. The name "Meals on Wheels" derived from the WVS's related activity of bringing meals to servicemen. The concept of delivering meals to those unable to prepare their own evolved into the modern programs that deliver mostly to the housebound elderly, sometimes free, or at a small charge.
Meals on Wheels is a program that delivers meals to individuals at home who are unable to purchase or prepare their own meals. The name is often used generically to refer to home-delivered meal programs, not all of which are actually named "Meals on Wheels". Because they are housebound, many of the recipients are the elderly, and many of the volunteers are also elderly but able-bodied and able to drive automobiles.
For nearly 50 years, Meals on Wheels has touched the lives of millions of seniors, providing them with the nutrition they need and the human contact they desire. But the benefits of this care and compassion go far beyond, driving notable improvements in their health, the project said on its own website.