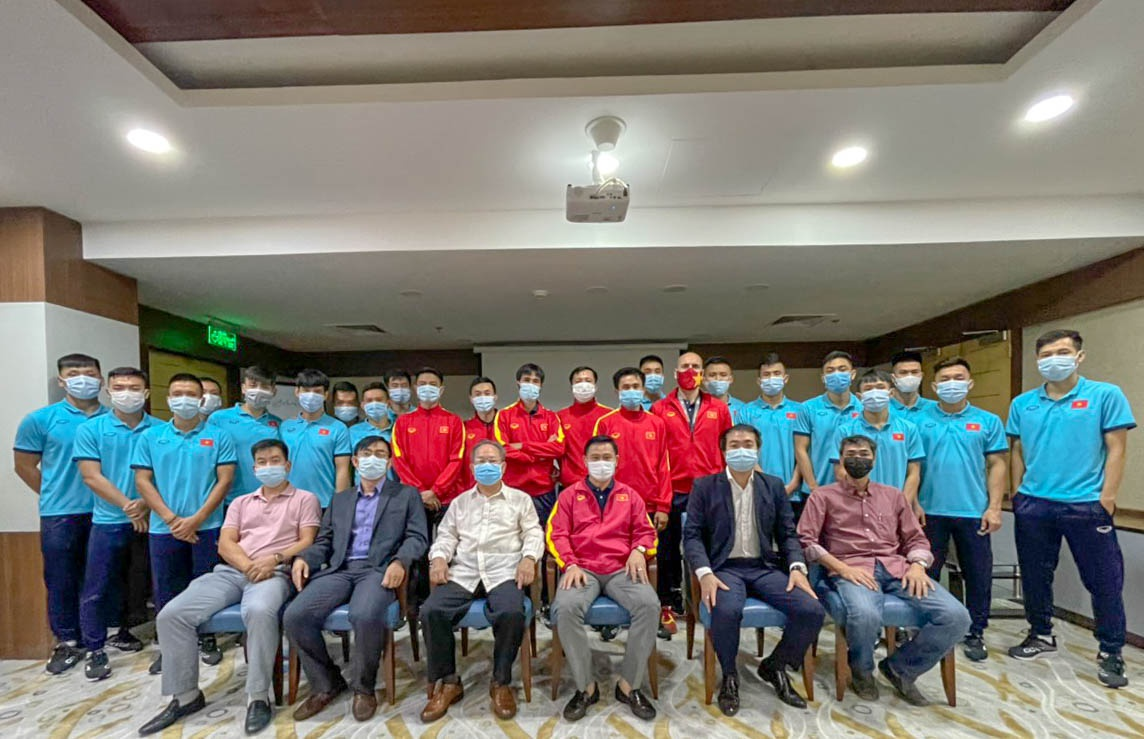 The Vietnamese Embassy in UAE led by Embassy Counselor Dao Quoc Viet visited and encouraged Vietnamese Futsal team. Photo courtesy of Vietnam Football Federation (VFF).
Accompanying Counselor Dao Quoc Viet was Nguyen Van Tuan and Le Phuong, the First Secretary of the Vietnamese Embassy in UAE and Huynh Bao Khuong, Head of the Liaison Department of the Vietnamese community in the country.
On behalf of the team, Tran Anh Tu, Head of the Vietnamese Futsal team briefed the Embassy on its preparation for getting a ticket to 2021 FIFA Futsal World Cup, Thanh Nien reported.
Tu said that due to the AFC's late announcement on organizing play-off matches, the team doesn't have much time to prepare. Nevertheless, it has made efforts to surmount difficulties, especially ones posed by the pandemic.
He promised the team would enter the game with the highest will and determination to meet the expectations and support of national fans.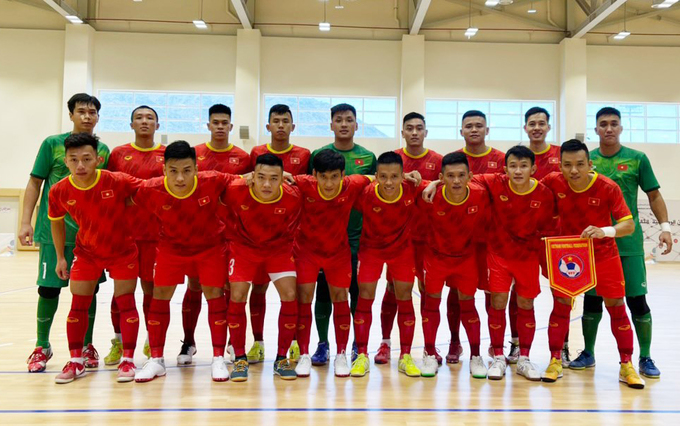 Vietnamese Futsal team in a friendly match with Iraq.
For his part, Counselor Dao Quoc Viet conveyed the greetings of Vietnamese Ambassador to UAE Nguyen Manh Tuan to the Futsal team. He also pledged that the Embassy would provide the team with the best assistance so that it could attain its goals.
Two play-off matches between Vietnam and Lebanon are slated to take place on May 23 and 25.
The 2021 FIFA Futsal World Cup is scheduled to be held in Lithuania between September 12 and October 3.
In 2016, Vietnamese team won a ticket to participate in the FIFA Futsal World Cup in Colombia.
Earlier, Vietnam clinched a comfortable 2-1 win over Iraq in a Futsal friendly match held in UAE on May 17, a perfect test for the former ahead of the play-off round to win a ticket to the 2021 FIFA Futsal World Cup.
Malie Nguyen